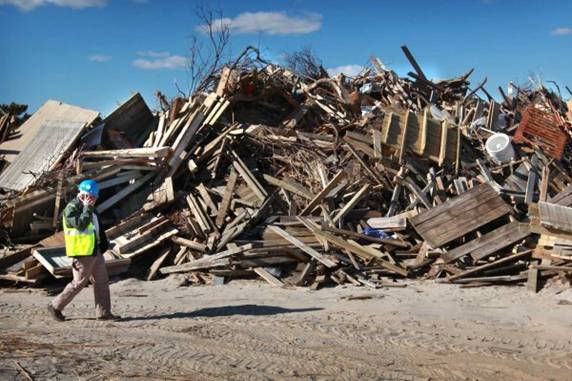 THIS STILL REALLY SUCKS
By Tom Licari
it's the little issues that are now resurrecting their ugly heads
We have all heard of and seen the resiliency of our respective communities in dealing with Sandy's aftermath. There is no question that our community leaders, firemen, homeowner associations, contractors, homeowners and others have resurrected Fire Island beyond our wildest dreams from last year's super storm. However, make no mistake about it, this still really sucks. Despite all the progress, it's the little issues that are now resurrecting their ugly heads (unless you are the Camelot co-op in Kismet where there are only "major" issues, as the Atlantic rolled through this tennis based complex). Bureaucratic morass, insurance companies, mortgage holders, and just plain "pissed off' and sometimes unreasonable homeowners are part of the problems. Well friends, here are some of the complaints and pet peeves that are permeating throughout.
1. "So you want to raise your house." No problem, but first, everything has to be c/o'ed (legal jargon for certificate of occupancy). OK, so you added to your deck or installed an outside shower or shed that is too close to your neighbor's property. Wonderful, but guess what? Now you have to go for a zoning variance (ZBA) first to legalize those Fire Island necessities just to raise your home. It's not the extra $400 or so you spend, it's the time lost. The ZBA hearing will also give your undesirable neighbor an opportunity to bitch and kavetch about you, your application, your parties, your bathroom habits and anything else they want, especially since your newly raised home will tower over them. The truth is, your neighbors are just plain boring, or ugly or sunbathe in the nude. (There is nothing worse with your morning coffee than to see saggy boobs, or a flabby butt.)
2. "My neighbor's house is ugly and falling apart." Speaking of towering over your neighbor, what if their house hasn't been renovated since the Long Island Express of 1938, or they keep every imaginable (and sometimes unimaginable) piece of junk in their backyard, or if their idea of spring planting includes skunk weed, poison ivy, or other plants immune to weed killer. Imagine looking at that when you open your living room shades. (Their ugly bodies would be far better.)
3. "My repairs cost more than the insurance allowed."  Well friends, surprise, surprise, insurance companies are in business to make money. So what if your deck came off its pilings. (Decks aren't covered losses under you flood policies.) And your bunk house or cottage isn't covered, since you would have needed a second policy to cover it.   It doesn't matter that no one ever explained that to you, even if your insurance agent was related. What about all the dead evergreens and downed fence: too bad. Don't you just love insurance? Unless you are sleeping with your insurance agent, you have to foot the bill. Besides, if you do have an insurance agent as a spouse or paramour, at least you can ask him or her to foot the bill when the company doesn't.
4.    "The repairs will be done next week." That must be the line they teach you in contracting school. You just don't know which "next week" they are referring to. We all know that every contractor on Fire Island is overworked and is
doing his best, but when the season is short and the mortgage payment too high, everyone wants their work done yesterday. At least tell us it won't be done 'til Labor Day. Then we can all go to the Jersey Shore or the Hamptons for July or entertain family at home.
(Come to think of it, maybe you should have your family out to the beach, and instead of Margaritas, give them hammers, saws, and some paint. (They probably won't visit again.)
5.   "There is always next year."  This will always be true. Just like there will always be another "Sandy". Maybe not in our lifetime, but it is inevitable. So with what we have learned from Sandy, let's apply to the future. After all,
this is what we signed up for when we decided to make Fire Island our
summer homes.
I am sure every one of us has a story to tell and every one of us was somehow affected by "Sandy". Whether it's the washing machine that craps out months later due to exposure to salt water, or the outside light that just stopped working, or that lingering smell of mold when you open your closet door, business owners and home owners alike will never be the same. But we will always have one thing in common: The blenders will blend, the coolers will cool and the partiers will party.
Carry on Fire Island.