THERE'S NO TUNE LIKE A SHOW TUNE
The Doctor's Fund Annual Benefit
Photos & text by Jeannie
In a rare confluence of parallel universes the Grove's Homecoming Queen, Shirley Shapiro, had to rush back stage for the show's opening number.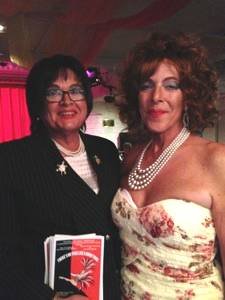 Welcome back to the Hoffas for wrangling the herd to their seats
(photo by CherryGroveguys.com)
Seventeen years ago this greenhorn to the Grove sat cross-legged on the floor between barstools at Cherry's (producers Meryl & Lois had never heard of "press seats") with waiters crawling over me and patrons spilling drinks on me but I barely noticed, so surprised and spellbound nevertheless at my the first glimpse of director, creator Donald Labohn's talent which would emerge fully blown in the coming years
The show then became my favorite as it evolved. When the show moved to the Community house I was overjoyed for it and watched it expand in so many ways.
Donald never wavered in his high standards and signature style.
This year my visit to this newly landmarked theater (congratulations) required much more dedication than usual due to the extreme measures I took to get there – to see a one night only show.
I left the ATCA theater conference (American Theater Critics Association) in West Virginia 2 days early to take a 2 hour car ride for a 3 hour Amtrak train ride, wait for the van 1 hour in NYC's broiling heat to the ferry in Kismet, hop a I hour water taxi ride to the Grove. To see both Grove superstars (dare we say "legends") and the ever appreciated newcomers onstage and all those behind; in the wings, downstairs in the dressing rooms, upstairs in the booth, without whom no show can exist.
Indeed, I made that show very famous among theater critics nationwide as everyone wanted t know what would possibly drag me away at the height of a 4 day conference. So I dutifully explained it as a benefit for the local Doctor's fund, performed in that little miracle of a theater/Community House and then – here it comes – I boastfully but sincerely said " it is better than LaCage and Kinky Boots combined and way above Priscilla" –
And Indeed Donald encompasses all the ingredients of Broadway shows with discipline, creativity and innovation, and above all, a laser sharp sense of humor that is his signature style
This year's title is "There's No Tune Like A Show Tune" especially after Director Labohn gets his hands on it.

In an eye filling blast of color, the show opened with the title song and "It's Today," from Mame, featured the Shapiro Sisters, Donna Piranha, Demi-Tasse, and Angela Mercy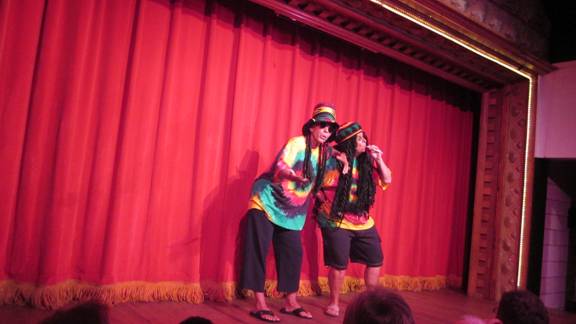 There's a lot of ways to deliver South Pacific's "There Is Nothing like a Dame," but none so unique as pot smoking, dreadlocked Bobbie Green and Doreen Rallo's reggae version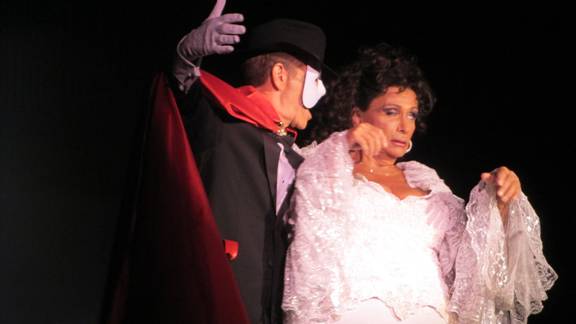 In contrast to her lavish virginal gown, rubber faced Bella, as Christine, mugged her way through Phantom of the Opera's "Angel of Music" alternately groping and repelling Chuck Krouse as the Phantom,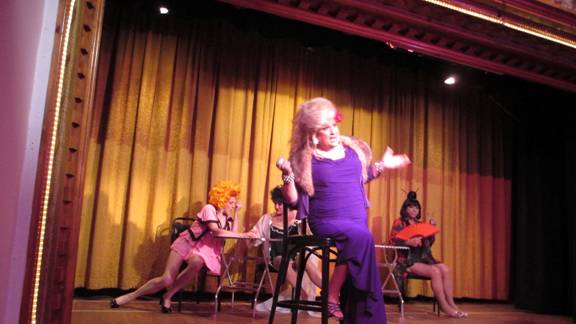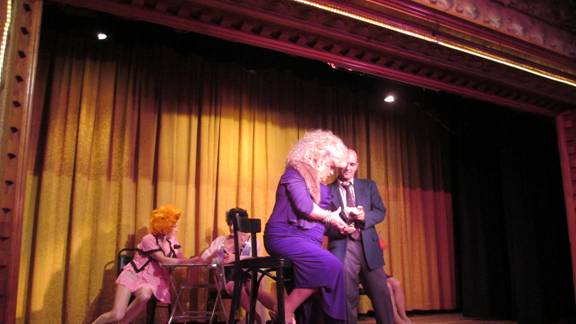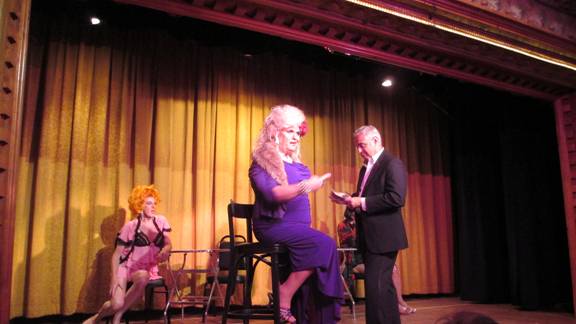 Charity realized her true calling as a madam in Call Me Madam's "Hostess with the Mostess," gleefully collecting from johns Ken Woodhouse, Jake Roberts, and Eddie Galante rented the services of sassy "girls" Urban Sprawl, Donna, and Demi Tasse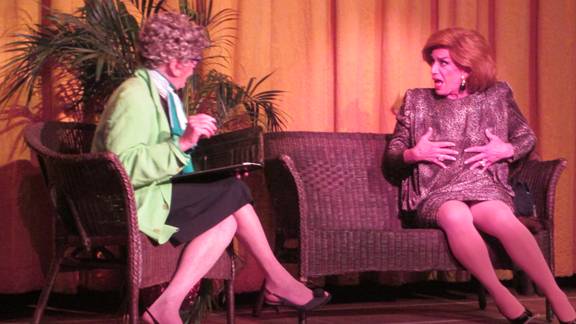 Rose Levine dusted off one of her classics in "I Hear Singing (You're Just in Love)" as therapist to her patient Sylvia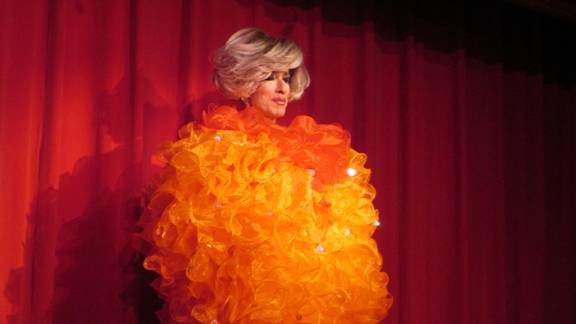 One expects a lot from usually long and lithe Angela Mercy but not her interpretation of "Tits and Ass" from A Chorus Line which had the house on he floor.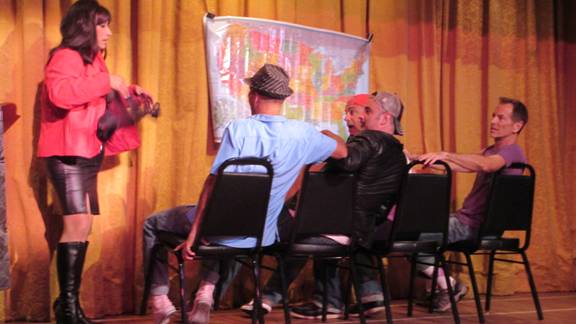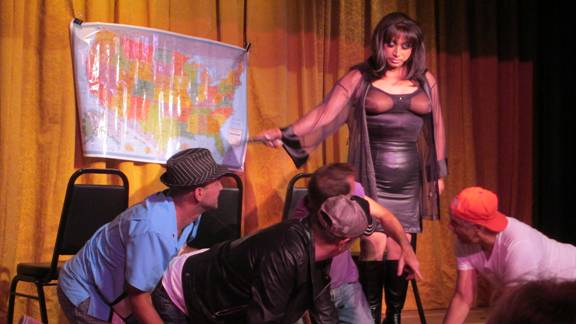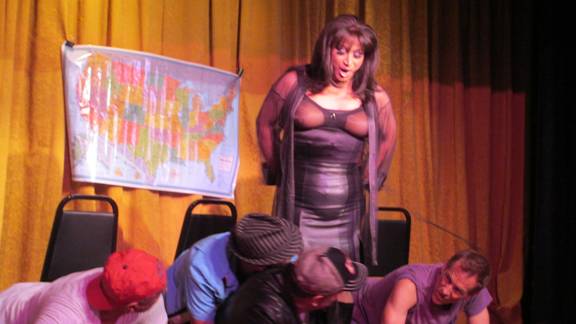 In the biggest stretch of the show Demi Tasse re-interpreted the formerly prissy teacher in The King and I 's Getting to Know You," as a dominatrix "schooling" her pupils, Eddie, Jake, and Charles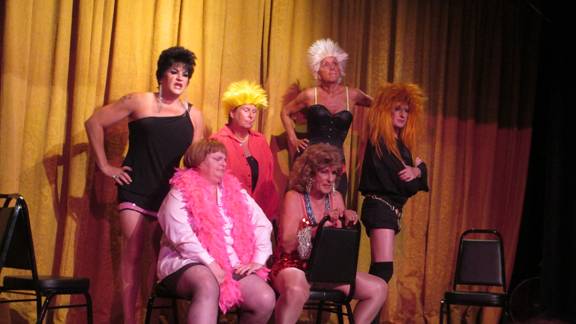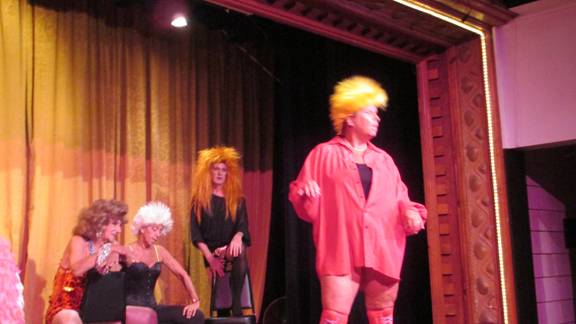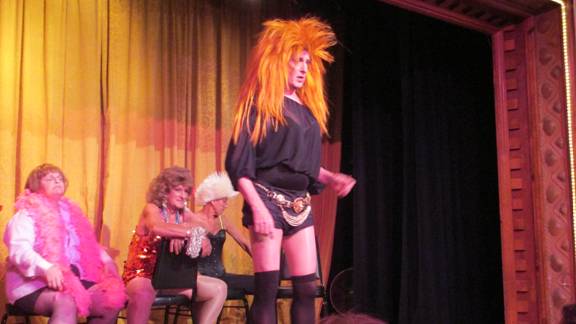 Special mention must be made as Cobra continues her career as she babbled her lip synching attempts to the delight of the crowd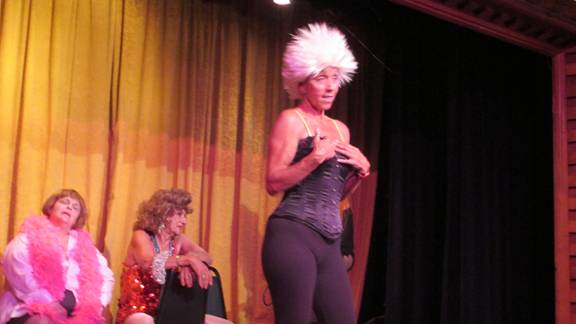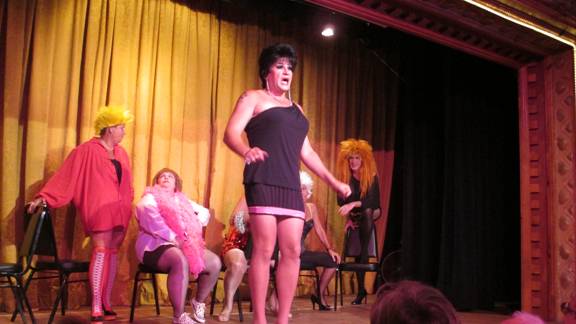 What a group in Chicago's "Cellblock Tango" ("He had it coming") as inmates Bobbie ("Pop"), SallyAnn Piacentino ("Six"), Urban ("Squish"), Cobra ("Uh, uh"), Donna ("Cicero"), and Doreen ("Lipschitz") sang their murderous tales.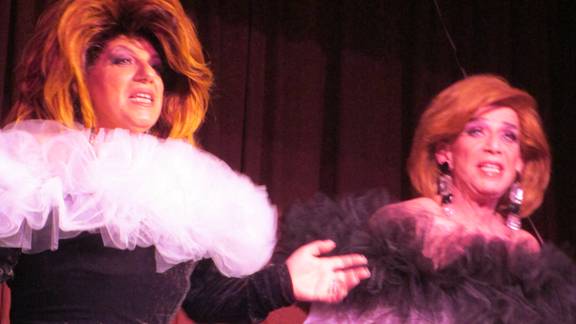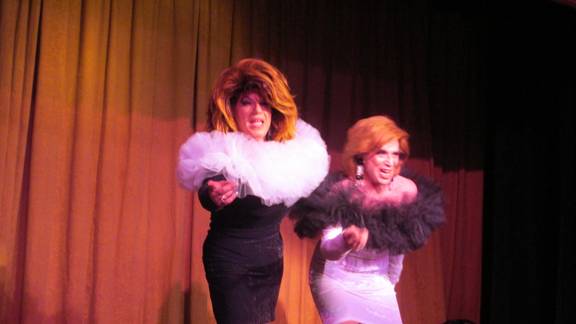 A stunning contrast in black & white SHirly & Sylvia channeled the Barry Sisters Yiddish version of "Come to the Cabaret," (which always cracks me up) This harkins back to one truly unforgettable night when the one remaining Barry Sister actually came to see Sylvia & Shirley lip synch one of their songs in haute Yiddish. There was nary a dry eye in the house at this unique and extraordinary tribute.)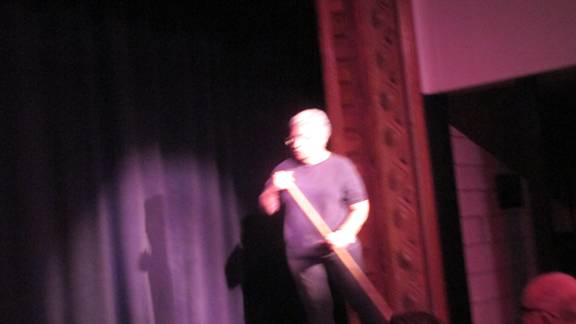 Leaving stagehand Maria Elena Passeretti to sweep off their accompanying balloons muttering "I'm so glad we had this time together" (Picture deliberately blurred to honor union contract which prohibits performing)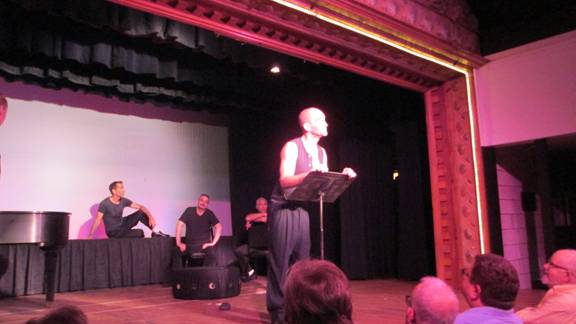 The extraordinarily talented Ken Woodhouse lectures the audience "We won't succeed on Broadway/If we don't have any Jews." (Spamalot)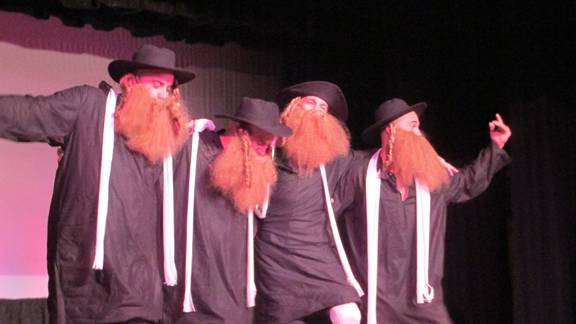 And here they are: Chuck, Eddie, Jake, and Arthur Cohen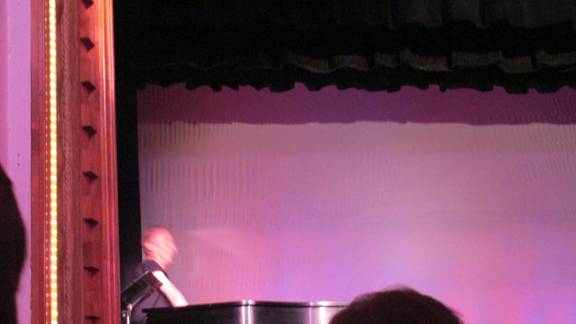 Arthur, (also deliberately blurred to protect union contract) exhibited his piano technique as number continued with a brief appearance from Bobbie and Doreen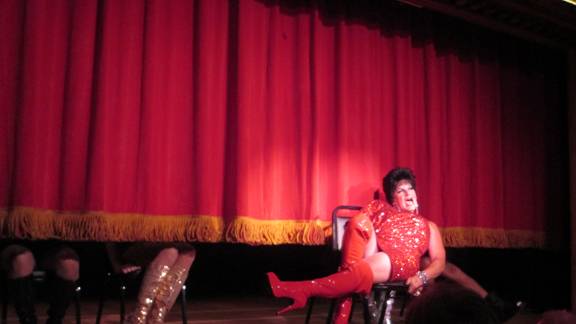 Keeping the show up to the minute a number from this year's Tony winner, Kinky Boots, had the red sequined Donna showing us that "The Sex Is in the Heel," in front of a quartet of "boots".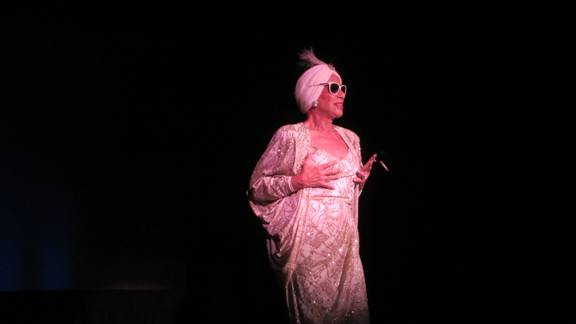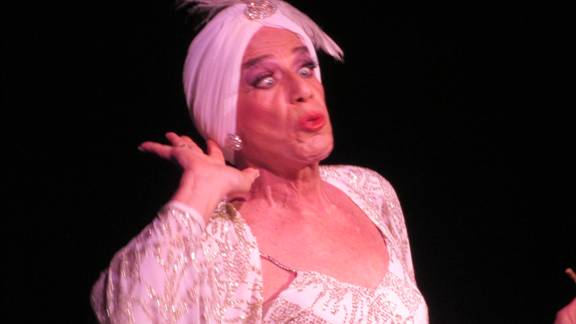 But nothing so funny as Sylvia's trip back in time as Norma Desmond's "With One Look" (Sunset Boulevard) and what a look it was!!!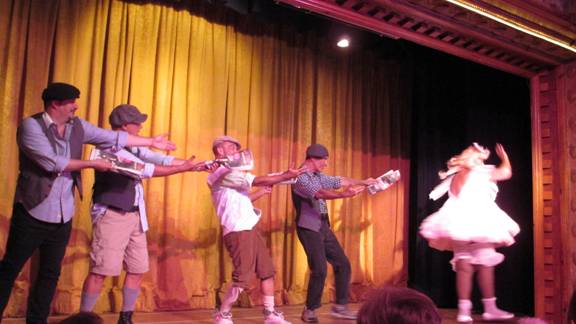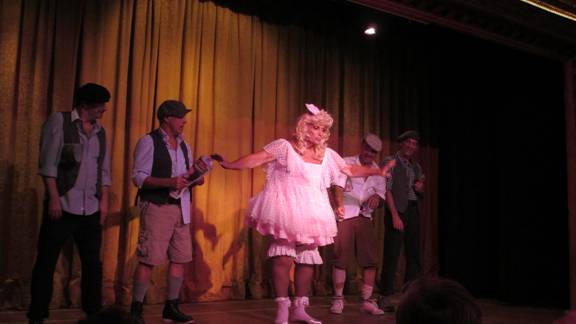 The not so Baby June, Bella romps her way through Gypsy's "Let Me Entertain You".
After newsboys Eddie, Jake, Ken, and Chuck introduce her in "Extra, Extra"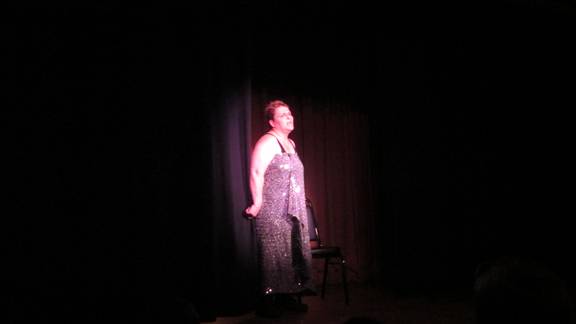 SallyAnn took the elegance out of the name "Mary," from George M.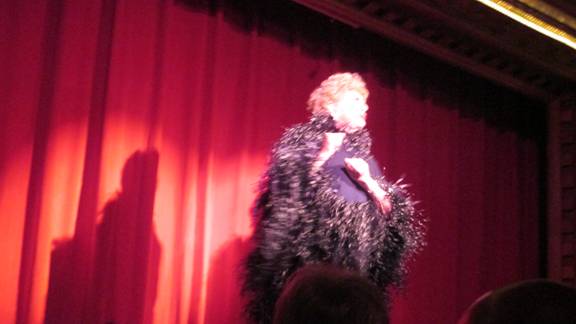 Rose belted her standards "Nothing Can Stop Me Now" (Roar of Greasepaint) and "I'm Shooting High" (Sugar Babies)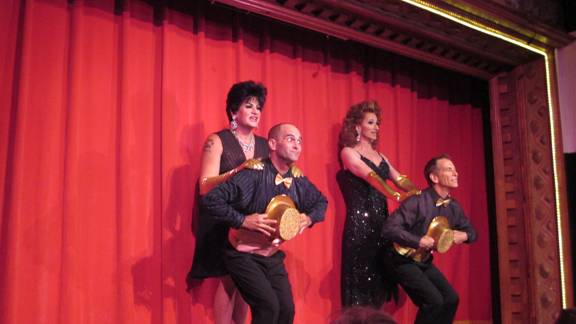 As preamble to the big finale Ken and Chuck joined Donna and Angela in "One Singular Sensation" (Chorus Line) all in gild and black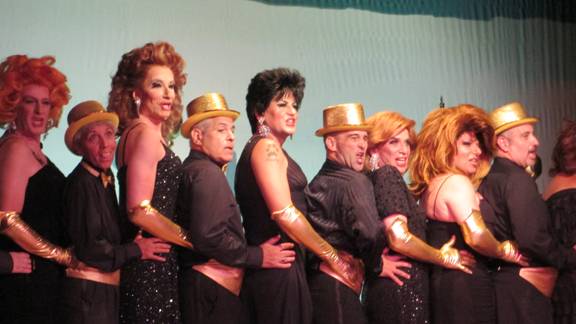 As the rest of the cast joined in the boffo climax…………
The evening concluded with a generous series of "thank you"s from Labohn to show's producers Toni Cesta, Jane Haber, and Hussein Tahan, and APCG and
Matt Baney on the booth, Alison Brackman, Michael Romanelli, and James Lyons (lights and sound); Arthur, stage manager and now performer; stage crew Jane, Maria Elena (and now performer), David Medina, Gary Greene and Luis Valentine set design and construction, and the very valuable Urban Sprawl for hair and makeup.
And a heartfelt note of gratitude to long time partner Evan Kane.
As I raced for the water taxi home – tired but happy!