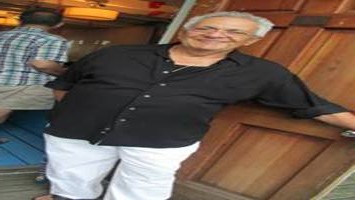 Usher Tony Bondi welcomes VIPs and patrons
LIZ CALLAWAY AT CHERRY GROVE
…… endearing, adorable and delicious
by Jeannie Lieberman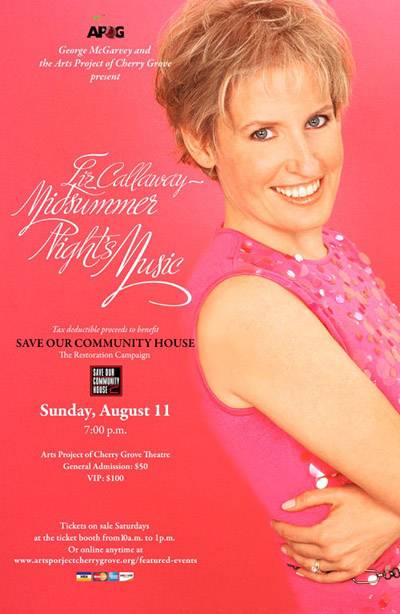 Cherry Grove theater was twice blessed by yet another Callaway sister generously displaying her talent as a fundraiser for the newly landmarked community house theater.
She heralded her act with "Something's coming…maybe tonight" which set a tone of optimism that pervaded the evening.
I'm in a Broadway mode "which was soon enhanced by her other two loves, movie music and the '60's.
Liz Callaway is the exact opposite of her sister Ann, who made a memorable appearance last month on the same stage. Her classic good looks include a blue eyed blonde, slender and graceful in black and white, with a smile that made her immediately endearing, adorable and delicious. She could be everybody's funny valentine.
"It's my Cherry Grove debut, a special day in my career and I changed my mind many times this afternoon deciding what to sing for you'
And she chose "Its My party and I'll sing what I want to" seamlessly sliding into "You Don't Own Me…I'm young and I'm free to live my life the way I want to…" which seemed an early woman's liberation song and perhaps could be another Cherry Grove anthem ("I am What I Am').
Instead of following her own show biz advice, that the second song should be warm and welcoming, she prefaced the next with "I'm always following in my sister's footsteps and once more here" as she jumped into a special version of
"I gotta be me,
what else could I be?
we don't look alike,
I'm short, she's tall,
she writes her own songs,
I can't write a line,
though she has 10 major awards
that's nine more than mine"
Which had the house howling with laughter.
"I feel so much better now". How endearing is that!
She did get to that warm and welcoming song "Something Wonderful" from King & I which she used to welcome her own Yul Brunner –the extraordinary music director Alex Rybeck who delivered some sophisticated and innovative special arrangements especially to "Meadowlark" which she would sing to her patrons as a singing waitress – her first job in NY at 18 - "to make up for the horrible service". She also recalled that she could only sing it on Tuesdays because there was only one pianist who could play it.
Her Broadway career had an inauspicious start with a show that ran 2 weeks – but it was Sondheim's Merrily We Roll Along. Her next, an off Broadway show which lasted only one week but she loved enough to sing a song from it "There have been changes made…" and somehow, maybe because it was new, we hung on every word.
A musically clever meld of "Singing in the Rain" with "Raindrops Keep Falling on my Head" illustrated a contrast of moods as well.
The lovely Liz lent her voice to several animated films including Anastasia (for which she sang the Oscar nominated "Journey to the Past" as 'a Russian princess with a mid western accent") including one that Tara Lapinsky skated to in her gold medal Olympic performance.
In her '60's segment she revered the 5th Dimension and Jimmy Webb singing "This Time We Almost Made It"
But for fun she went to Petula Clark and had the audience singing along (I had a solo moment!) to "Downtown".
Then to Sondheim, first with a touching ode to New York (to the grime…my favorite color is gray") and the cleverest moment in the show when she (we later leaned was a gimmick) "lost" the lyrics to his tongue twister from Company "Another 100 People" then jumped into a parody written by Loren Mayer.
Ms Callaway considers Baby her most important show. Not only was it her first big role but she met her husband during previews and he pursued her 8 months of its run.
Her Broadway "success" was five years as Grisabella in Cats. When asked how she could perform that for so long she answered "I have a very nice house". Then she sang what she described as the most beautiful theater piece every written "Midnight". The audience was rapt.
She recalled the oddest job, as stand-in for Streisand concert, for which she learned 40 songs "I'd like to sing them all to you now' she dedicated one "to this wonderful theater" with "People".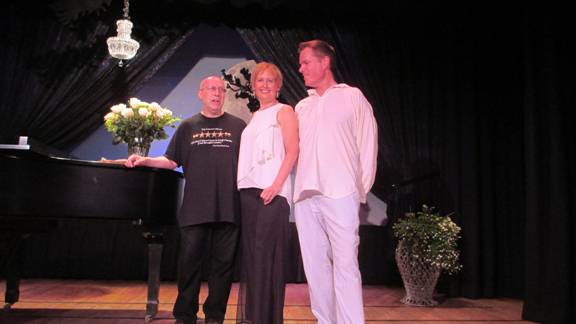 music director Alex Rybeck, Liz Callaway, George McGarvey
She left us with the thought: "I think next year Ann and I can come back together"
What night that would be!!!
Elegant set by George McGarvey
Note from producer George McGarvey:
Thank you Jeannie! It was my great pleasure to bring both Liz and her sister, Ann to the Grove this summer. Personally, it is my way of giving to SOCH and the community. I want to "up the ante" on entertainers on the stage of our historic LGBT theatre.
Local talent and community shows every weekend are terrific and fun, but let's augment with great entertainers like there were in the Grove once upon a time!

These people enjoy coming to entertain our community and help our cause. My next project is working on Sam Harris, who has agreed to come in 2014. I'm working with Carl Luss (who was strategic in making the historic designation of the CH happen) on enticing Lily Tomlin to come next summer as well as inviting the Callaways back to do a show together. So, much to do to ready for more great entertainment in the future.
Glad you were witness to the Callaway's shows. They were the highlight of our season.
You are wonderful to promote the theatre and everyone involved!
Thank you dear lady! See you soon. G
Liz signing and selling CD's before racing for the ferry