Kismet Pasta Dinner:  the best ever!
Text & photos by Bradlee
There certainly were more people and they all seem to be having such a wonderful time.  Joan pointed out that the KFD Auxiliary had moved the date from October to late September.  The weather was gorgeous.  Perhaps, also, it was a feeling that after all we had been through this past year; it was something of a miracle that we could be gathered again, with a good part of our community rebuilt.  Whatever, it was great.  The net take was more than doubled from last year.  On behalf of all, Patti R. expressed her gratitude for the community support.
          Doors opened at 6:  By 7, the meeting hall was crowded with people meeting and greeting and standing in line.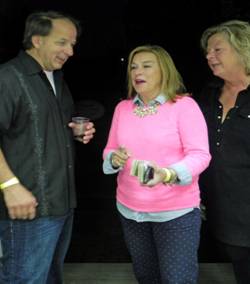 Come in Jane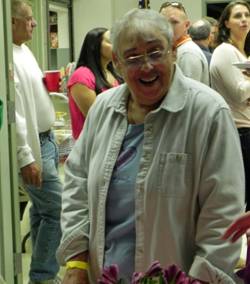 Here's Alice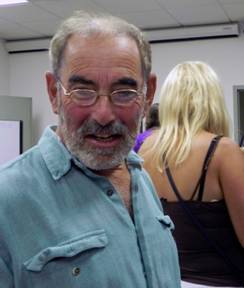 Cartoon Alley's Peter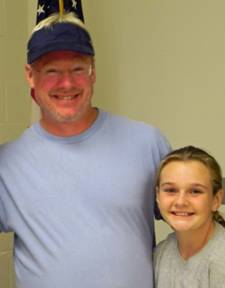 Dave and Tess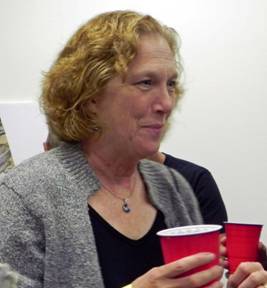 Laurie B
Pete & Caryn Burke helped out
          The dinner was cooked by Lou, Gary & Dawn and visiting Warren Lem.  It was served by Dawn, Bonnie and Cindy.  Sharon and Joann sold drink tickets and Rusty was one of the bartenders.
Lou and Cindy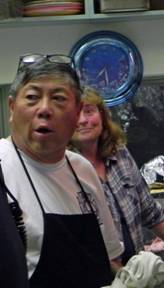 Warren & Bonnie M. in the Kitchen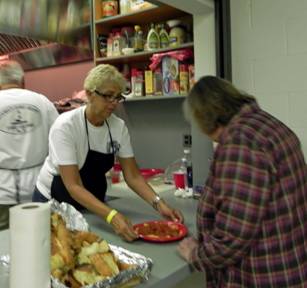 Dawn serving up pasta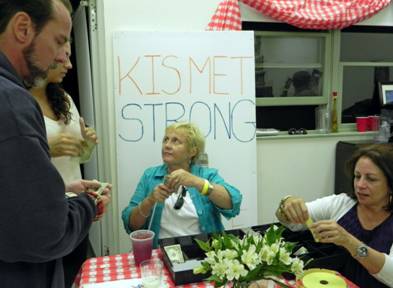 Sharon and Joann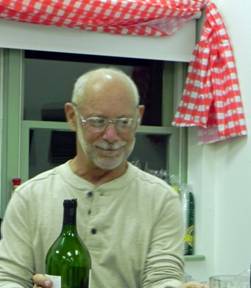 Rusty at the bar, also Jimmy Sugrue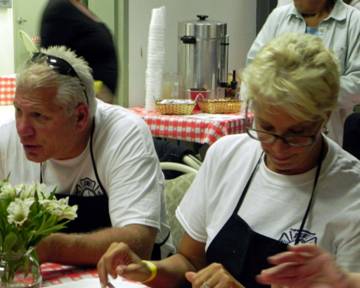 Gary & Dawn finally get to eat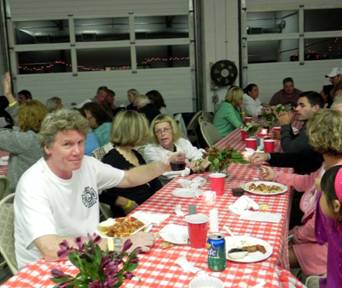 The KFD equipment bay/dining hall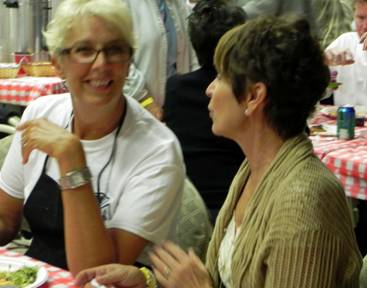 Dawn & Lee Lem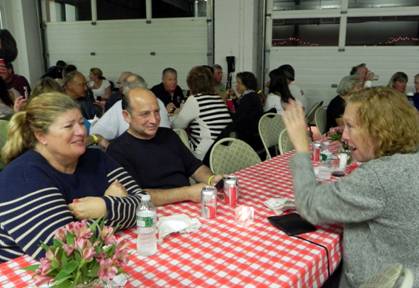 Deb, Sid & Laurie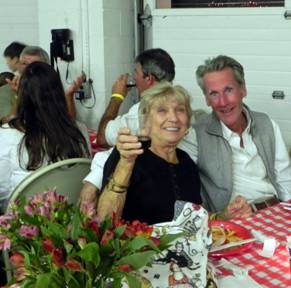 Helen Q & Bill Scholler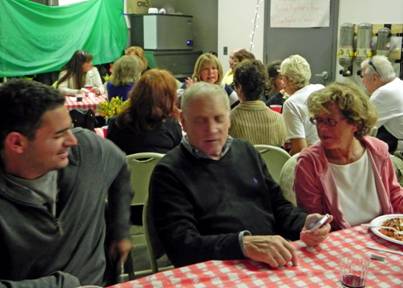 Some folks couldn't resist checking their phones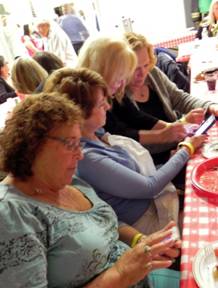 Myrna, Kathy, Maureen & Laurie too
          There was lots of schmoozing before, during and after dinner.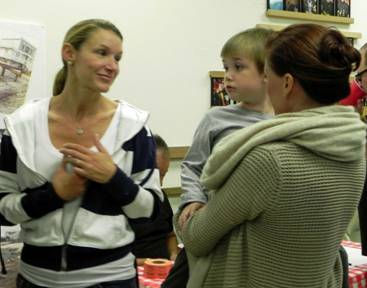 Oh baby!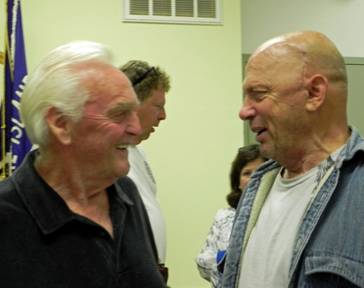 Don Q. & Pete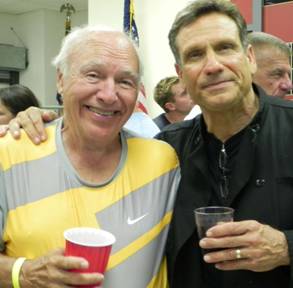 Joe B. and Lou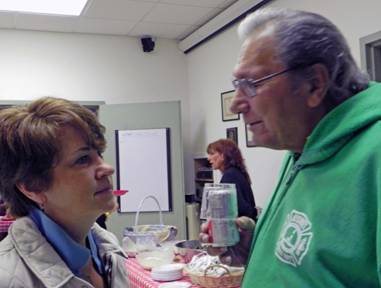 Kathy Decker & Phil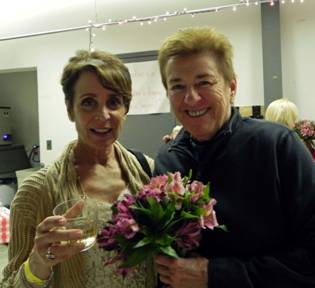 Lee & Roz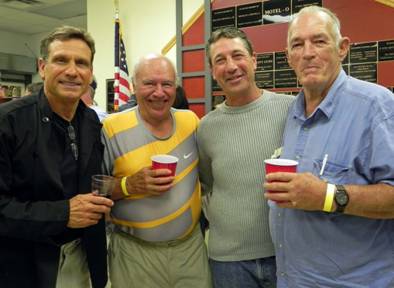 Lou, Joe, John and Carl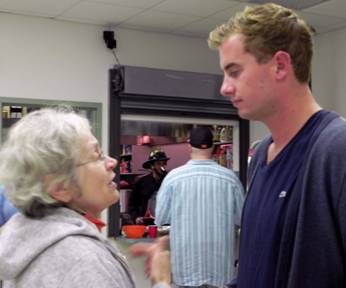 Madonna & Sam Jr.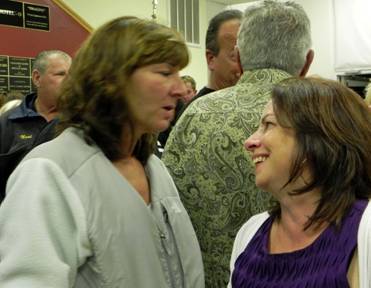 Margaret S. & Joann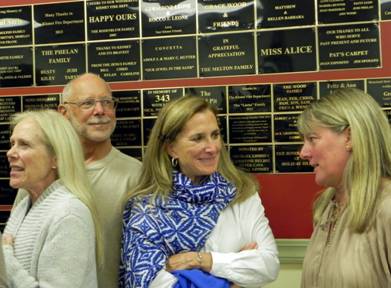 Marsha, Rusty, Patty & Judy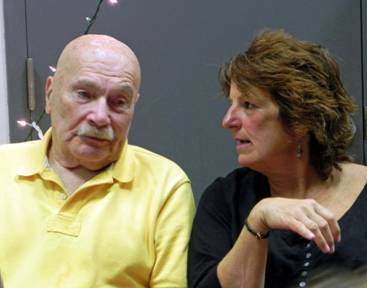 Skee and Linda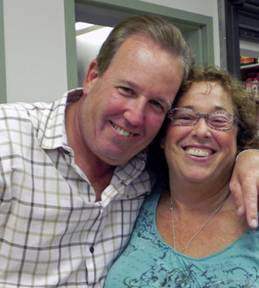 Steve and Myrna
The 50-50 raffle was a big hit pulling in $1500.  In Kismet tradition, an innocent child – Tess Lambe – was chosen to draw the winning ticket.  Carl claimed the prize --  representing Al Cella.  Who's Al Cella? Oh, that Al Cella from Fair Harbor.
Neil enthusiastically sold tickets, helped by Vic & Rose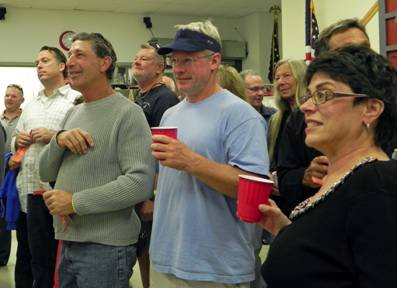 Waiting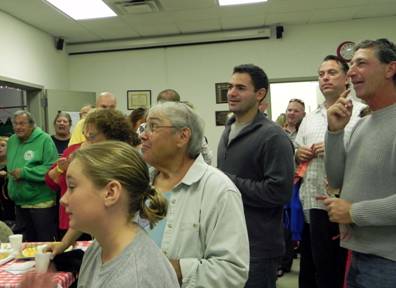 And waiting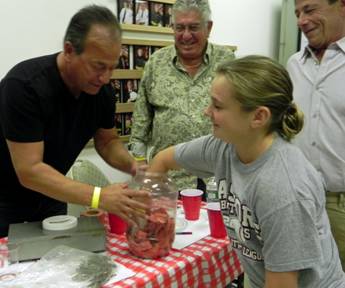 Tess picks a winner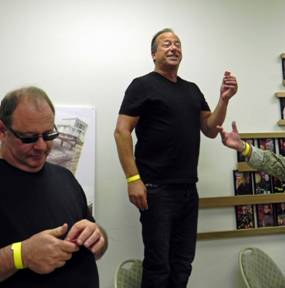 And the winner is…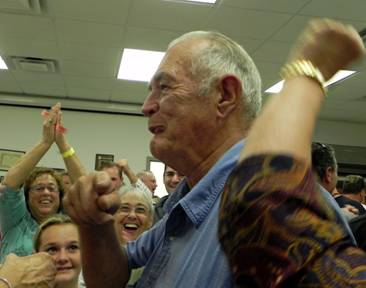 Carl!, uh, not
As if this was not enough, there was a huge birthday cake for Stephen, Janet and Tom.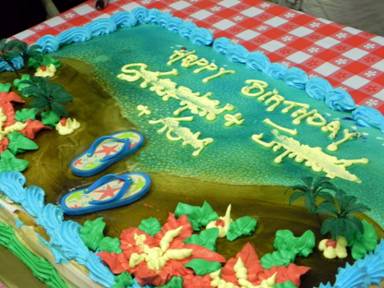 Elliot's clean up crew moved in with some unannounced volunteers – Anna Manzo folded chairs, Bill washed pots & pans and Lee cleaned the kitchen the next day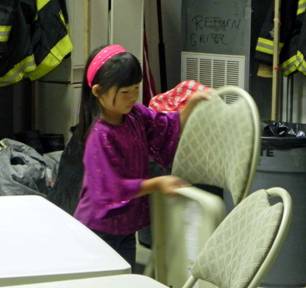 Anna Manzo folding chairs.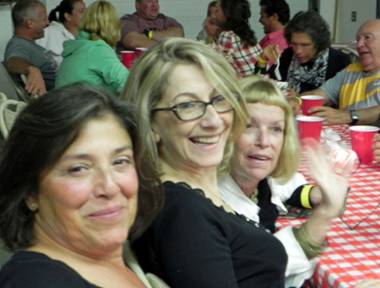 What a great night!