KISMET INVASION
FIRE DEPARTMENT IGNITES KISMET DRAG QUEEN SHOW
By Jeannie
Photos by Jeanne & Kelly Briscoe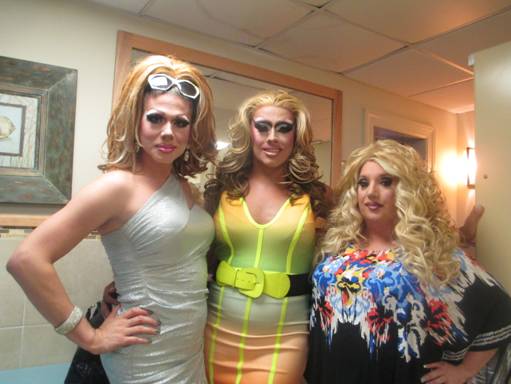 Roxy Brook, Logan Hardcore & Ariel Sinclair
It was a sight I never thought I would see in Kismet! Drag Queens! At the Out!
Their arrival was heralded with a mixture of excitement, skepticism and outrage as our former INN bartender, now Grove impresario, "Little Joe" Paternoster engineered the event on a usually quiet Monday evening.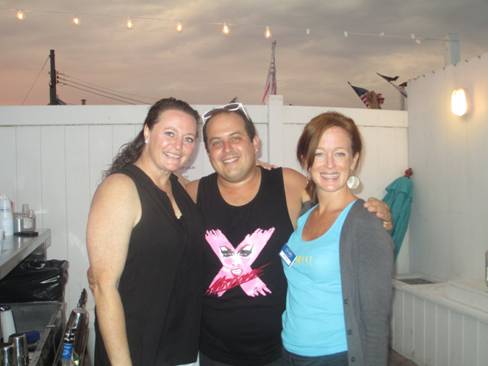 The sleepy hamlet of Kismet, now more than ever a family town, was to experience not the classiest or the more sophisticated of Drag Queen entertainment but a trio known for their shock value: the relative newcomer to the Grove constellation, Logan Hardcore – the name itself implies the tenor of her act, - a young man in his early 20's whose signature talent being hanging from ceiling beams or flying/crashing splits all to relentless rock music
Paul Barbara, Out's owner, was beside himself in welcoming them and making them feel at home. Arriving a half hour late on his speed boat Logan Hardcore said "I thought it would be a yacht and I was dressed up. It nearly blew off my lashes and my wig".
When they arrived they were offered cocktails in the bathroom - a first for the "girls' but one of many more to come. In fact, going overboard in every possible way to make the girls welcome he would intermittently step onstage bearing food – at one point interrupting Ariel with a plate of meatballs.. "I don't usually eat in the middle of my act" she demurred and passed on them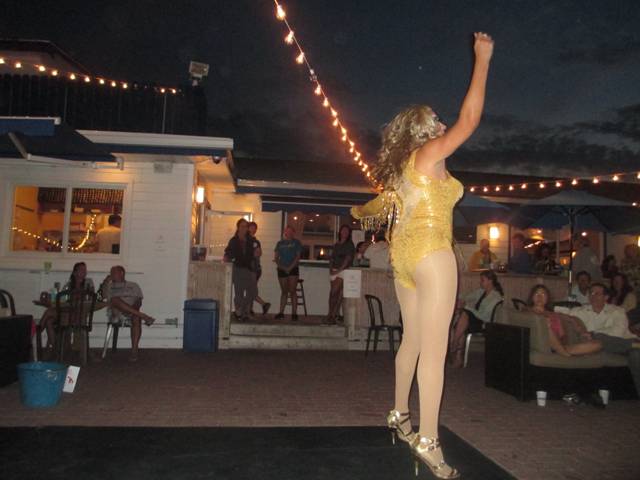 It was slow in the beginning (7PM or even 7:40 PM a bit early before sunset for a very night time diversion.)
"Welcome to the showroom" Logan boomed – "That's what we are calling it". And the stage was rudimentary, some spot lights not working, the twinkle light criss crossing the courtyard. The makeshift "stage" was covered in felt – which eventually caused one of the dancers to slip ("We are accustomed to a hard wood floor") and the sound system was fragile – but they soldiered on – for hours - (I left at 10:45 and they were still going)
The crowd filtered in – empty seats very evident at the beginning and Logan said, after a few attempts at audience response, "I will have to coax them through it" exhorting the slim crowd to "Make noise". But they were accommodating and as the over amped noise emanated from the Out courtyard it eventually drew stragglers until at evening's peak it was SRO, the decibel level masking the minimally planned material, but the crowd was enthralled.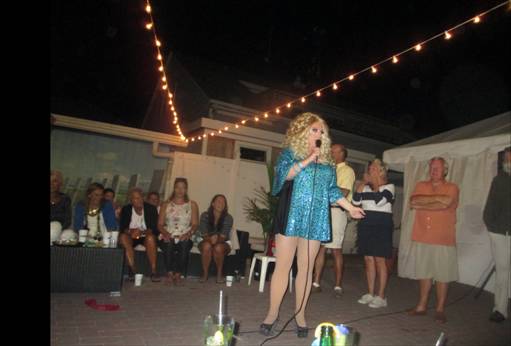 The veteran and more talented Ariel Sinclair, host at the Palace's many shows and Miss Fire Island Contest, combines highest entertainment technique with the bluest of material. Cute as a button and saucy she chose a song, "Boobs", which she lip synched (they have special material recorded –few sing) and went through the room describing their different shapes and feeling the one's in the audience with total compliance.
As the alcohol level of the performers and the crowd ascended the material went the other way. Her later song was simply titled "F—ing" and the lyrics did not stray far, such as you can f—k me here, you can f—k me in the rear, in the ear...etc with appropriate sounds and postures for each location. The audience howled and passers by hearing the raucous revels entered.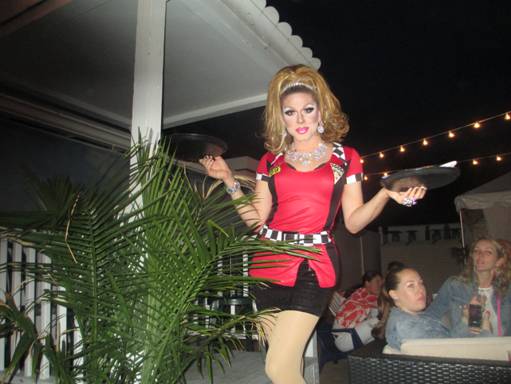 They were seductively served by the third member of the troupe, the beautiful Roxy Brooks, and entertainer–in-training who can high kick as well as the Rockette found in the audience. You Go Girl!
When Roxy performed she slipped off the makeshift stage stumbling glamorously, but recovered quickly with some dance moves on the floor which Logan imitated later as a joke –complimenting her friend on not missing a beat.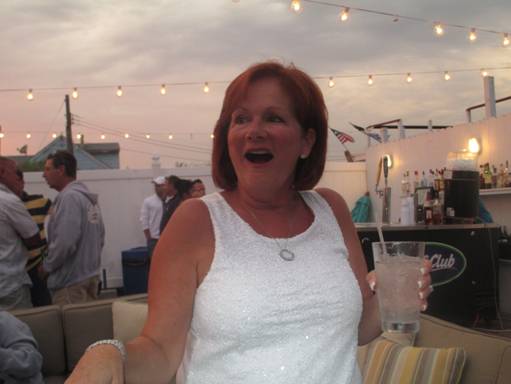 Clever as they are at "working" the crowd, they soon targeted Debbie when they learned she was the owner's wife and consistently hit on her – on mike – for more drinks. (One wonders how they retained all these with costumes that had the usual exits securely tucked under tight layers of spandex and mesh, and whatever else to keep things in place)
.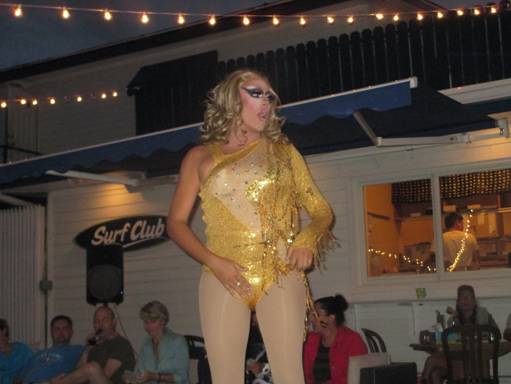 Hardcore. was inspired to touchingly exclaim that she was nervous coming here, to a town with no previous exposure to Grove "culture" and so relieved at the warm (financially and liquid) welcome. Her "act' consisted of patter which cannot even be alluded to in this article – unprintable at the least and when she would run out of material she would summon another blast of music and lunge through some more splits.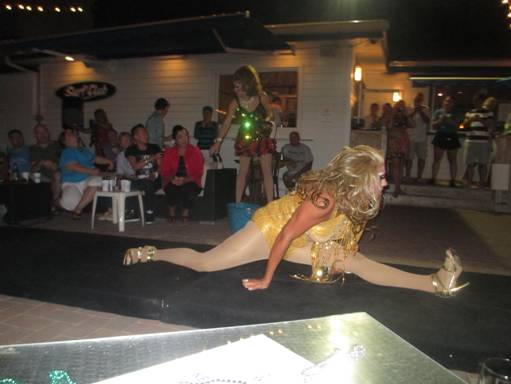 But they had no problem leaning on their hosts for more substantial "favors'. The girls work for tips since their base pay is small. They brought a few audience plants with them; young men and women who would rush up and place bills into their cleavage or wherever.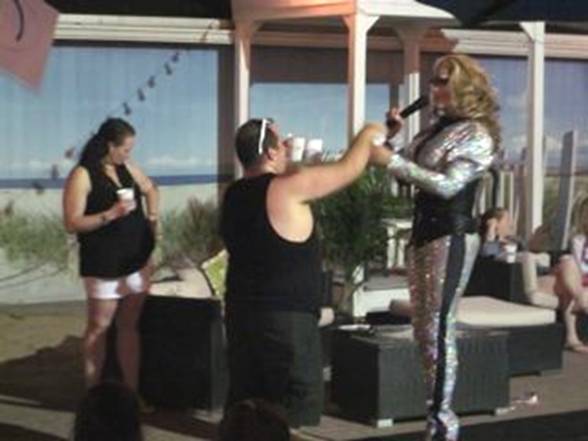 Joey keeping Logan well lubricated
At one point, realizing the crowd was suitably juiced to go along with anything, Logan insisted on $20 bills from her audience. Not satisfied she tuned to Paul on microphone and demanded a $50. Putting him in an awkward spot. He complied. Not satisfied and determined to push further she dismissed the $50 (into the prominently displayed stage bucket for tips) and demanded a $100 – Though he resisted at first she pressed on (At this point she had imbibed at least 25 drinks generously plied by Debbie and others)
And he, thoroughly submissive, gave her the $100.
"This never worked before" she marveled (thus underscoring the level of manipulation Kismet offered)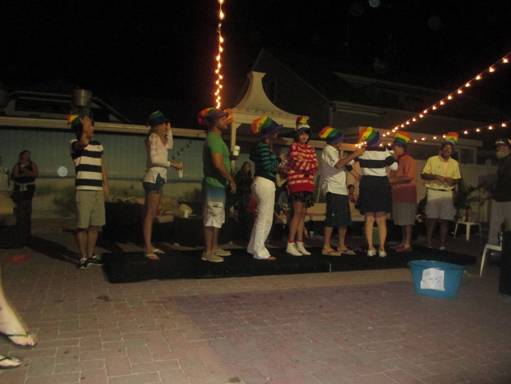 At one point they enlisted some audience members for a contest of sorts – those who were "relaxed" enough joined.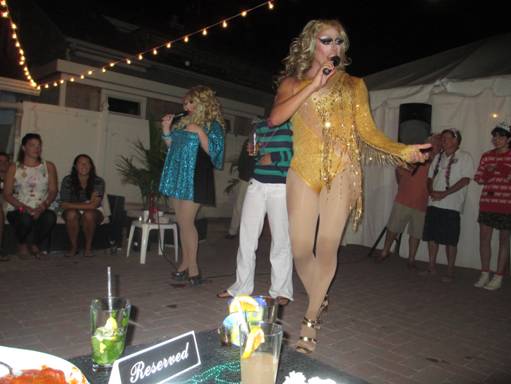 C'mon, let's hear it for them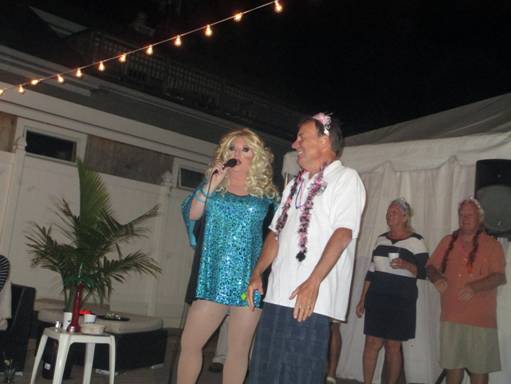 Joe McKeehan, Tim Mooney, among others at times sporting different styles of runway walks. It was the tamest art of the evening.
The contest which I am sure has been done as a way to draw in the crowd was working well – Out's own sushi chef Jamie, now nicknamed "Eggroll", won the contest.
Not so tame was the sound which emanated from the open space, loudly amped, attracting passers by – while the adults joined inside filling the place, there are reports that younger kids, similarly attracted, were hanging onto the enclosing fenced trying for a peek but nonetheless privy to the exceedingly blue monologues.
In the middle of one of Logan's riffs the fire siren went off
Joey flitted across the stage and out through the wings like a butterfly on speed.
In all 17 firefighters in the audience ran out.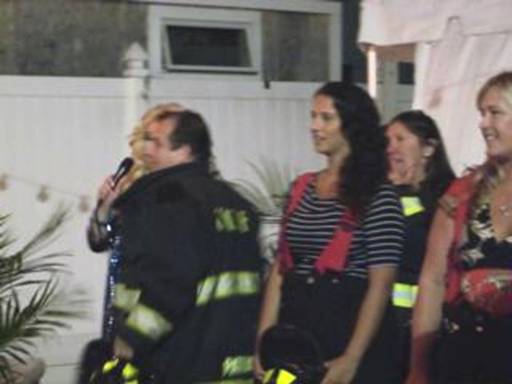 Waiting to go on
Not recognizing what was happening Logan tried to continue as best as she could – but all of a sudden those who answered the call, the KFD still in gear, re entered through the "stage door" and bopped their way through, dancing to the music
It was a moment that could never be planned or choreographed.
The crowd cheered and applauded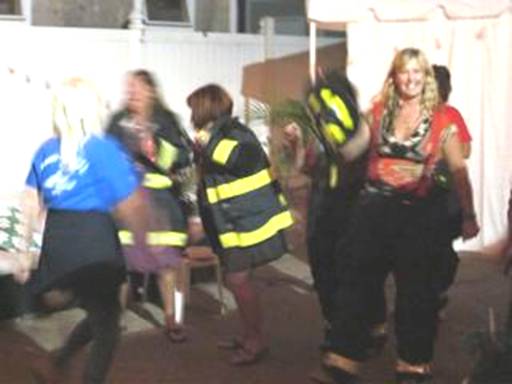 Though this would have made a great finale to the evening. Logan continued non plussed.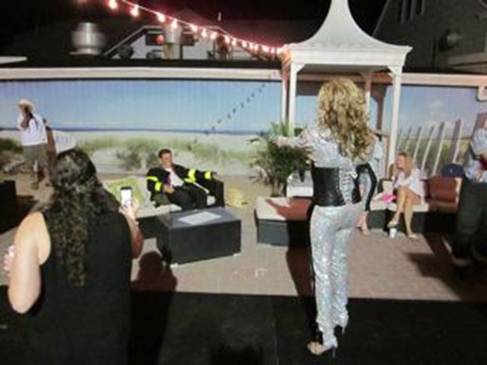 She spots her target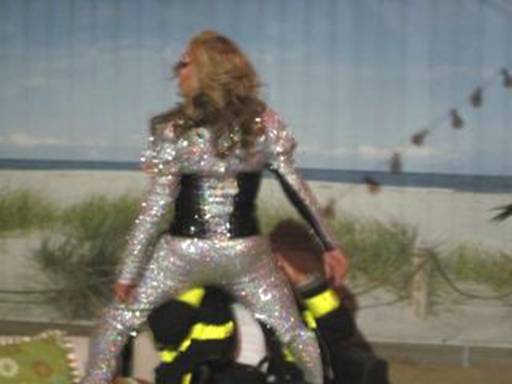 Lou landed on a divan and Logan lost no time straddling him and sitting near his face for what seemed like a long time. He emerged when liberated somewhat dazed.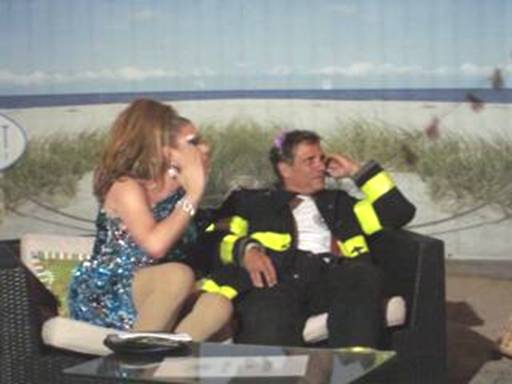 Roxy came over to revive him.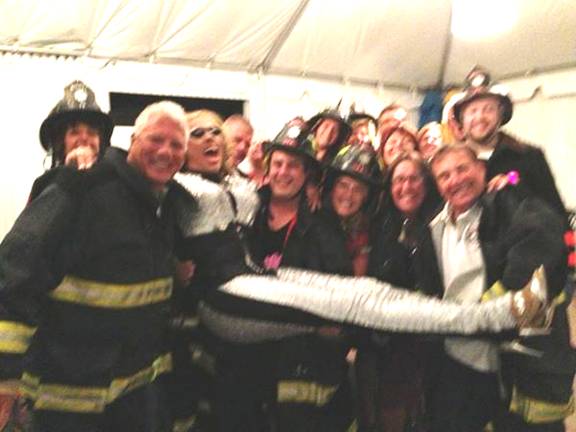 (I hear the William Morris Agency is ready to sign them up "The Dancing Fire Department of Kismet")
– And Oh Yes They will be back next year, this time with a dinner charge. One could hope at a more adult hour, and a more intimate sound system