June 19, 2013
Jacqueline Jonée Video Verité
                                                                              By Joel Benjamin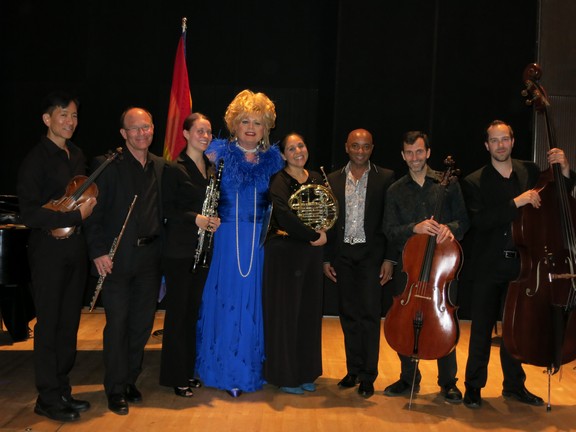 Jim Tsao, Simon Dratfield, Cat Cantrell, Jacqueline Jonée, Audrey
Flores, Anthony Bullock, Bjorn Burkhout and Sam Nedel a the Bruno
Walter Auditorium, Performing Arts library in Lincoln Center,
Gay Pride Concert, Monday, June 17, 2013
Jacqueline Jonée bills herself as "the World's Première Concert Pianist Drag Diva," which is PR hyperbole, but not by much judging from her display of musical talents in her concert at the Library of Performing Arts' Dorothy and Lewis B. Cullman Center at Lincoln Center.  Certainly Jonée displayed more than a bit of Liberace pianistic gifts in her amusingly over-the-top presentation.  Her piano playing is deft and witty and her gowns and wigs are lusciously elegant.  Her six-member band, the JouJou Jacquettes Philharmonic Orchestra, adds a touch of class to a repertoire that veers between musical theater and classical pieces.   That she is not more famous is puzzling.  She is a skilled entertainer who balances heart tugging shtick with an acid wit.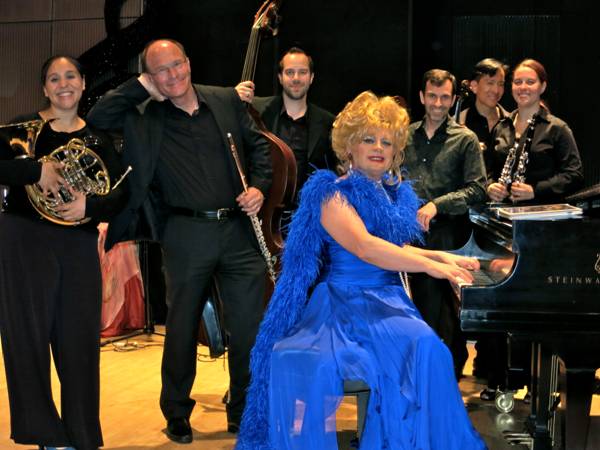 (l to r) - Audrey Flores, Simon Dratfield, Sam Nedel, Jacqueline Jonée, Bjorn Burkhout, Jim Tsao and Cat Cantrell
Jacqueline Jonée Vidéo Verité at the Bruno Walter Auditorium attracted a large audience of devotees who sat, rapt, through the video presentation that preceded the live concert.  The video interspersed rapturous audience commentary with long excerpts of concert performances from previous years.  In a procession of gowns, Ms. Jonée performed everything from "Chopsticks" to "The Flight of the Bumblebee" with stops at Sondheim and Irving Berlin, all the while quipping humorously on Liberace's legal problems and striking ballet positions at the piano as she played "Les Sylphides."  There were also hilarious bits with a page turner who couldn't read music and a story of being voted the Pride Queen of the SAGE Senior Center!
When Jacqueline did waft onto the Walter stage, a vision in blue, she joined her Orchestra in four numbers, but not before commenting that the video we had just seen should be titled "Jacqueline's fluctuating weight." 
She prefaced her first medley with a moving speech about gay rights and then proceeded to combine "America,"  "Nothing's Gonna Harm You" and "Somewhere," the first and last from West Side Story (Bernstein/Sondheim) and the second from Sweeney Todd (Sondheim).  The colors of the string and wind instrument arrangements made for a particularly poignant "Somewhere."
She turned "My Buddy" (Walter Donaldson and Gus Kahn), a maudlin old vaudeville chestnut, into a tribute to those lost to AIDS, particularly in the early days.  A Gershwin medley, beginning with a mini-"Rhapsody in Blue" came next.  Here Jacqueline displayed some silly phony Liberace smiles as she segued from "Bidin' My Time" to "S'Wonderful" to "Strike Up the Band."
Of course, Jerry Herman's gay anthem, "I Am What I Am," had to make an appearance, here combined with a touching "Over the Rainbow" (Arlen/Harburg), both songs perfect for the Library's celebration of LGBT Pride Month.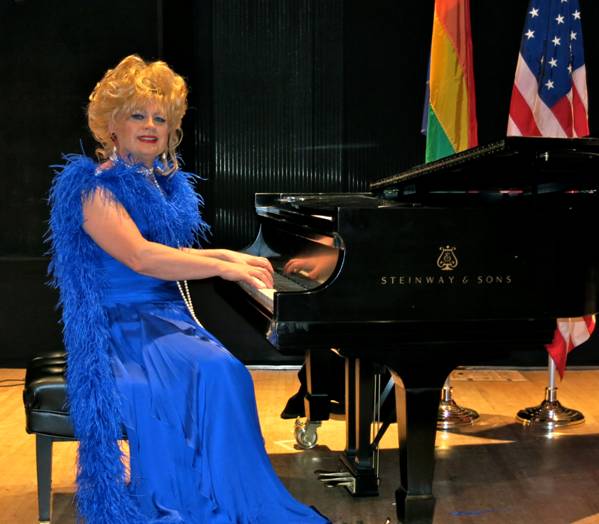 The JouJou Jacquettes Philharmonic Orchestra consisted of Dr. Bjorn Berkhout on cello, Cat Cantrell on woodwinds, Simon Dratfield on flute, Audrey Flores on French horn, Sam Nedel on contra bass and James Tsao on violin.  It was amazing how this small ensemble produced such a rich array of timbres and colors which enhanced Jacqueline's consummate musicianship and showmanship.
Jacqueline Jonée Vidéo Verité (June 17, 2013)
Bruno Walter Auditorium, The New York Public Library for the Performing Arts at Lincoln Center
40 Lincoln Center, Amsterdam Ave. & 65th Street, in Manhattan
Reservations:  212-642-0142 or www.nypl.org/lpaprograms
More Information:  www.jacquelinejonee.com