The 38th annual Cherry Grove to Pines Invasion
photos and text by Jeannie
Blessed by the weathermen, this Thursday July 4th was the first day of sunshine in a week.
But it was hot!  No matter how many Invasions (when hundreds of Drag Queens board a ferry and "invade" the Pines harbor where they are greeted by thousands) it is always exciting.
The creativity is astounding as a flurry of feathers, sequins and other unique accoutrements decorate the bewigged beauties (and some not so beautiful – I mean some didn't even bother to shave! their Faces!)
Panzi, one of the original invaders, this year resplendent in Fire engine red under a bright blue wig led the "herd" for the 38th time
They pay up and register at the Ice Palace where cameras flash by civilians and others in costume alike.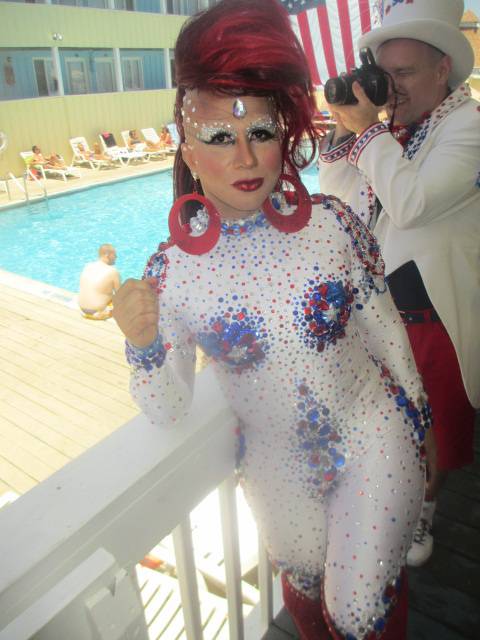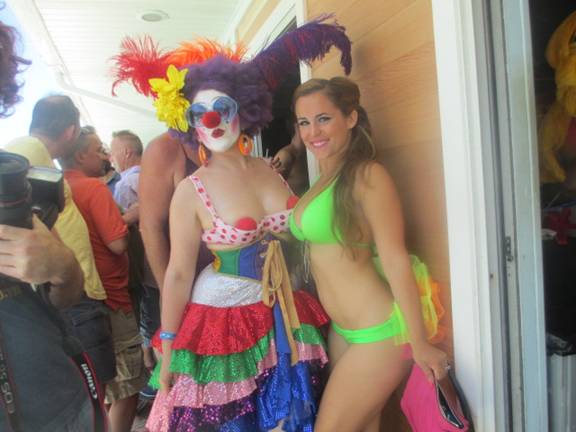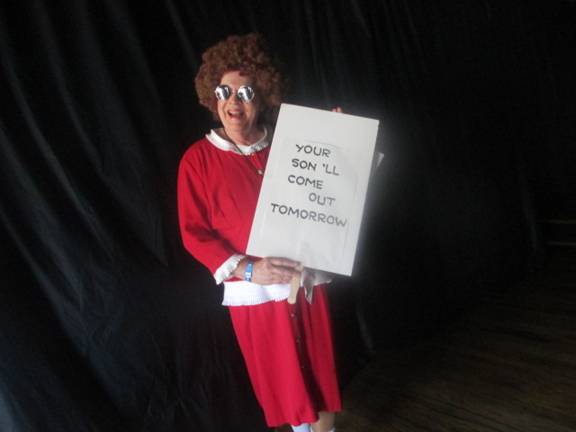 Carl brought back this one with Annie back on Broadway -my favorite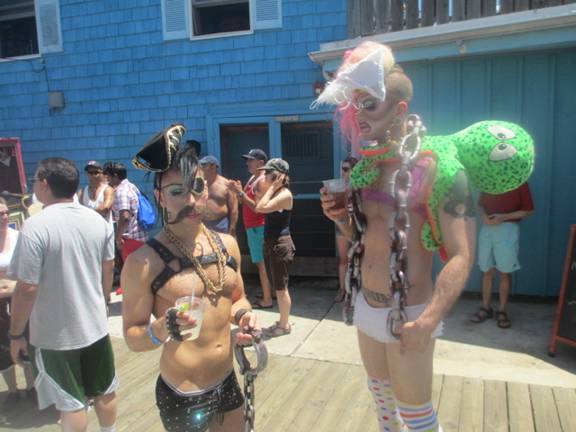 Confused?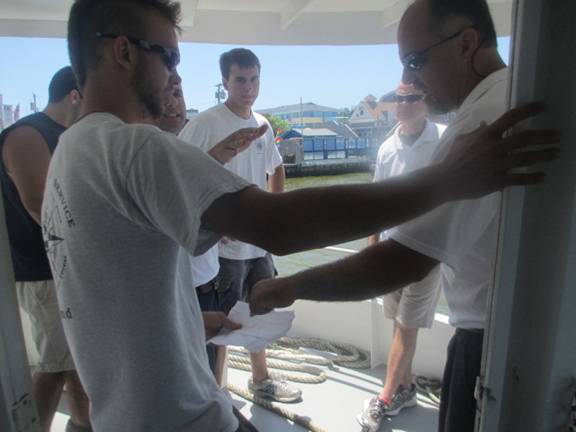 Ferry Capt Stein gives last minute instructions to the crew before ferry takes off for the Pines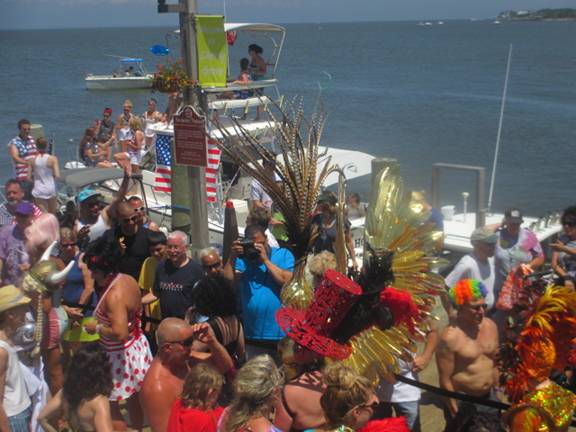 A flurry of feathers to get on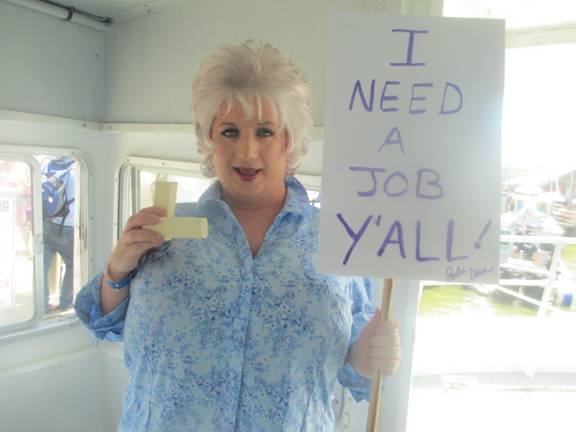 Ariel summons Paula Dean, complete with butter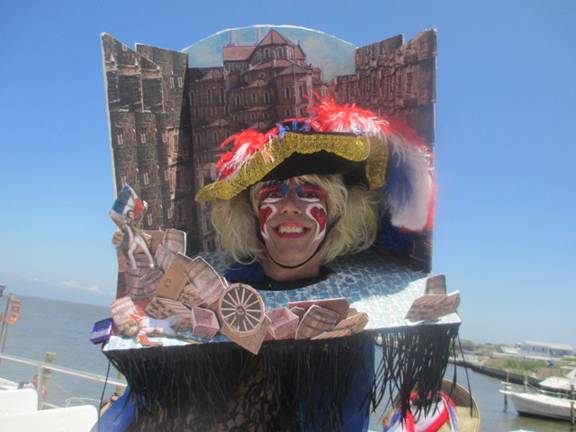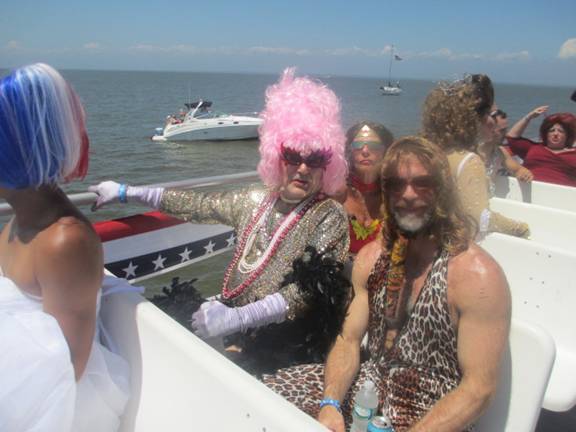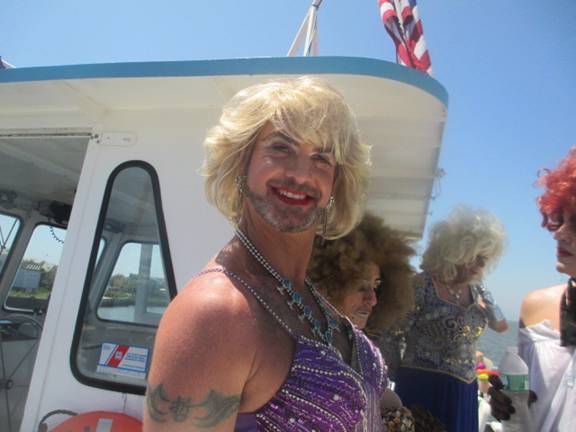 My new BFF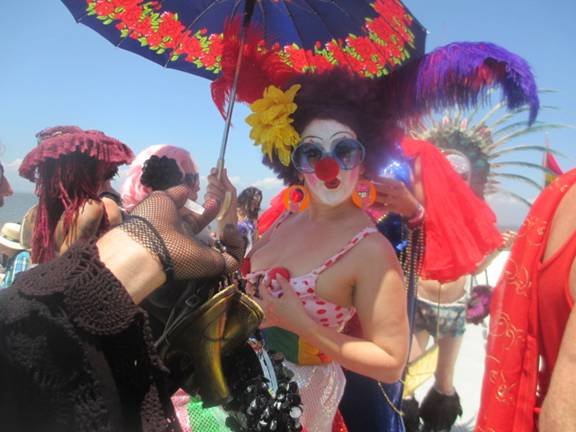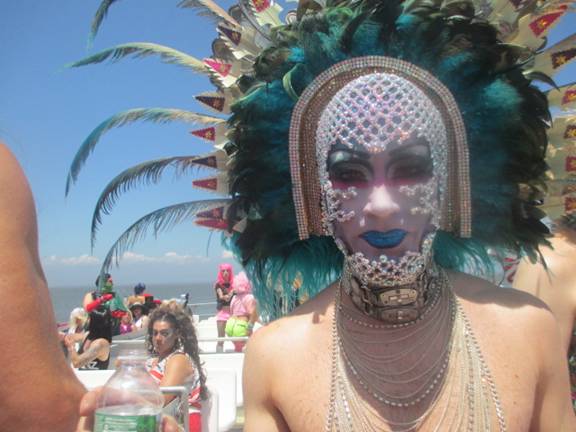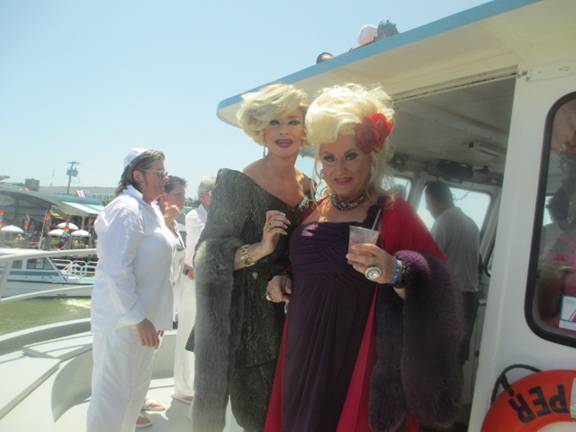 The royal procession gets to stay up front, Charity & Angela Mercy, part of the royal procession – this year celebrating "Simchas Torah" with a minion of "moyles".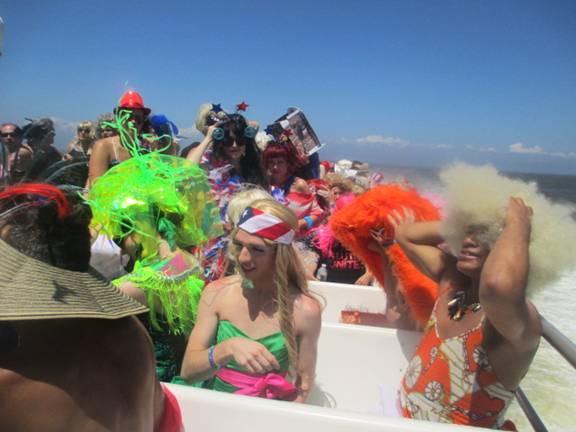 Gusty winds (isn't that the name of a drag queen?)  made everyone hang onto their wigs while my admiral hat blew into the bay while taking this picture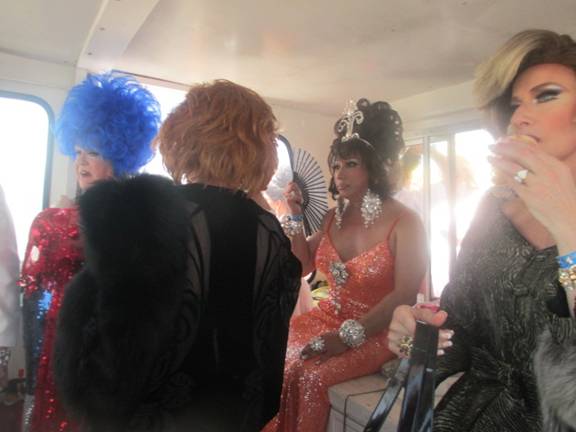 While the royals, of course, waited inside
 The landing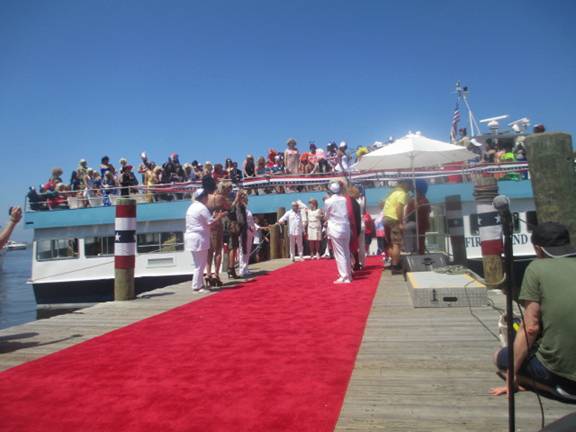 Thousands in the Pines awaiting this moment to see the hundreds on board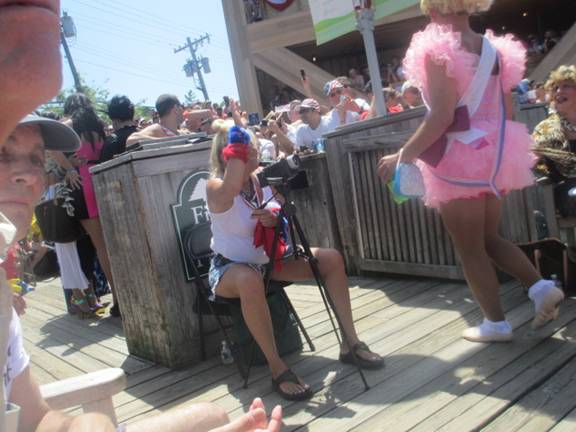 Robin Byrd heads the press corps
HCQueen Shirley Shapiro - first off
Her card reads "I am NOT 'A Queen'/I am 'The Queen'/and that's 'Your Majesty'/to you!,"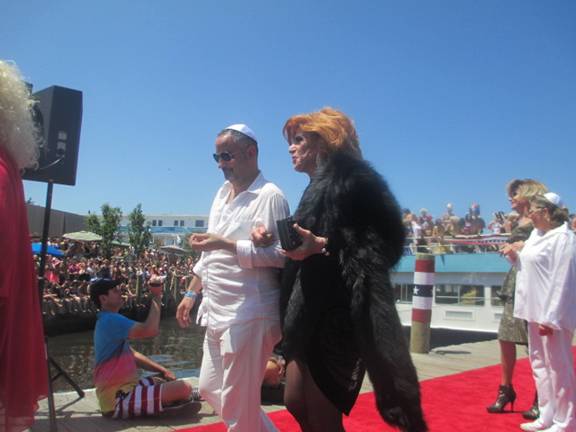 Soon to be followed by Sylvia
HRH Wendy and consort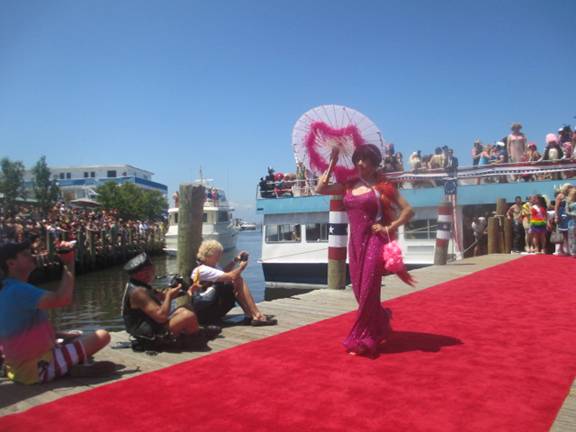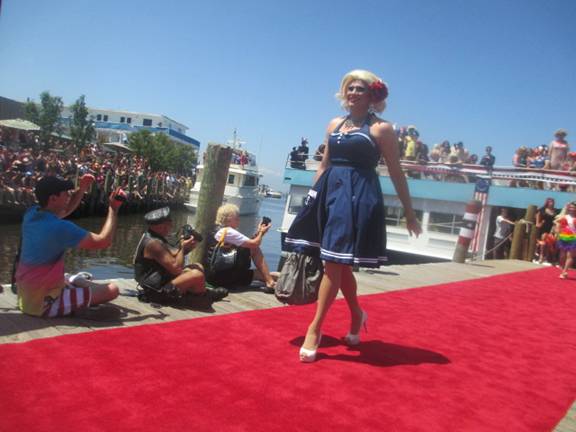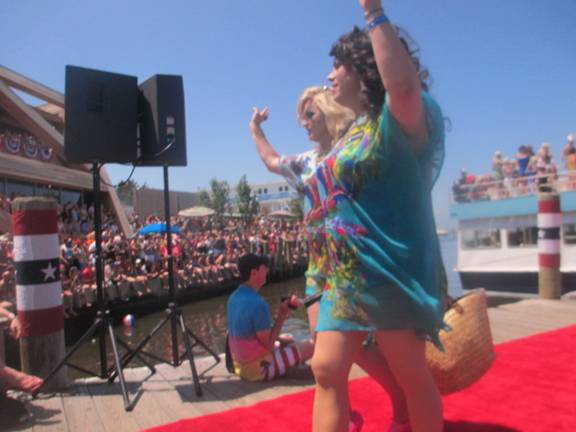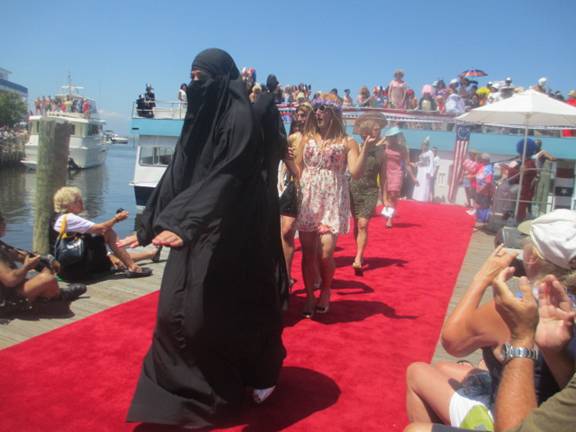 Wonder what's under those burkas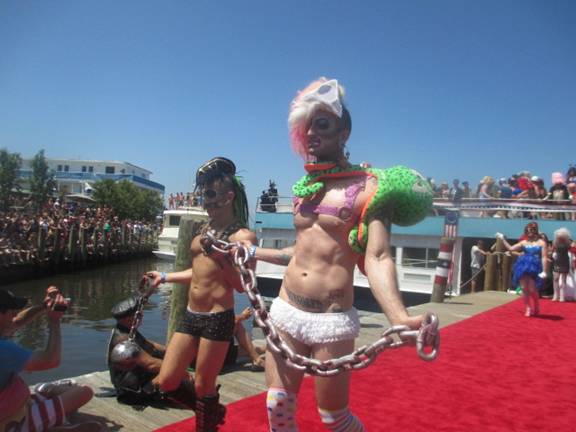 Didn't we see them before?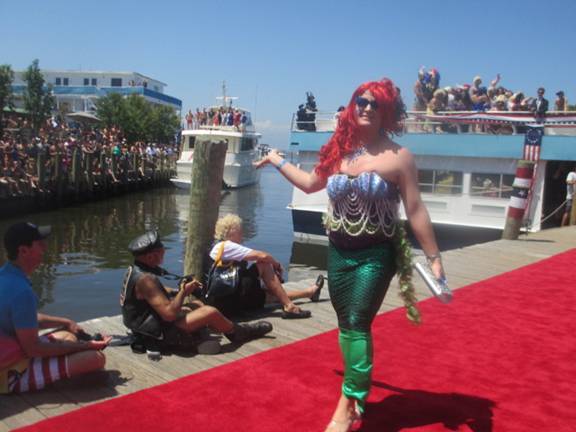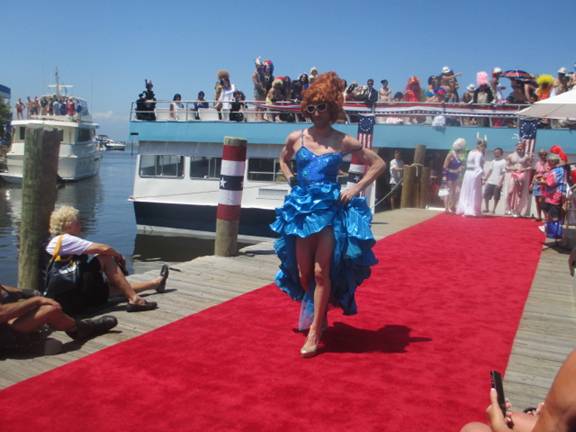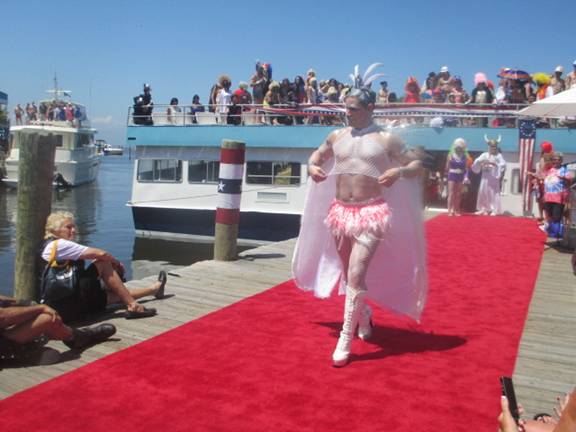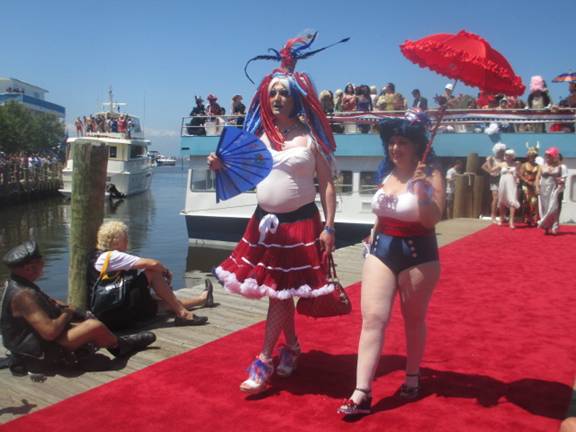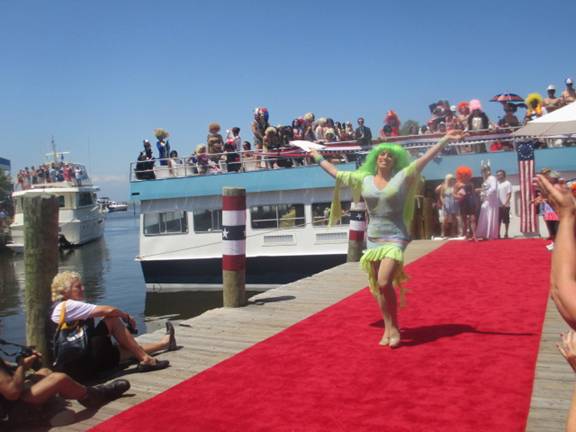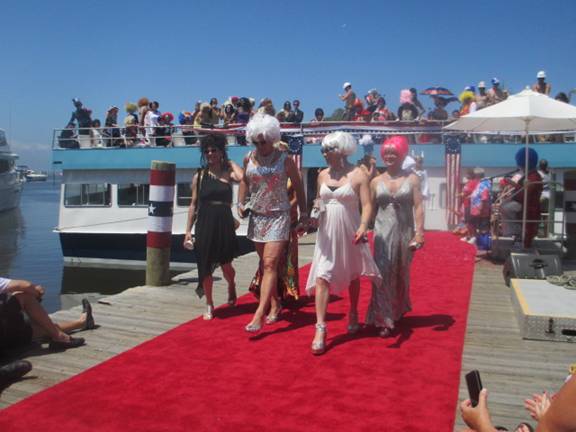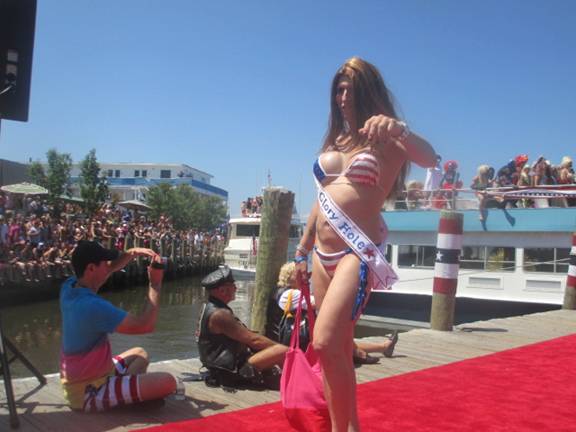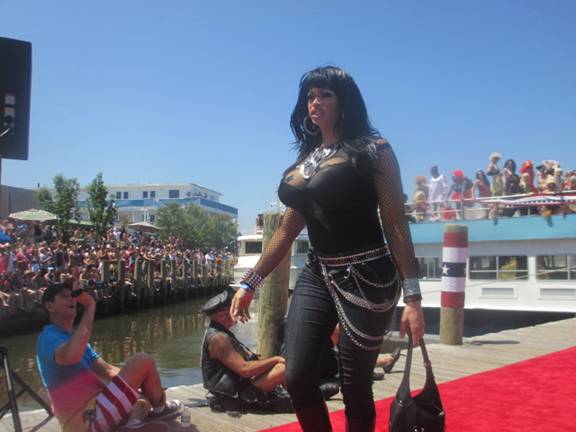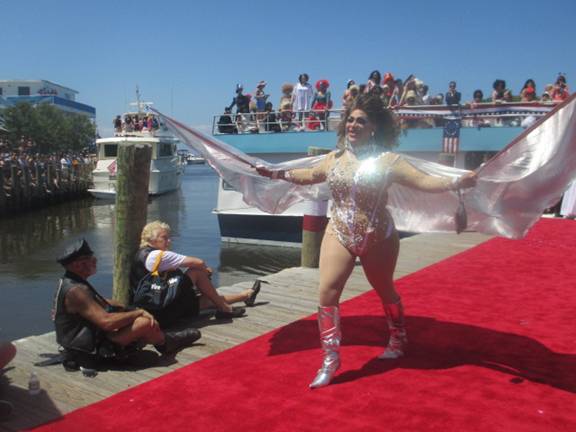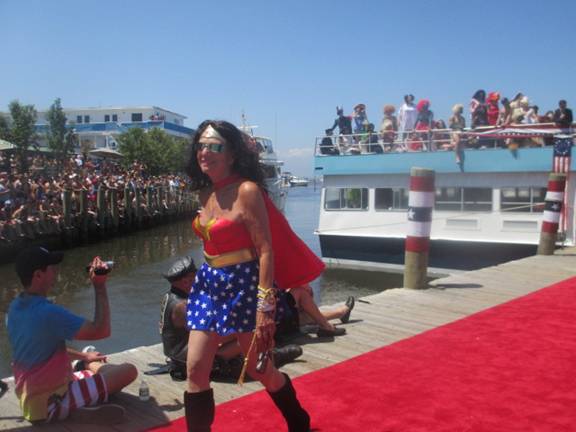 Wonder Woman (Joyce)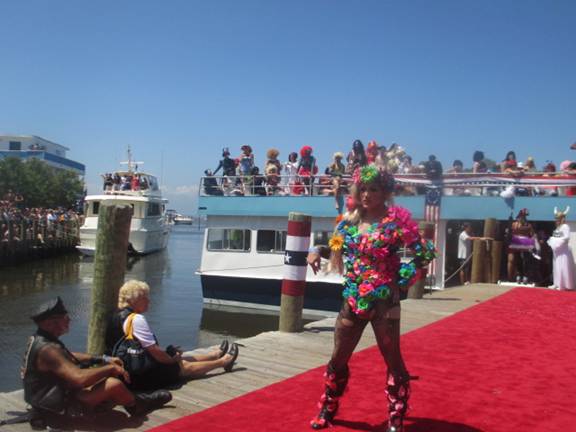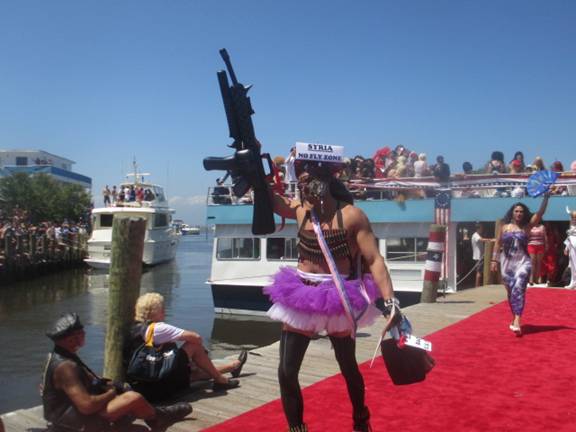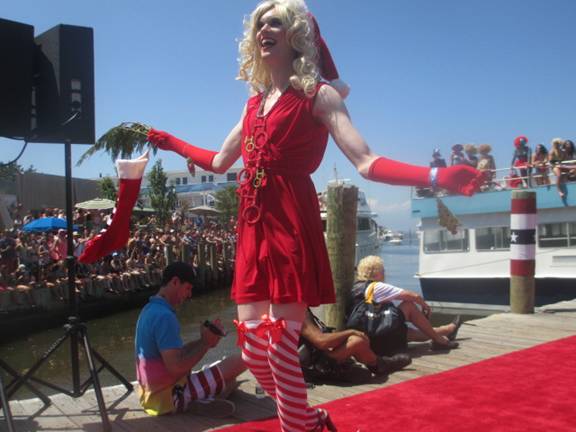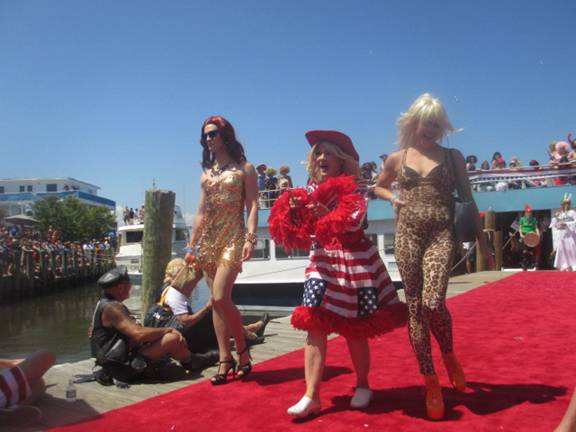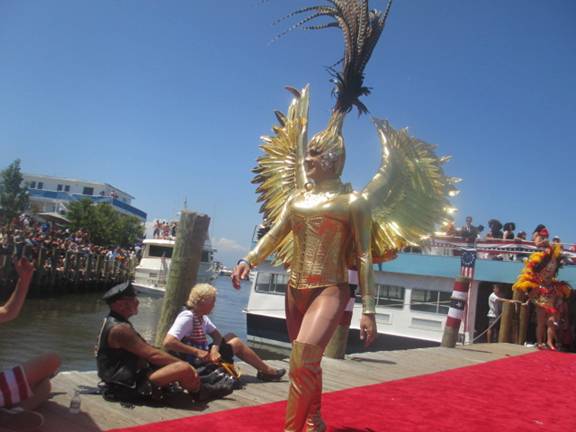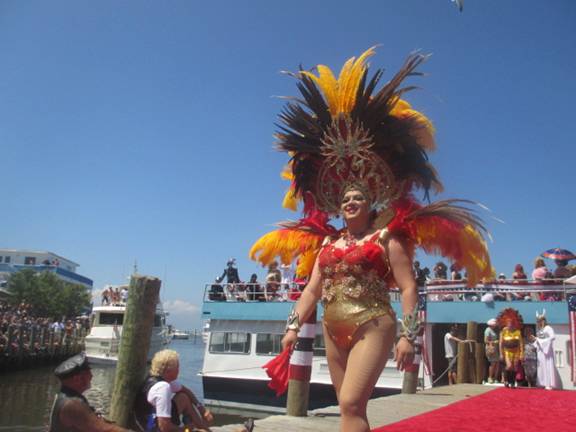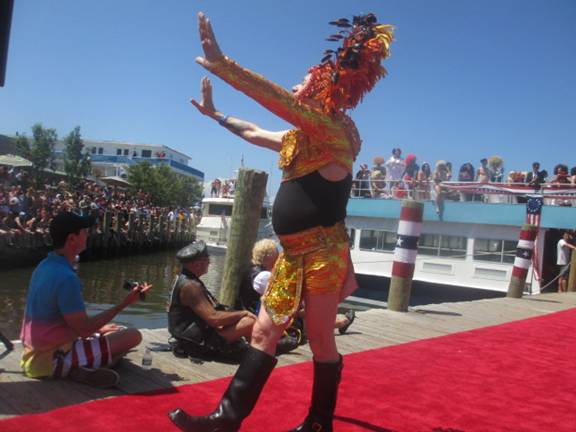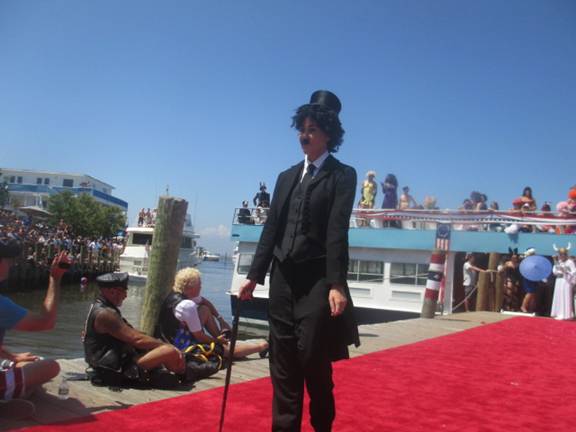 It's Charlie Chaplin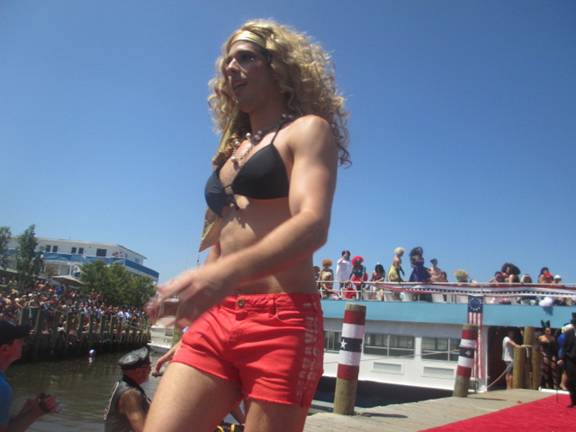 What is this? Must be from Long Island - Brook Haven? Beth Paige?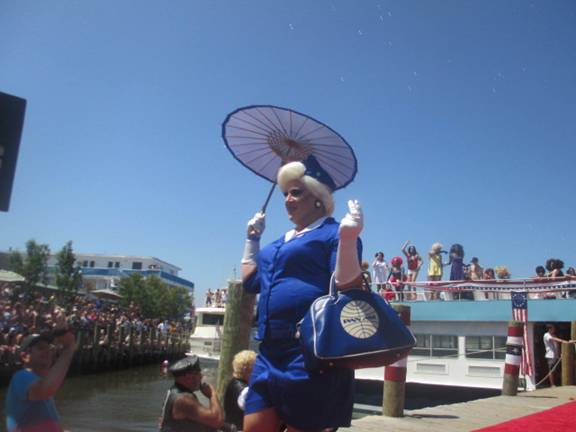 Overweight flight attendant – endangered species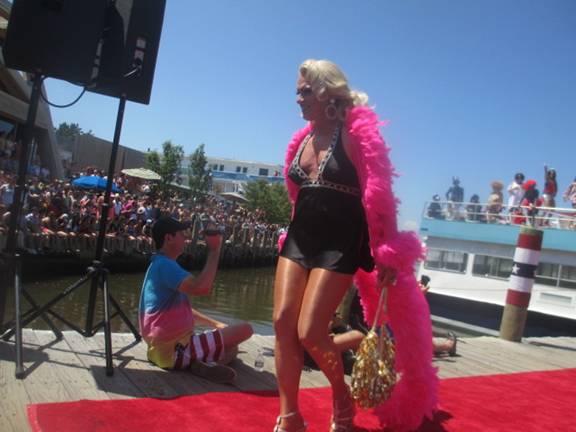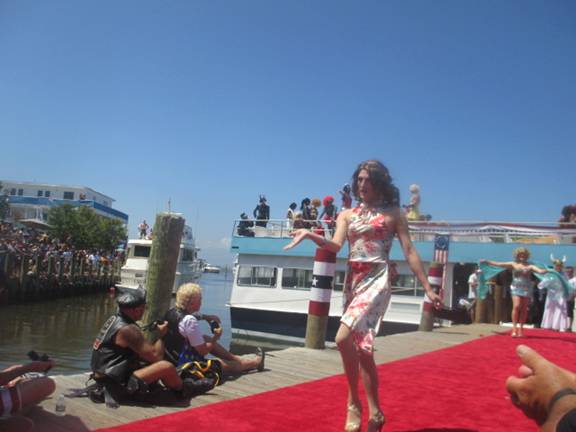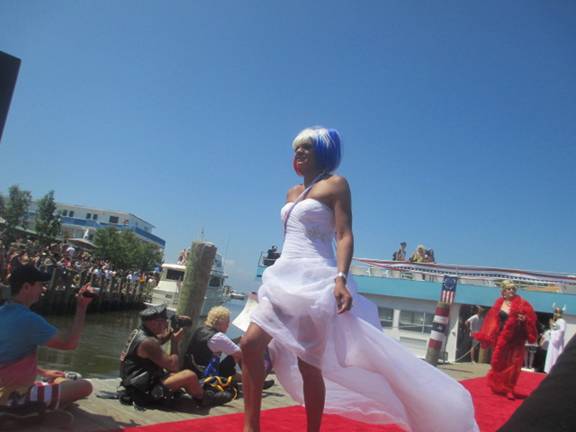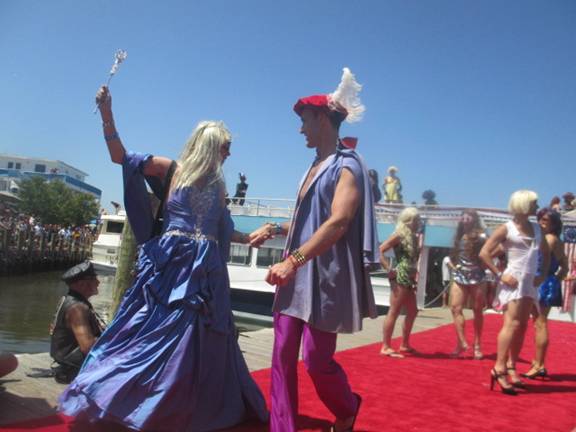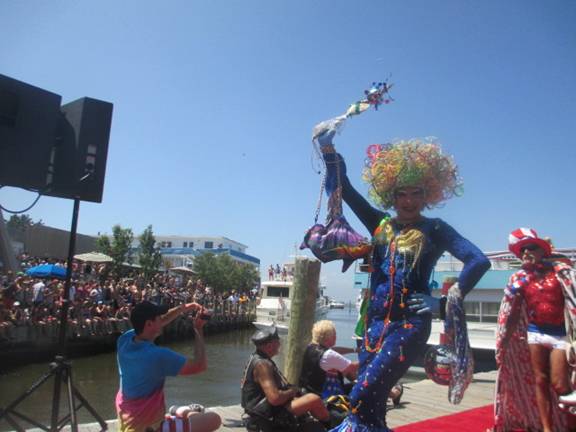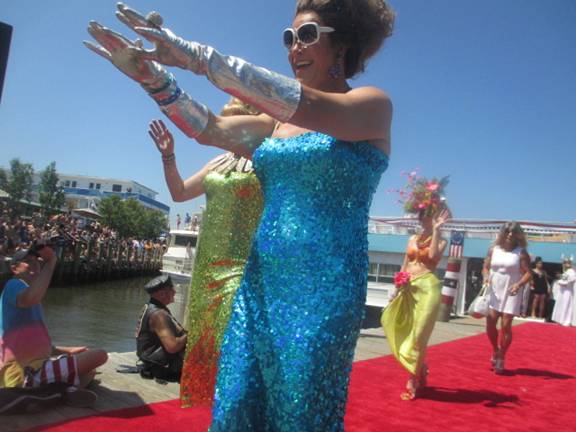 Hail to the crowd (or Robin)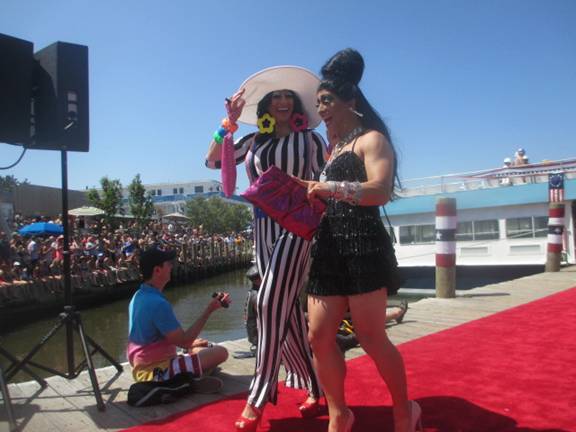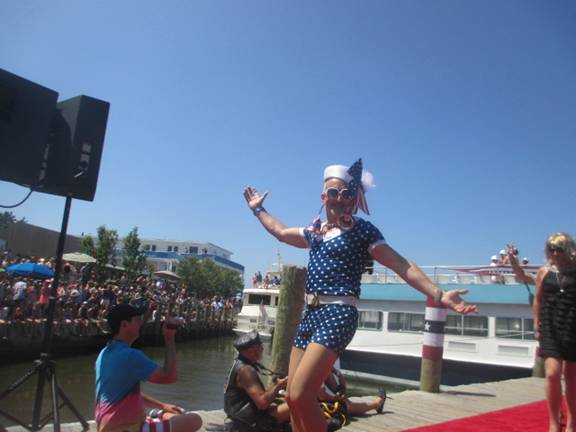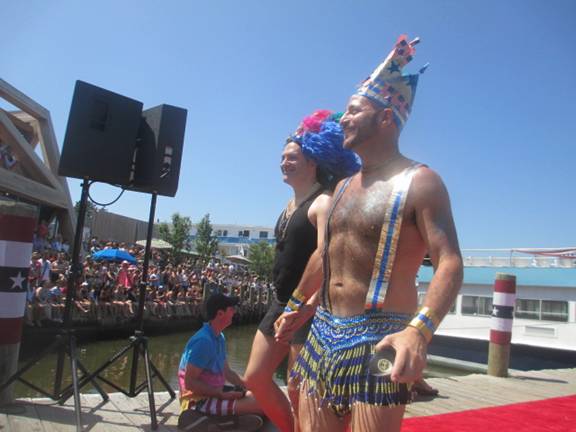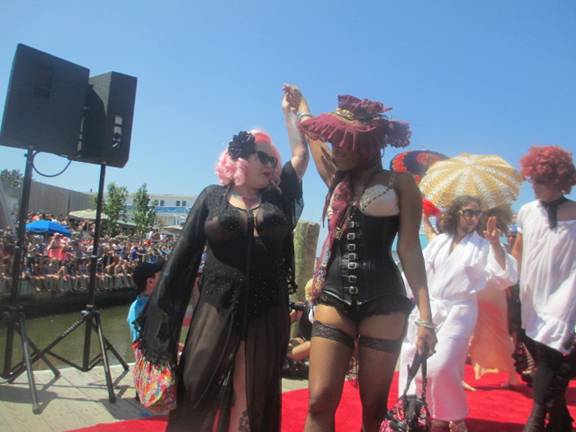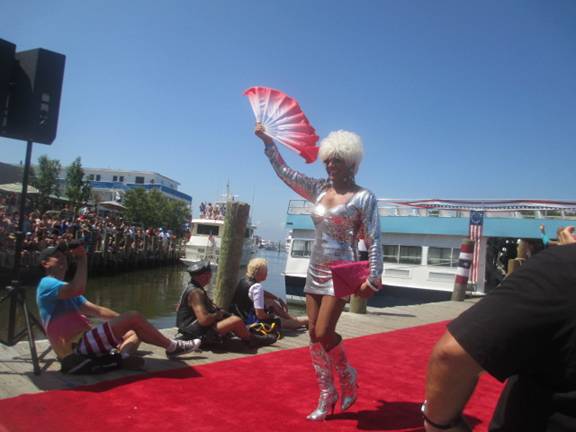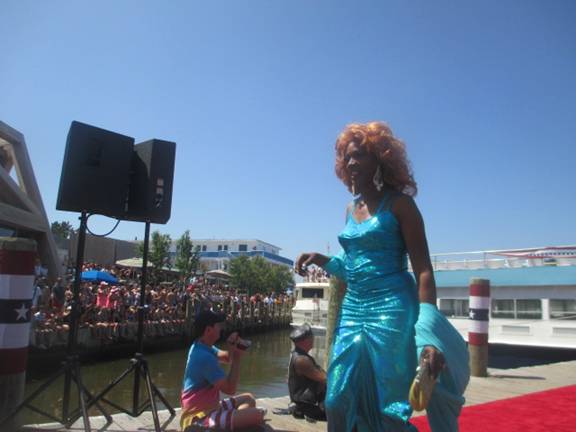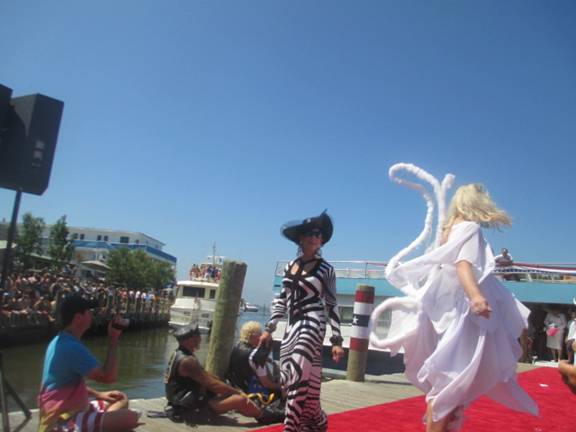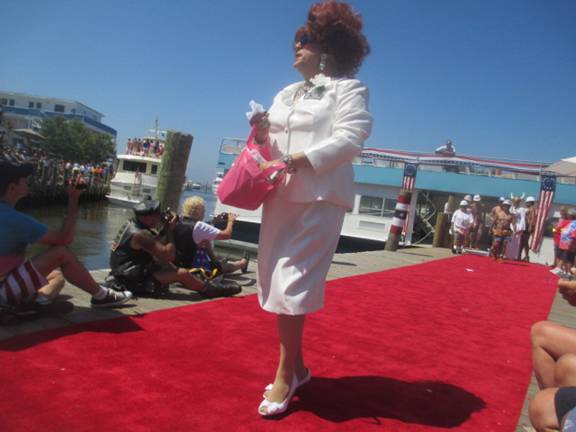 Mother – beloved of everyone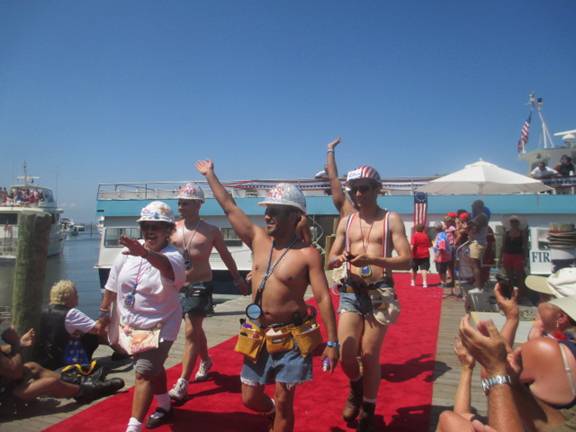 The ever popular/necessary Drag Repair team – Bless Them!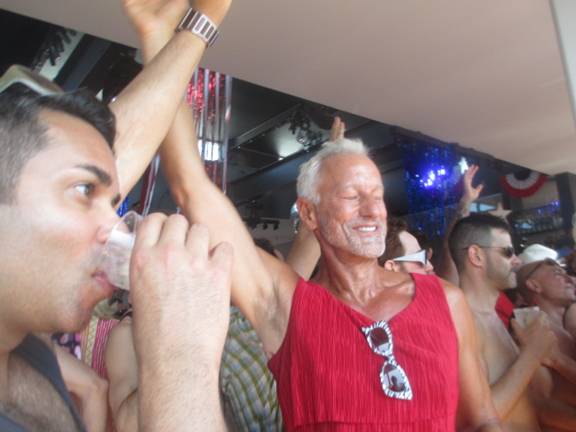 The enthusiastic waiting crowd in the Pines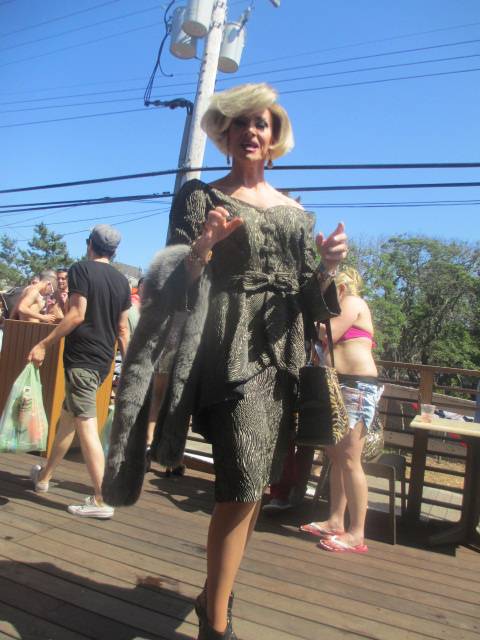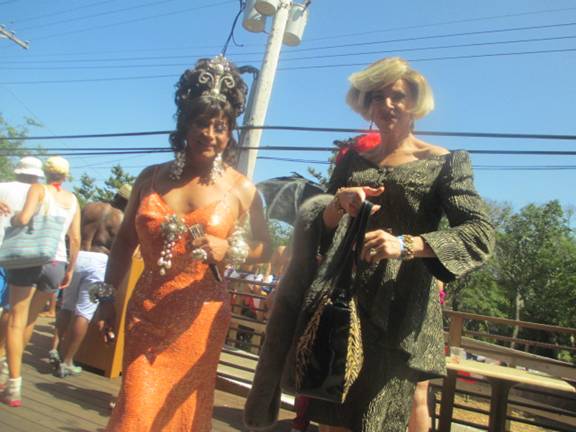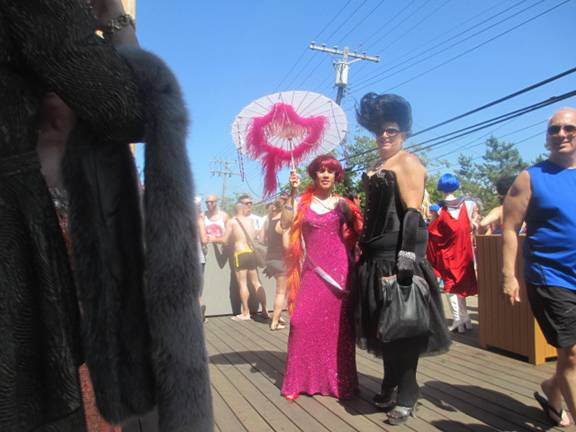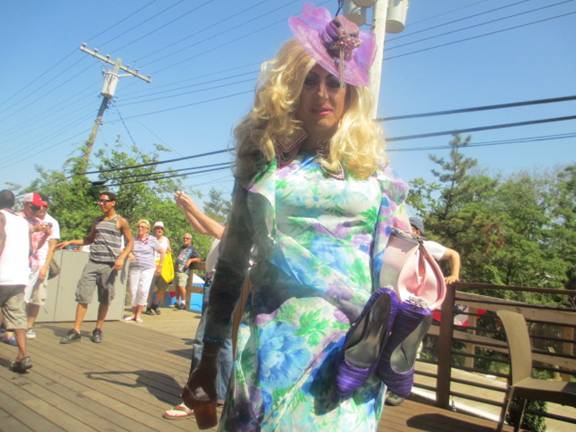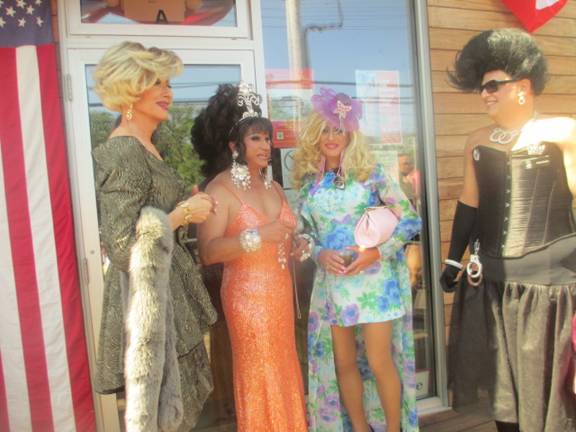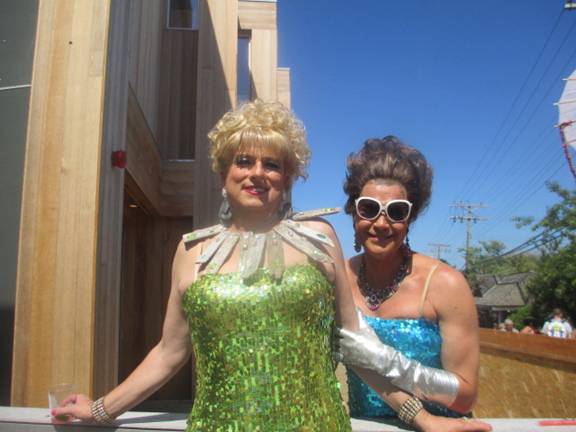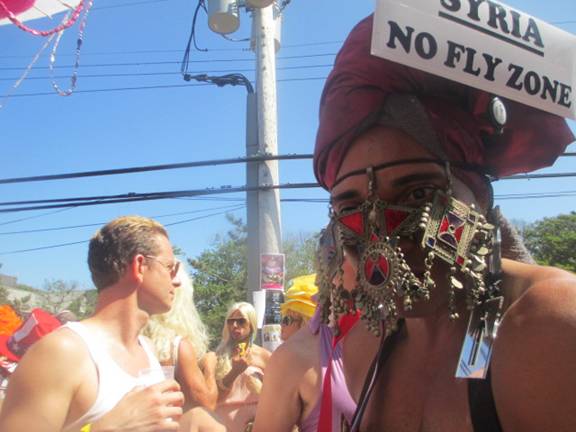 Say farewell…….
Back to the Boat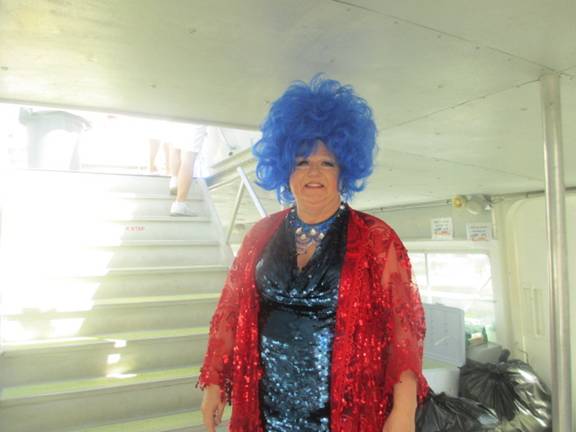 Panzi greets her herd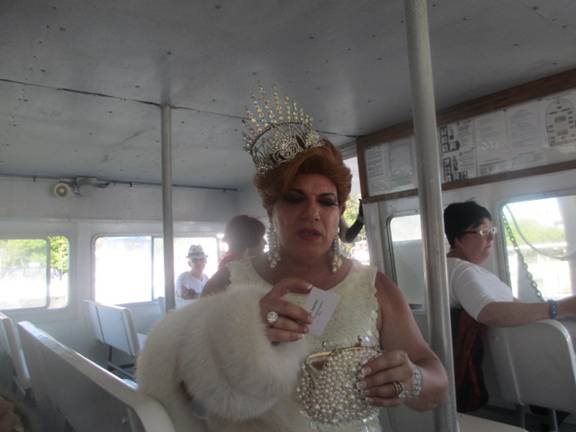 HTM chats with her subjects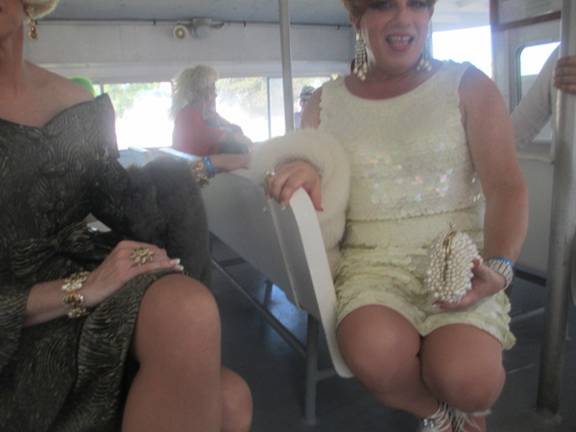 The Queen daintily keeps her knees together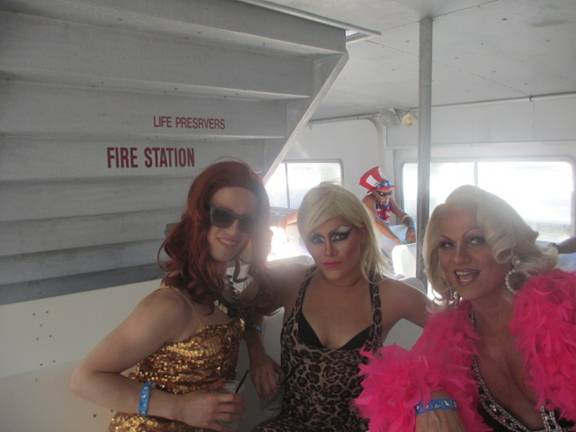 The girls gossip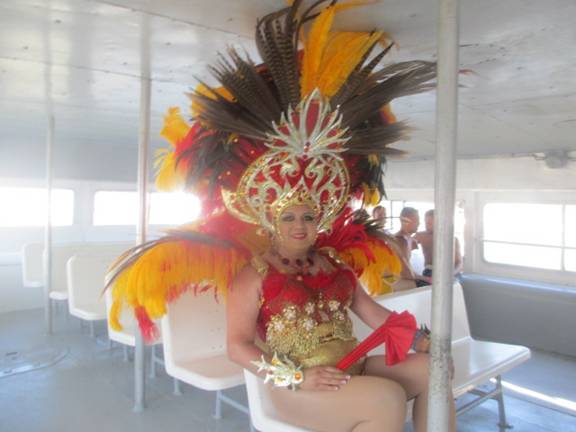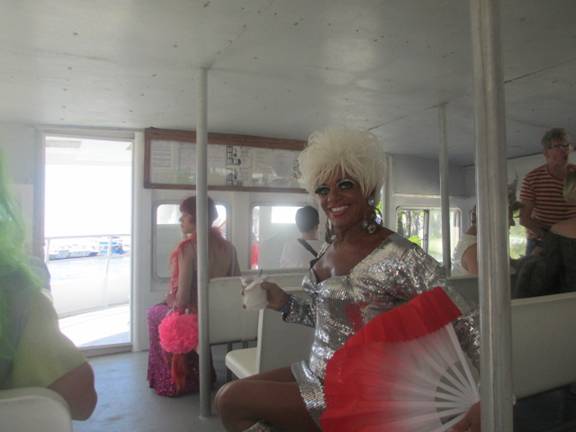 China is s cute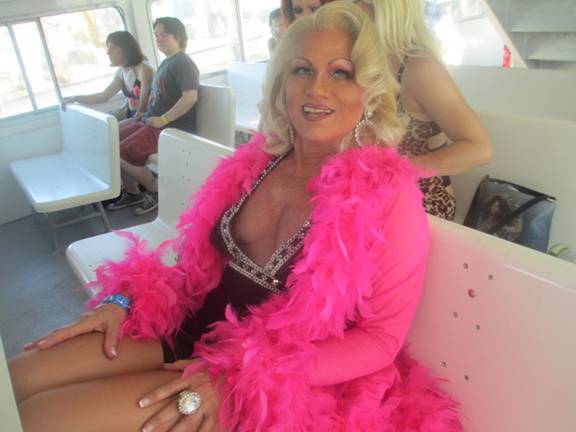 Robin shows some cleavage
UPsta9rs
Just Lorraine keeps shooting the Queen and another queen
(There are few civilians here)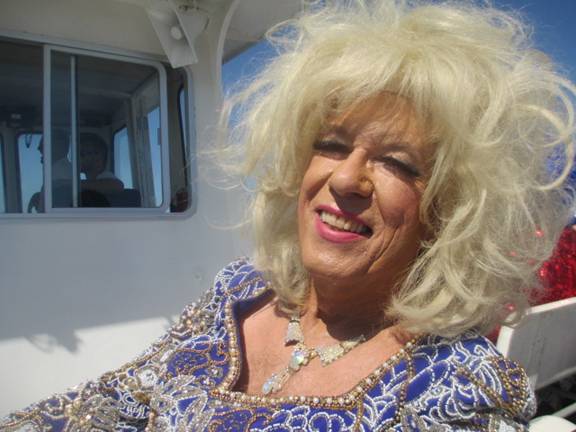 Another beautiful Blonde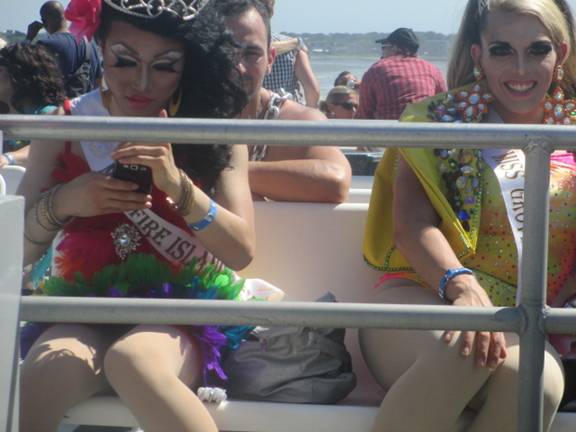 Miss Fire Island and Miss Grove take a break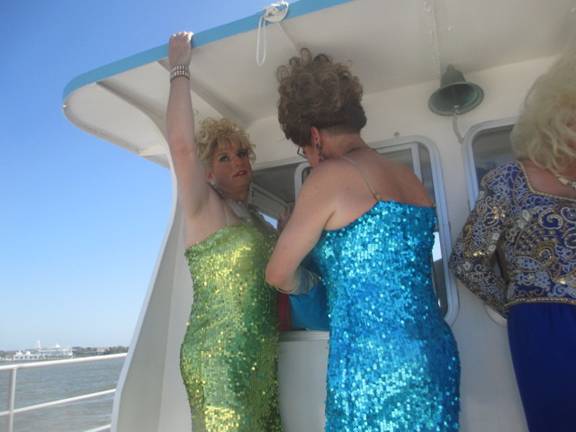 Beach Debris and Uneda Dune compare notes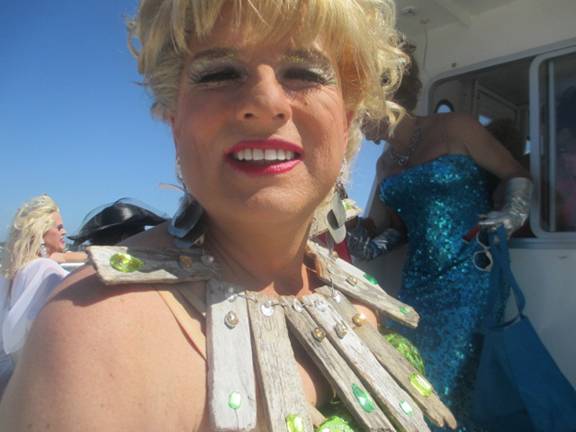 Beach Debris' necklace is of beach debris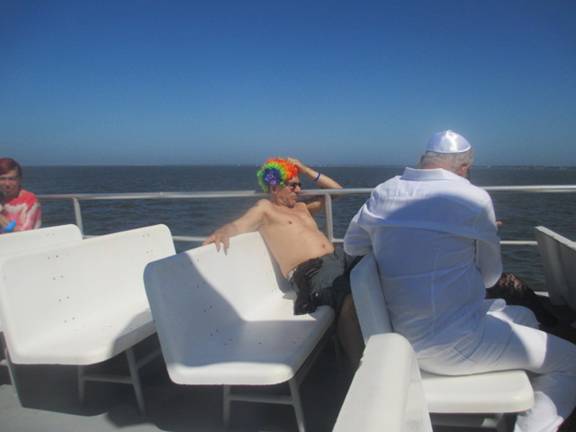 Just the wig – confessing to the rabbi?
Ready to disembark in the Grove and go through the procession all over again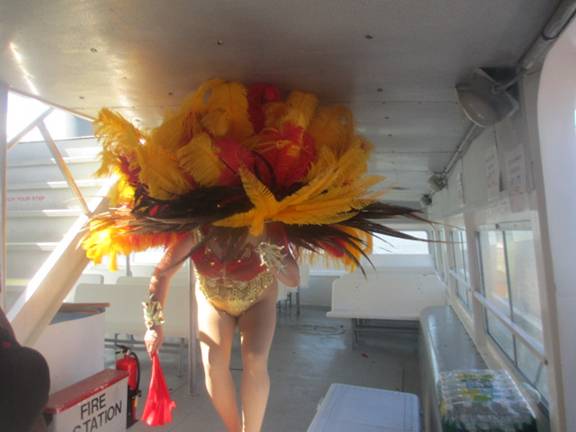 Not easy………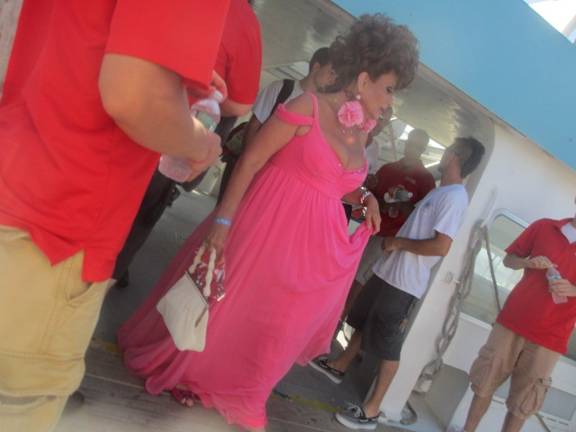 Bella returns!
The Queen makes one more entrance!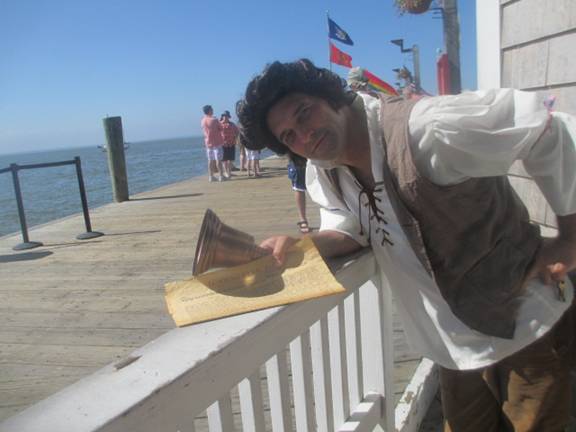 The Town Crier reminding everyone of the true meaning of Independence Day with his bell and his copy of the Declaration of Independence
The only one in town to remember the meaning of the day!