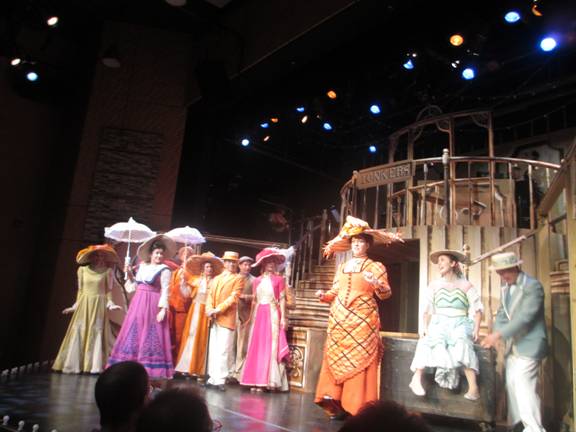 HELLO DOLLY at the Pines
                                    By Jeannie Lieberman
The Pines' Arts Project's musical of choice to close the 2013 season filled Whyte Hall to the rafters with irrepressible joy and cheers with good reason as Jerry Herman's half century old musical Hello Dolly came once more to vivid life
Arts Project president Steven Alan Black said "I'm proudest of this production because we took a large show and condensed it into a small space without sacrificing its impact. Nicole Lafontaine was born to the role though one might quibble she's too young and pretty".
And indeed, thanks to the genius of Glen Wilgus (set & direction) and choreographer Joe Barros, and music director Eric Martin for making his 7 piece band (Tynan Hooker-Haring, bass, Mary Rodriguez percussion, Eileen Kelly and SJ Nunzio Sisto reeds, Rebecca Steinberg trumpet, Chuck Wilson trombone, and John Putnam guitar and banjo), sound like a 33 instrument Broadway orchestra, the tiny production filled the hall, and everyone's hearts.
The plot of Hello, Dolly! originated in John Oxenfeld's 1835 English play, A Day Well Spent then translated into a German farce which eventually morphed into a 1938 farcical play, The Merchant of Yonkers, a flop, which Wilder revised and retitled The Matchmaker in 1955, expanding the role of Dolly, played by Ruth Gordon, became a hit and was made into a 1958 film starring Shirley Booth.
The role of Dolly Levi in the musical was originally written for Ethel Merman and was turned down by her and Mary Martin, almost played by Nancy Walker before Carol Channing got it and made it her own. Director Gower Champion got the job after Hal Prince, Jerome Robins and Joe Layton turned it down
The show was originally entitled Dolly, A Damned Exasperating Woman and Call on Dolly but Merrick changed the title immediately upon hearing Louis Armstrong's version of "Hello, Dolly". The show became one of the most iconic Broadway shows of its era, the latter half of the 1960s, running for 2,844 performances, and was for a time the longest running musical in Broadway history.
Although sprinkled with professionals; silk voiced Heather Koren as love struck Irene Malloy, Luis Villabin in a gender reinterpretation of Minnie Fay, dancer/actors Adam Surette, Corlyn Paine, Anna Ty Bergman as Horace's squeaky niece Ermengarde, and our own Steven Alan Black lighting up the stage with obvious glee at each appearance as Stanley, it was the extremely talented and beloved locals who helped deliver the show.
The beautiful way this 50 year  old play is constructed by Jerry Herman's score and Michael Stewart's book with numbers that start small and grow  entering around the lone figure of Dolly (LaFountaine)  singing "I put my hand  in Here" countered by Horace Vander Gelder's "It takes a woman" including his hapless staff Cornelius (Ryan Bell)  and Barnaby ( Britton Saffer)  sets up the plot – of the meddlesome woman who wants to marry the town's richest bachelor – and, once meeting g the principals, they join the townspeople and go merrily on their way into the madcap antics that make up great musical theater –
Everyone outdid themselves, cast and creators, in the perambulatory "Put On Your Sunday Clothes" which led them from Yonkers by train (clever staging of ensemble) to the magical New York. Added to the comedy are Ermengarde, Horace's weepy niece, and her determined artist swain Ambrose Kemper (James Duus and Anna Ty Bergman). And Cornelius and Barnaby run smack into instant romance (the way it can be in musicals) with Horace's "intended" at Irene's hat shop with even a masculine Minnie for Barnaby in infamous New York.
All melt as Irene croons "Ribbons Down My Back" seducing the vulnerable  Cornelius until Horace blunders in and there ensues a French farce of entrances and exits.
After a dance lesson in preparation ("Dancing") the boys get inveigled into taking the girls to dinner,   convincing them it is elegant to walk ("Elegance"). And one way or another everyone marches off to the expensive Harmonia Gardens restaurant, Dolly's old haunt, propelled by Jerry Herman's dynamic "Before the Parade Marches By" and what a parade indeed by the cast
Once  there  "the plot thickens" as they say as Dolly sets Horace up with a hilarious Mrs Rose (Laura Hartstein , who should be a pro) while the boys and gals are ensconced concealed at a nearby private table with no money. Ambrose and Ermagard try to win a dance contest until her uncle shows up.
As Mrs. Rose leaves Horace in a huff Dolly magically turns up which launches into one of musical theater's most famous numbers, the title song "Hello Dolly" showcasing the dance talents of the entire cast. She insinuates herself into his dinner table and hilariously manipulates him into considering marrying her, retorting with "So Long Dearie"
Horace returns dejected to his home/business and somehow Dolly arranges a happy ending for all. "Wonderful woman" says Horace. "Wonderful show" say we.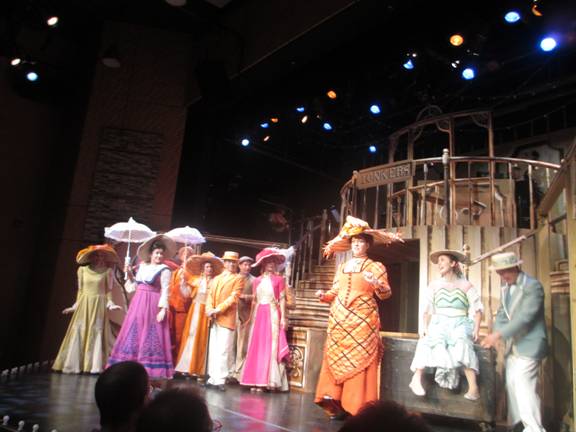 We meet Dolly and the cast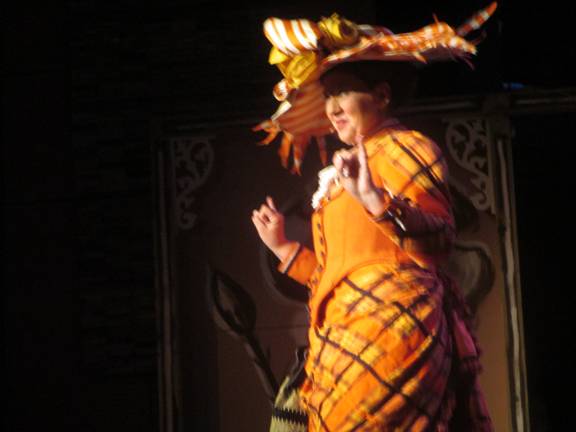 "I Put My Hand In" a perfect Nicole Lafountaine as Dolly Levi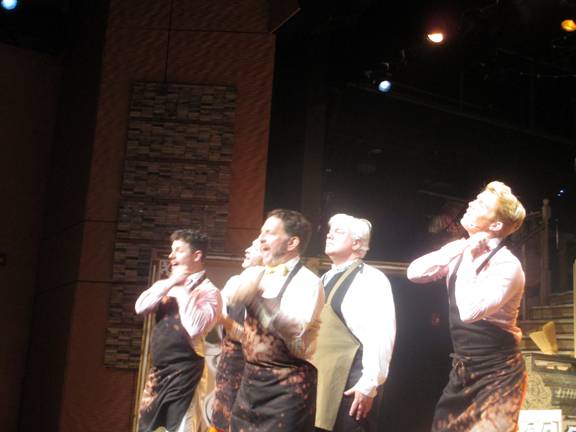 "It takes a Woman" gruff and grumpy and wonderful John Cassese as Horace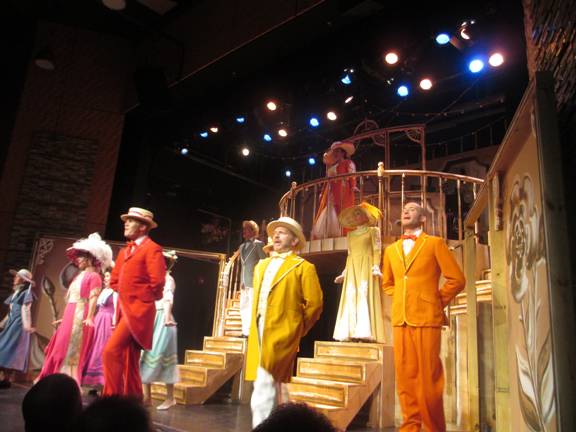 "Put on Your Sunday Clothes" the cast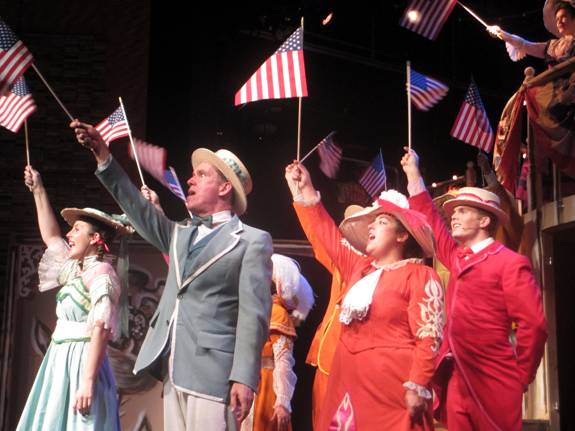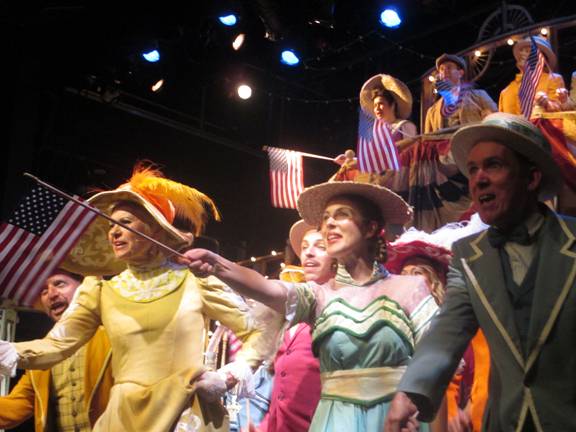 Wonderful "Parade" staging and cast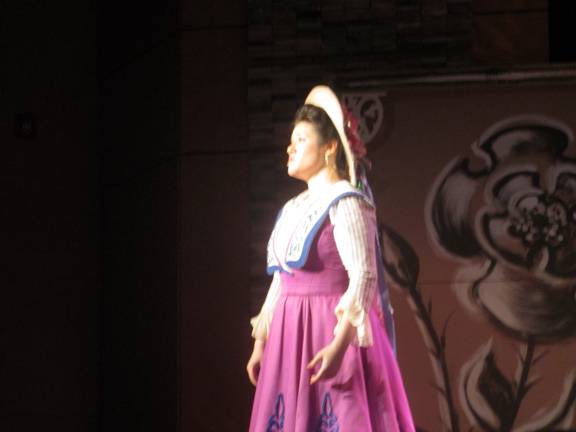 "Ribbons Down My Back" by silken voiced Heather Koren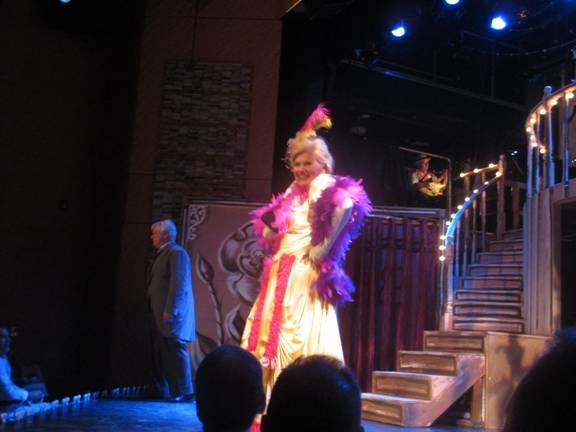 Laura Hartstein, terrific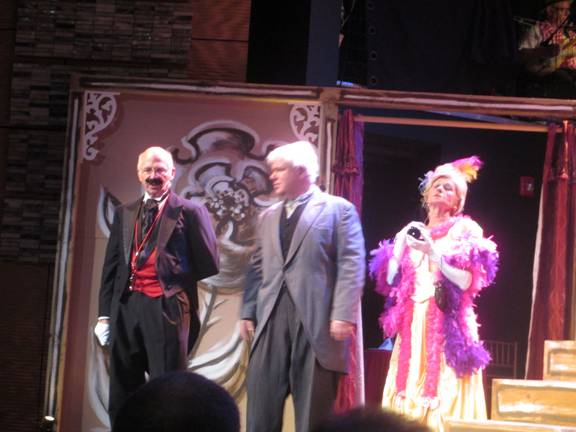 Horace and Mrs. Rose on ill fated date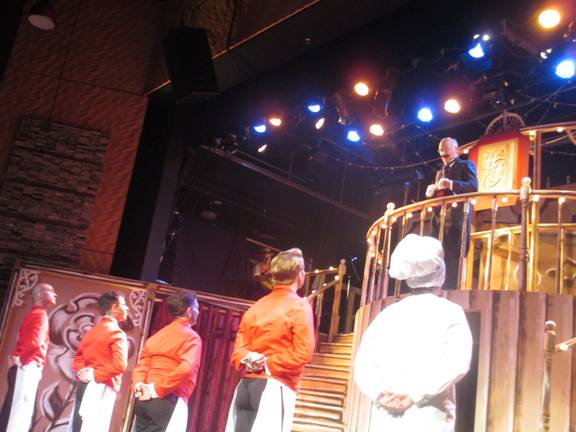 Get ready, Dolly's coming………..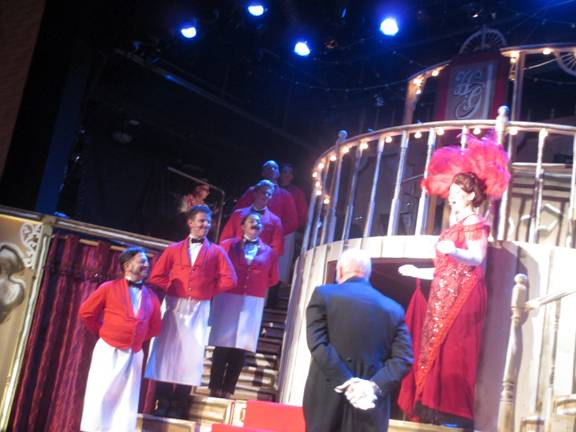 Here she is!!!
"Well Hello Dolly"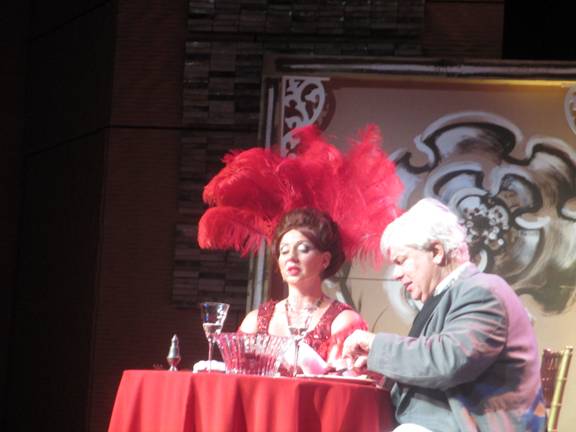 "You Go Your Way and I'll Go Mine" in Dolly's great manipulation scene
Wilgus' ingenious transition from Harmonia Gardens to the Courtroom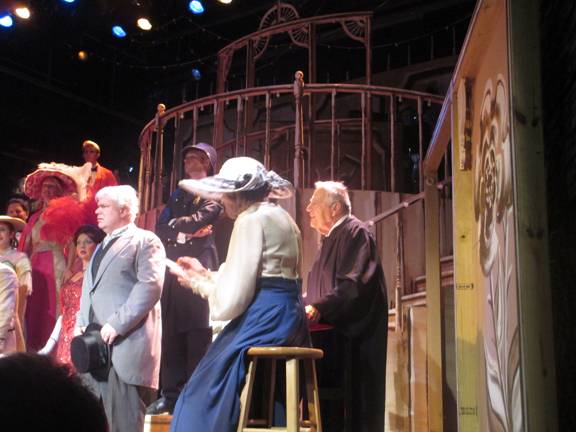 Jack & Rita Lichtenstein as the judge and court stenographer – this was his best performance ever
Give me a sign Ephram…….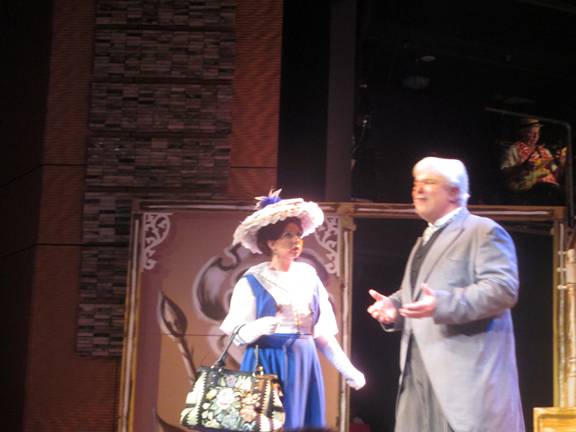 Here it comes……. "money is like manure, its not doing anyone any good unless you spread it around"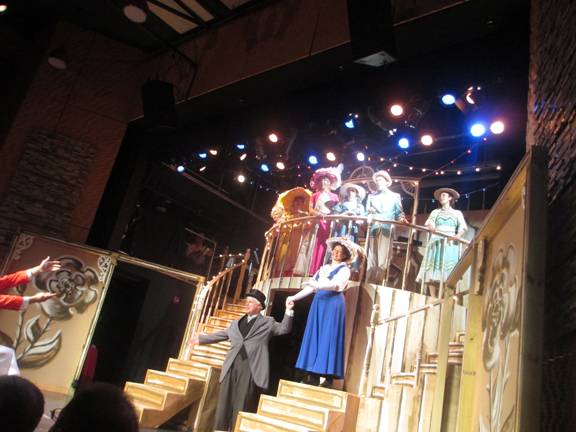 Dolly & Horace, together at last!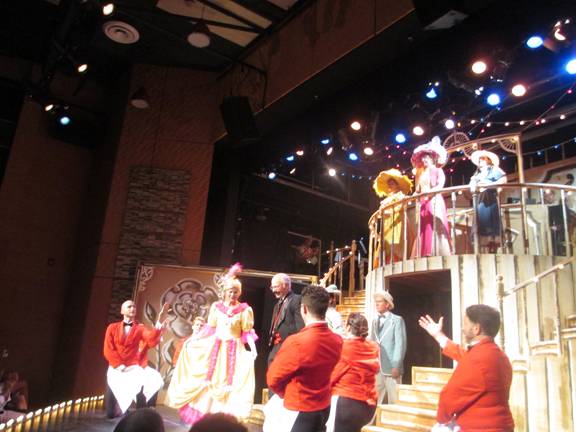 A well deserved bow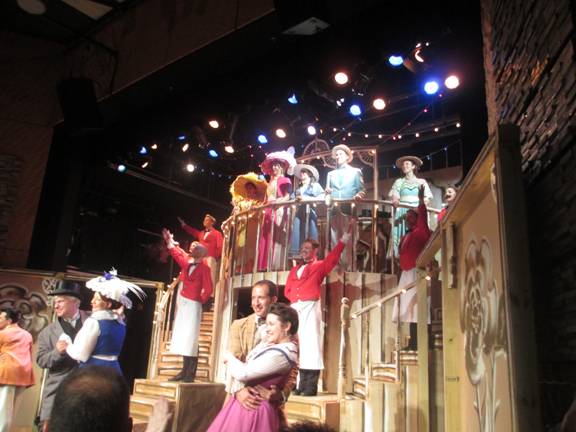 Curtain Call on the crowded stage
This was a special occasion for Jack & Rita Lichtenstein.
One of the founders of the Arts Project it was his 30th production, his 50th year in the Pines and his 90th Birthday……..
And going strong – A Pines family to be cherished (their grandson made a spectacular debut in Pines' "Falsettos" and the beautiful granddaughters are rapt fans.