An evening of showstoppers and emotional highs as she retains the vitality of youth but commands the respect and adulation for her experience.
September 10, 2013
Chita Rivera in "My Broadway" at The Palace, Cherry Grove
By: Jeannie Lieberman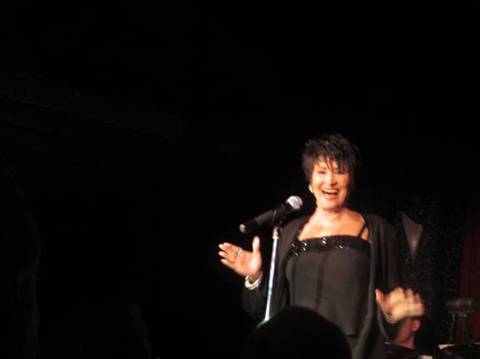 (All photos by Jeannie Lieberman)
The apparently ageless Chita Rivera literally danced through the audience and onto the stage creating her own tsunami of energy. She could barely contain her own high spirits as she volunteered an encore of her opening song "Sweet Happy Life."
And, indeed, she certainly made everyone happy in the Palace.
La Rivera retains the vitality of youth but commands the respect and adulation of her experience. It's like "Been there, done that…and still doing it."
Never a great singer or beauty, she can still utilize her stage presence enhanced by savvy choreographic moves to "sell" a song and her irresistible personality to do the rest.
Further seducing the crowd, she admitted that she had been in the Pines a number of years before but this is her Grove debut. "I never came here because I was scared. So many of my friends said they were going to the Grove and I never saw them again!"
Prefacing her one-woman show with her appreciation for being on Broadway in a salute to the Golden Age (someone in the audience quipped it should be renamed "the "Platinum" Age), she talked about how there was a show in every theater…Bye Bye Birdie, West Side Story and all, and remarked that a few years ago West Side Story celebrated its 50th Anniversary. "And I've been pretending to be 35."
She reminisced about how nervous she was when she was asked to visit its composer Lenny Bernstein at his home for an audition. "I nearly threw up on his piano." Of course, she got the job as Anita.
And then came the first of the many memorable moments in this marvelous evening. There is something almost mythic, definitely magical to see and hear the woman who created the role in the original West Side Story sing the same songs for which she was so famous 50 years later, the voice seemingly unchanged, still strong, still compelling…especially in the intimate environment of the Palace – and indeed many teared up as she sang the searing, "A boy like that who'd killed your brother… Stick to your own kind," and the sassy "I Want to Be in America."
She then made us all jealous counting off her leading men: Donald O'Conner (Bring Back Birdie), Antonio Banderas (Nine) and Dick Van Dyke (Bye Bye Birdie), launching into the optimistic, percussion driven, "I've got a lot of living to do," from Bye Bye Birdie with staccato moves coupled with Sweet Charity's "Where Am I Going."
"Cy Coleman made my career" (Chicago, Sweet Charity, Kiss of the Spider Woman, The Rink, The Visit). In her Cy Coleman segment, she paid a compliment to Bob Fosse and Gwen Verdon. And when she was asked to replace her friend Gwen she worried, "How will I step into her shoes?" until an inner voice said, "Bring your own shoes," to thunderous applause.
Then there was the saga of the Kiss of the Spider Woman – which was being developed in Purchase, NY. Critics were asked to stay away as the show was a work in progress. That was like waving a red flag – "so they came and they killed it." Producer Garth Drabinsky took it Canada and saved it – brought it into NY and it was a sensation as was Chita in the title role. (They originally wanted Donna Murphy but she can't dance!) The show got two Tonys.
She then performed a medley from that show including the title song.
It was a different Chita now, darker, more reflective, illustrating just how good an actress she is with the song from The Happy Time "I Don't Remember You" (...if I left you once before, somehow I can't recall it anymore…this moment is new because I can't, I won't remember you) and "Love and Love Alone" ("every fond hello ends in farewell…so enjoy all the time there is…") from Kander & Ebb's The Visit.
When approached to be in Coleman's The Rink with her friend Liza Minnelli she was told it was a mother/daughter role. "Which one is the mother?" she quipped delivering a spirited, "Chief Cook and Bottle Washer."
But it was when she attacked Jacques Brel's "Carousel" that she soared in an ever increasingly paced tongue twisting lyrics crescending to a cataclysmic finale that brought the crowd roaring to its feet once again.
She closed with Chicago's "Nowadays…in 50 years or so, its gonna change you know," which now had a special significance, followed by that famous always recognizable Kander & Ebb vamp that leads into "All That Jazz." Ms. Rivera concluded with a specially written "Circle of Friends... a song for friends who are dear, and friends that aren't here."
"Take care of yourselves," she wished us as she finally left the stage.
Because Rivera is a dancer, there is a special relationship with her musicians so that each twitch of a hip, each staccato movement must be synchronized and expertly timed and these extraordinary musicians, who have been traveling with her for years, were up for the task: Jim Donica on bass, Michael Patrick Walker on piano and music director/percussionist Michael Croiter who seemed attached at the hip to his star… the audible underlay which lets a star shine.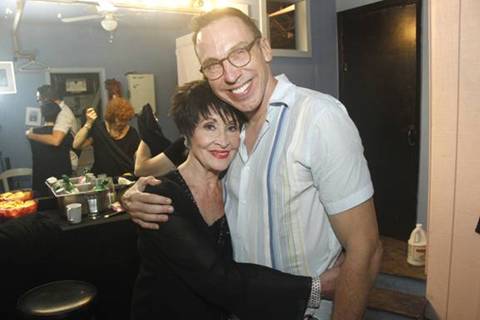 It was an evening of showstoppers and emotional highs that money can't buy and we must all thank producer Daniel Nardicio for this theatrical gift!
Chita Rivera: My Broadway (August 17, 2013)
The 2013 Daniel Nardicio Icon Series
Ice Palace, Cherry Grove Hotel, Fire Island, New York
For information, visit www.dworld.us