CHARLES BUSCH AND FRIENDS
Aug 10, Whyte Hall
                                                      by Jeannie Lieberman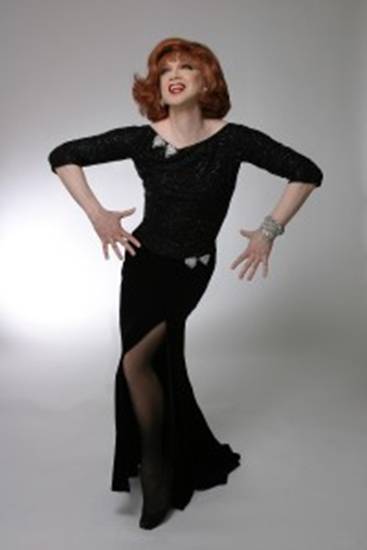 Once again the Pines Arts Project has blurred the lines between Fire Island and New York theater, importing the very best. Charles Busch, whose talent could carry (and has) the show alone, very generously shared the spotlight with his "friends" all winners in their own right.
Busch floated onstage on multihued chiffon wings, over a chic black jumpsuit and under a glamorous wig. "I need a song to start my show" he pondered in a special song incorporating all his musical choices:
"I need a Porter
More than I oughtta
Andrew Lloyd Weber
Isn't that clever…….."


He then introduced the very accomplished Tom Judson on the piano who would lead them on "a musical journey from A to B flat" (he wrote the music of the original Vampire Lesbians of Sodom, Busch's inaugural show).
 Continuing his laser sharp humor, he announced "I will tell you a personal story to establish a tone of fake intimacy" relating a college affair he was thinking of revisiting. "Then I did the math…102 is the new 90".
Ever inventive he mixed the old black and white "women's pictures" with the classic "Cinderella" titled 'I Murdered My Stepdaughter"
Growing up in New York he reminisced about Ethel Merman's performance in the '66 revival of Annie Get Your Gun with a unique rendition of "They Say That Falling in Love is Wonderful" which revealed his acting chops.


Aaron Weinstein, slender and studious looking, comes across as a nerdy violinist
who threatened to play a specially written "concerto a la Schoenberg" teasing the audience with some very Victor Borge-like antics before lapsing into "I Wanna Be Happy (but I can't be happy until your happy too)" which he dubbed a co-dependency song. This prompted Busch to comment "it's a pity vaudeville is dead"


Long time friend, co-star and possibly muse, Julie Halston, was called to stage recalling how her first theater role was a replacement in "Vampire Lesbians.." and how awful she was –
The two, who often appear together, did a few readings from their act "Celebrity Autobiography" with Charles  uncanny as Bette Davis and Julie as her arch rival and enemy Joan Crawford, who was credited with being able to say "Go F—k yourself" without being vulgar.
Julie then took over the stage confiding "I'm white trash from Commack".
She related how she finally had a face lift but was terrified to tell her mother until she was grieving for the loss of a relative, her mother replied, "You should have done it years ago!!!"

Boyish, baby faced and adorable Andrew Rannells , of Book of Mormon fame, selected an overly ambitious "What Kind of Fool Am I'' for his solo.
Mr. Busch returned to stage in black feathers and sequins ("you didn't expect me to stay in one costume, did you/")and re-introduced Judson, who played  a lesser known  Styne/Merrill song "Mr. McGoo's Christmas" while Busch , while feigning interest, couldn't quite keep from preening  and posturing from the sidelines., but quickly recovered with "that was moving, honest".
After Charles delivered a straightforward and moving "What are you doing the Rest of Your Life" he tickled us all with a reading from his bible: "Arlene Dahl's Key to Femininity". In it she asks some male stars what they look for in a woman – and quotes them – such machismo icons as Tony Perkins, Rock Hudson, Cary Grant and Noel Coward!!! Dahl closes with this advice: it's much easier to change clothes than husbands – ask any divorcee1


Another "friend", Julia Murney took the stage with a rousing rendition of Kander & Ebb's "Ring Them Bells" and joined Rannells in a charming duet "As Long As You're Mine".
Busch returned channeling Mimi Passman, diva of Temple Emanuel Shalom, inviting everyone to Don't Tell Mama at her favorite time slot, .4:30. He then paid homage the Fire Island Pines Arts Project 30th anniversary, looking back to the ghosts of Fire Island, to the '70's, leaving the crowd with "Those Were the Days".


As directed by Carl Andress, Charles was very generous with his time, sharing the talent of so many. People certainly got their money's worth!
 FIPAP's next project is the end of the season musical "Dolly"
August 30 – Sept 1, tickets fipap.org or in the harbor