ANN HAMPTON CALLAWAY RAISES THE ROOF AT THE GROVE COMMUNITY HOUSE BENEFIT
                                                                  By Jeannie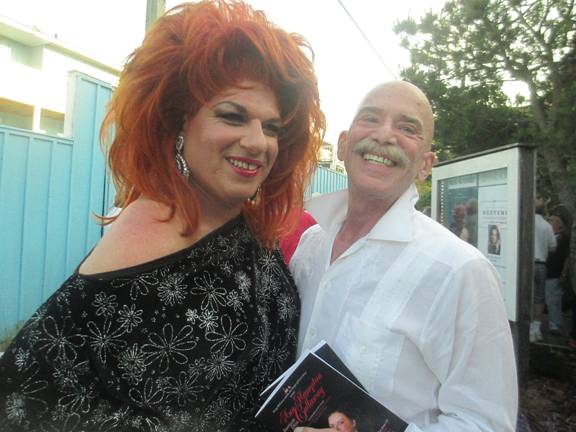 Our Queen and her Consort - looking ecstatic!
Cherry Grove Arts Project President Thom Hansen thrilled with Ann Hampton Callaway's performance to benefit the Community House
In a genuine act of generosity and a heart as big as her talent singer, pianist, composer, arranger actress, TV host and producer Ann Hampton Callaway, star of stage and screen, writer of 250 songs sung by such artists as Barbra Streisand (with whom she wrote Streisand's wedding song to James Brolin), chose as her charity none other than the house in which she was performing.
Naturally this invoked the love of her Grove audience but the savvy group that lined up for the show already knew and adored her from visits here in the past and of course her undeniable fame.
Dressed in a blazer and Stuart Weitzman boots she warned the crowd "it's hard to be gentle in them". She credits her talent to a musical home in which her mother sang torch songs and her father sang scat.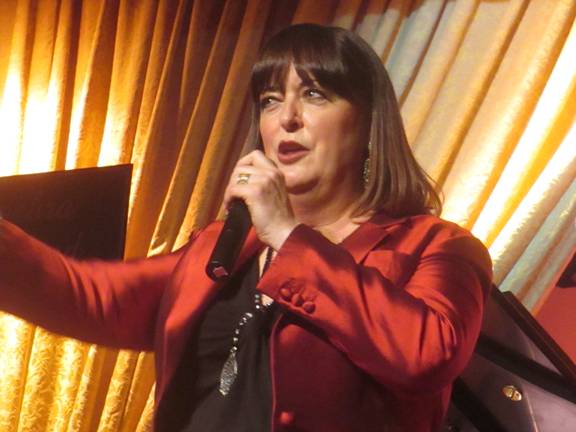 "You are such a gorgeous audience"
Now in her third decade at the Grove she began her show with "Somewhere There's Music" and it was only moments before her signature scat, rap and riff surfaced (at one point inviting the audience to "sing along") adding her own words customized for her audience and the Grove "Somewhere there's heaven and its right there where you are".
Her show was dedicated to the great women of out lives and indeed Producer George McGarvey's stage design included placards of the names of the singers Callaway honored in her show. She delivered Billie Holiday's song "God Bless the Child" as if she was on drugs cracking up the crowd. Another funny rendition was of Sarah Vaughan's "Misty" from the heart, Billie Holiday's "All of Me" with great bluesy interpretation and syncooation, and of course scat.
She caressed Sarah Vaughan's "Tenderly" which held the audience rapt with a straight and simple delivery as welcome contrast.
But that was quite was short lived and she turned "You Tuned the Tables on Me'" into a tour de force of different instrumental sounds from basic plunking to soaring soprano, string to brass, inventing more different sounds than one would think humanly possible
But with Edith Piaf the mood changed. Recalling how she earned the love of a nation leading them though hard times and great sorrow she sang a touching "La Vie En Rose" which brought the house to its feet.
Just one of the many times this happened.
While leading onto a Carole King song she ad libbed "I keep dropping names, let me pick them up" demonstrating the act
Her heartfelt rendition of "Tonight You're Mine Completely but will you love me tomorrow", was a love song that had couples in the audience embracing and even those not couples became engulfed in the palpable emotion.
She then took her audience (and make no mistake, we were hers) on another trip which served as a preamble to the already warmed up crowd singing along to the 60's anthem "You Got A Friend" (inspiring another standing "O".)
Taking a musical break she confessed "the last time I was here I wasn't out and I wasn't nearly as happy as I am now."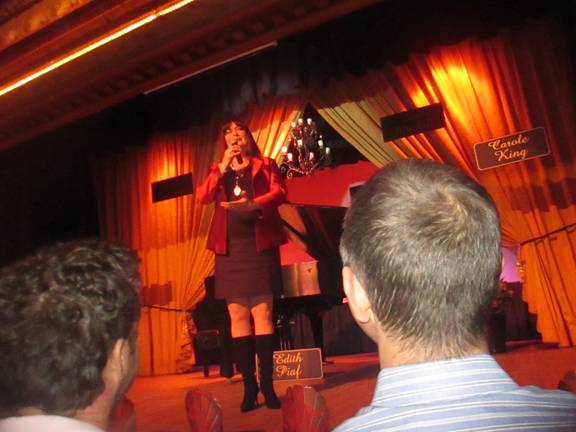 The young man at right, Shane, donated $500 to have a song written and performed for him – it is one of Ms Callaway's many talents
In an effort to raise even more money Ms Callaway dared someone to donate $500 for a song written especially for them on the spot.
Surprising a shy young man in the first row raised his hand. His name was Shane – Callaway asked some questions, put the answers together in a song which ended
"Cant live without living here"
You can hear it on utube:
http://www.youtube.com/watch?v=pSmnjDQ6SF4
He had a night he would never forget. We would never forget.
Towards the end of a thrilling evening, in a tribute to Harold Arlen she sang "Over the Rainbow" acapella.
She did not imitate but lent a style all her own, simple but direct to the heart. The audience was enthralled, not a sound was heard as she took us all with her. Truly an extraordinary talent doing an extraordinary thing – raising money for her host.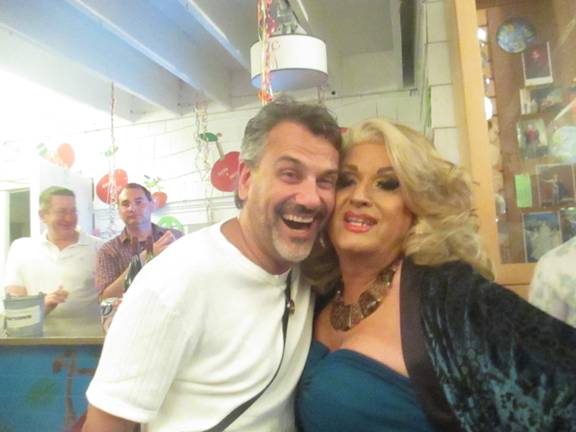 We had a ball!!!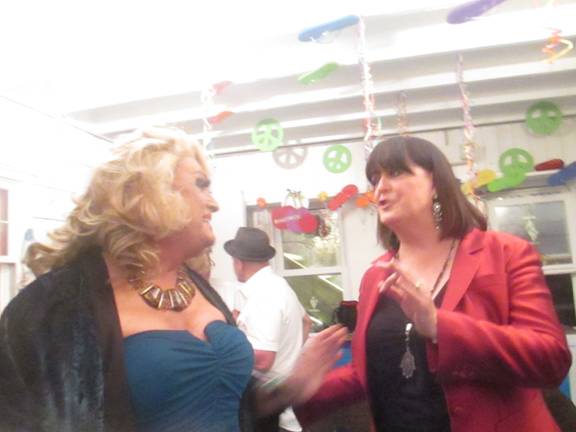 A mini love fest between Charity and Ms Callaway