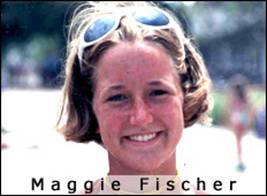 THE ANNUAL MAGGIE FISCHER MEMORIAL
GREAT SOUTH BAY CROSS BAY SWIM
Text & Photos by Jeff Schou
This year's annual Maggie Fischer Memorial Great South Bay Cross Bay Swim began precisely at 8:00AM on August 1st, just east of the Lighthouse dock. The swim dates back to the early 1900's, but accurate records have only been kept since the 1950s. From 1973 to 1999, the swim went on a 26 year hiatus. Then, in 1999, through the efforts of Bay Shore resident and Fire Island Ferries captain Rory Allen the swim was reborn. The swim was dedicated to the memory of Maggie Fischer, who had passed away just a few days before the Swim's revival - she was scheduled to be a competitor. Maggie was a seventeen year old senior of St. Anthony's High School, born and raised in Brightwaters. She was one of the top students in her class, an accomplished member of the crew and swim teams, an incredible flutist, and a dedicated lifeguard to the Saltaire community. Maggie loved just having fun, and the swim is dedicated to that memory of her, the memory of the life she lived and of all the amazing things she accomplished in her seventeen years.
This year's swim featured 93 swimmers testing their endurance to raise funds to benefit the Hospice Care Network Children's and Family Bereavement Program, and a scholarship fund in Maggie's name. Each swimmer is required to raise at least $500 for these worthy causes.  This year's course was measured at 5.25 miles.  That's the equivalent of swimming:
The length of 92.4 Football Fields
Swimming the bases for 77 Home Runs
Swimming around 132 Tennis Courts
Swimming around 48.63 Hockey Rinks
Swimming 105 blocks in NYC
Swimming 2.1 Laps at Daytona
Escaping from Alcatraz four times
 27,720 Feet
332,640 Inches
4.562123 Nautical Miles
As the race started at almost dead low tide, into their swim for less than a mile the swimmers found themselves unable to swim across a sand bar.  So like last year, the swimmers needed to walk for a very brief distance before resuming the tough course.
Swimmers and Kayakers just after the start of the race
The flotilla of swimmers, kayakers (one for each swimmer), and safety boats left on time under a cloudy sky and a light breeze and finished 3 hours and 44 minutes later. The safety boats included multiple boats from the Coast Guard Auxiliary, Suffolk County Police, multiple local Fire Departments, Islip Town and over 25 private vessels used as lead boats, gate boats, perimeter boats and interceptor boats. Fortunately, there were no close calls like there were last year when a speed boat deliberately evaded an interceptor boat and went right through the swimmers and kayakers at high speed.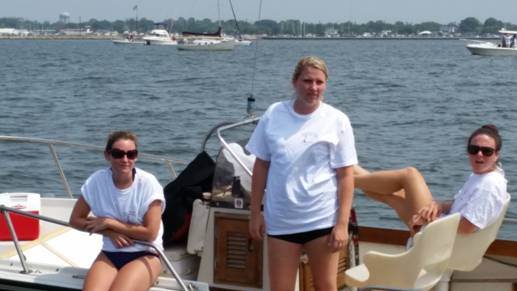 Swimmer Assist crew aboard the "Miss Daisy". L-R Alexa Wintenberger, Julie Schou, Joey Bellinzoni
93 swimmers started the race – and all 93 completed this year's swim! They were greeted to the cheers of hundreds waiting for them at Brightwaters Gilbert Park. Like last year, the event was won again by Thomas Dolan of Breezy Point, NY with a time of 1:52:47:83. Many Fire Islanders competed and served as support staff – including a large contingent from the Saltaire Ocean Rescue corps including swimmers Jacqui Cohen, Catherine Darcy, Molly Lesser, Graham Murphy, Richard Wilde, and kayaker Meghan LaRocca (assisted on her two person kayak by Fair Harbor's own Caroline Chinkel).
Swimmer Jacqui Cohen as she crosses the Great South Bay
Congratulations to all the swimmers and thanks to all the kayakers and support staff that made it happen. Special thanks go out to this year's coordinator, Kismet's own Morgan Mooney. Special thanks also to the many businesses that donated money, material and time. Please remember them when you need their services. Some of them include: Fire Island Ferries, Captain Bills Restaurant, Lessings, Drew Patrick, Ramsay Realtors, Bright Bay Physical Therapy, Lighthouse Mechanical Services, The Southside Hotel, John T. McLoughlin, D.D.S., The Kismet Inn, Dagher Lambert Financial Services, ProHealth Care Associates, DeLuca Maisto Properties, Sahn Ward Coshignano & Baker, PLLC and STS. Apologies to those I've missed.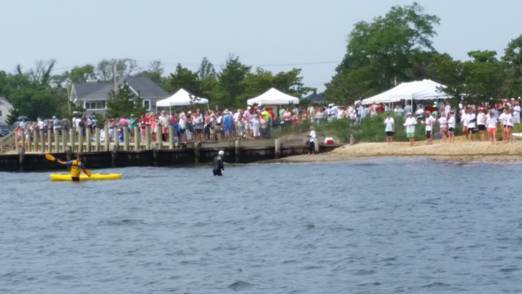 The final swimmer exits the water at Gilbert Park in Brightwaters to the cheers of hundreds
If you'd like to make a donation to this worthy cause, please see details at the Swim's website: http://www.greatsouthbayswim.com/.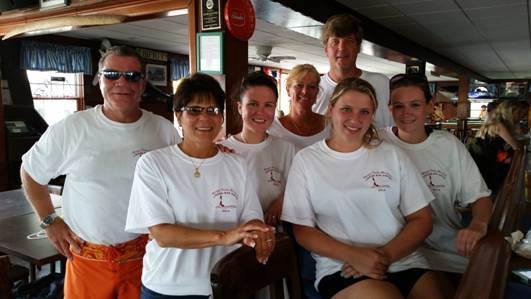 Safety boat personnel relax at the Kismet Inn after the race. L-R Chris Bellinzoni, Lisa Bellinzoni, Joey Bellinzoni, Wendy Schou, Jeff Schou, Julie Schou,
Alexa Wintenberger