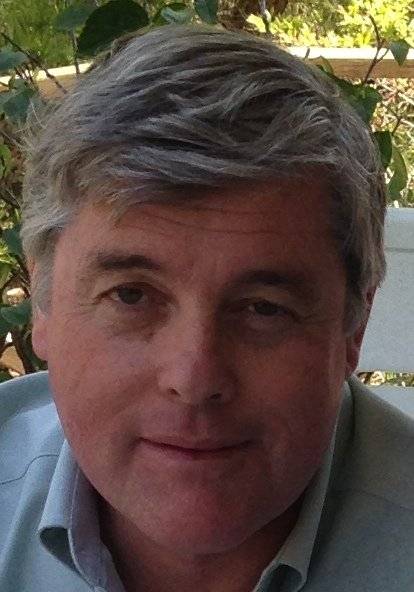 Saltaire Summery
by Hugh O'Brien
Well, this seems to be the penultimate wind-up ultimately penned for the late summer and early post-summer of 2014, a year which if nothing else has given new meaning to the term "rollercoaster".  Even as Saltaire embarks upon a massive construction project rivaling the building of the Suez Canal, only without the prospective income, in other areas of village life, for most people all the turbulence has labored to produce…nothing much different, so far.
Still, major changes are underway. The field has been filled, the store struck, and Broadway buckled under the weight of construction vehicles busily hauling the debris from the ongoing renovation of lower Saltaire.  (Or is it upper?)  De-construction of Ye Olde Shoppe irretrievably commenced after a few bumps, once the asbestos was safely barged off in its open containers and the place deemed safe to destroy.  Although as of this writing entrance to lower/upper Broadway has been rendered physically impossible due to the presence of an impenetrable strand of yellow police tape, the debris formerly known as the Saltaire Market had long since been rendered harmless thanks to the diligence of the asbestos abatement people way back in September, who, suited up with enough protective gear to stage a cinema verite version of "On the Beach", carefully hacked off the layers of asbestos that had accumulated during the first 99 years of the building's existence as a food emporium.  Following standard decontamination procedures, as they exited the place the guys tossed off their spacesuits as quickly as humanly feasible and happily proceeded to unload open bucketsful of raw asbestos into uncovered dumpsters along Broadway.  Safety first!
Anyway, we'll leave discourse about this multimillion-dollar undertaking to more appropriate forums and a later date.  For now, the old place that served as the focal point of much of village life for nearly a century has passed beyond the pale of garnering a last look and is already only a dim memory, though a passel of old Saltairians did hold out hope that some hidden treasure or missing person might have surfaced when the walls came rumbling down.  And that's another thing: granted the joint had become a noble wreck – thanks to years of neglect before being finished off by Sandy -- and needed to be torn down to make way for the new Mahal, it's too bad the place survived the exigencies of sun, wind, rain, and snow for 99 summers and winters, the Hurricane of 1938, the advent of Costco and a lack of attention, all to fall just months short of marking its centennial.  It was a matter of symmetry.
Now follow months of digging, scraping, plumbing, erecting, excavating, hammering, yammering, raising money all so that by the spring of 2015…voila – a brand new market and a brand new Village Hall stand above a brand-new cesspool, replete with lots of attractions to bring in customers from far and wide (mostly far) and add to the bottom line of whoever's hired to run the thing.  Oh, did I say "whoever"?  Well, you know, like we said…the more things change the more they stayed the same.
Oh, and yeah, that business about being open about being open for business in 2015?  There's a vicious rumor that that immutable, drop-dead target date may be a mite off.  Hey, a year here, a year there, who's to know?
Well, let's talk about what's coming up before we get into what's going down, and the first thing that's coming up is the field, which is in the process of being torn up preparatory to being raised closer to boardwalk level so that future flood waters from the Cove will cover it only to a depth of six inches instead of twelve.  That collection of 700 big white sacks deposited around the bayfront all September – the things that looked like the tooth fairy's collection of dinosaur teeth – actually contained the soil with which the nascent re-field will be resurfaced once the old stuff is, in the most literal sense, turfed out.  However, a heightened field is a happier field, and once the work is done – promised sometime in October – and it recovers from its traumas of our gentle winter, the new field will indeed be a more softball-, soccer-, camp- and helicopter-evacuation-friendly arena that will serve the community swimmingly for many years to come, floods or no floods, although flooding would probably be useful for swimming.
One sad note amidst all the figurative dynamiting around Broadway is that, on account of said construction work, this year's SCAA Halloween Party has been canceled.  Canceled!  The thing's been going since 1981.  Nothing, no calamity, has forced its suspension in even one season until now, not even the zombie apocalypse of '98.  Oh, wait, that was that mass exodus of trick-or-treaters.  But since the area surrounding the Village Hall has been turned into a hazardous landscape, it was decided not to risk having a real graveyard in place of a fake one, so a classic piece of autumnal mirth has been put on ice this year and will, we're assured, be thawed out in time for next October.  Which will be a treat if it turns out not to be a trick.
Oh, and we're supposed to be getting new dunes, maybe, on our portion of western Fire Island this winter.  Not the entire promised project, as the full project cannot be completed before piping plover season commences April 1.  God forbid the plovers don't have a place to pipe in perpetuity, and as if on cue the Audubon Society, equipped with faulty science and disinformation, has filed suit to stop the restoration of dunes at Smith Point on what used to be eastern Fire Island, before Sandy became the latest storm to reduce the length of FI by cutting a new passage through it.  While this suit does not directly target what, with the inadvertent creation of Fire Island Lite to the east, we may call the Real Fire Island, some people with no dog in this fight could easily throw a monkey wrench into our pet project and, thanks to the bird brains who have unleashed their fancy to take flight in tandem with their intelligence, pretty much foul things up for the rest of us.  Stay tuned.
The SYC has dialed down its season, shut and left to sit undisturbed, mostly, until the spring scrubbing 31 weeks from now.   Hose off any lingering asbestos dust, that sort of thing.
Speaking of the SYC, its certificate of incorporation – another century-old landmark – may soon need to be revised to take account of its new name, the Meluso Yacht Club.  Good Commodore Geoffrey has just been reelected for an unprecedented fourth one-year stint as Grand High Exalted Mystic Ruler of the House, a deserved reward – at least the rest of us tell Geoff it's a reward – for a man who's been faced with unprecedented circumstances during the past three years.  The tradition is two years then don't let the swinging door hit you on the way out, but when Geoff's time does come that door will hit him ever more gently for all he's had to cope with.  The rest of the Board of Governors of the MYC, most returning to their last stands, are officers Vice Commodore Pia Notaro (who must feel like Hosni Mubarak's Vice President), Roseanne Trentacoste (Rear Commodore), Cindy Anderson (Secretary), Steve Kunreuther (Treasurer), Carole Sirovich (Tennis Captain), Patrick McElhone (Fleet Captain), and governors Richard Hochman, Jim Sconzo, Bernard McElhone, Cheryl Valente, Ralph Perlberger, Juan Pablo Pallordet and Dylan Patterson.  Welcome aboard again, gang.
The sand castle contest was held August 31st, allowing a throng, or it may have been a horde, of builders to demonstrate that they can compete with the best market architects and conjure some amazing sculptures out of our so-far-unreplenished sand.  Castles were judged in various categories according to their creators.  Here are the details, and the proud winners, courtesy of event organizer Cheryl Valente:
Prizes were awarded in the following categories:  Age under 6; 6-12; 12-18; adult; family; originality; presentation.  Twelve trophies were awarded with numerous honorable mentions for the awesome works of art!  Winners:
1. Matrix.   4 yrs.  "Turtle and Castle"
2. Samantha, Jordan, Ava.  7-10 yrs.  "Noah's Ark"
3. George, Nate, Spencer, Felix. 7-9 yrs. "Octopus Eating Boys"
4. Olivia, Jack, Luke, James, Will  11-14 "Alligator"
5. Tierney, Haley, CarrieAnn 12-18 "Cookie Monster"
6. Adrian and Mom.  "Saltaire Surf"
7. Carla and Dad   "Swimming Fish"
8. Brandon and Tyson-SOR.    "Bacon and Egg" (in honor of National Bacon
Day)
9. Kathy.    Adult.  "Elephant in the Room"
10. Chaplin Family. "Spiral Castle"
11. Grant and family.    "Castle"
12. Kiley.   13.   "Fish on a Hook"
Best in Show:  Fuller Family. "Baconater" This was a grand Sea Snake with bacon strips for tongue and eyebrows.
Thank you, Cheryl.  If the FIMI project really materializes this winter, we're promised an even higher quality of grain size and versatility for even greater entries at the next sand castle contest on Saturday, Sept. 5, 2015.
And on the subject of proud winners, that old Saltaire softball saw, "The few, the Proud, the Dogfish" received renewed resonance Labor Day weekend, when the 'fish topped their already hard-to-top season by excising the Excitables from the scoreboard…well, almost.  A solid 7-3 win, if the scoreboard is to be trusted.  I see no one among the 'fish is in a hurry to erase it before the winter.
We would be remiss if we failed to note that our old friend, Kevin Gillespie, late of the Saltaire Fire Company and the Saltaire Security force, has finally decided that, effective the end of Octoberr, he'll stop clutching his longtime job as chief of automotive maintenance at the Woodhull School in Corneille Estates and retire.  Now, Kevin has been an integral part of Fire Island life for, like, the past 75 years, and looking remarkably healthy for all that.  He's survived overwashes that threatened to scoop up his school bus and send it drifting to a new school in Portugal, flooding from Sandy that saw him literally running north through central Ocean Beach to escape the modest tidal surge inundating the town, pummeling by a sudden gusher from an abruptly opened fire hydrant, and driving unsteady villagers through driving rain to the safety of the waiting ferry.  Water, you will note, has played an integral part in Kevin's life out here, more than appropriate for a former surfer who grew up on this island.  Though Sandy destroyed his home and exiled him to the forbidden mainland to live, Kevin has continued to work on Fire Island daily and remains such a fixture that when, two or so years from now, he and Daphne finally move to their home-in-progress in a non-watery area upstate, those of us who remain will be faced with a void which, like a Fire Island pool in winter, can never be filled.   Kevin will be honored by an invite-only affair on November 7, at which many of his nearest and dearest will be in attendance to thank him right and proper for everything he's done and, even more importantly, for the present of his friendship.  And try as he might, he won't be going anywhere soon, so you'll still catch a glimpse of him every so often.  Probably near water.
We draw to a close on a sadder-than-usual note, the sudden passing on September 1 of our friend and member of a beloved Saltaire family, Daniel Mindich.  Danny died of an apparent heart attack in the waters off the island of Oahu while participating in the annual Ironman swim.  Danny, who made his home in Hawaii, was just 49 years old and leaves behind his wife and three children as well as his parents, Margot and Len, and brother Jeremy, and their extended families.  We hope that the Mindich family knows they carry with them always the love and support of the Saltaire community in this time of such profound grief.
And we must also note the passing of two other Saltairians late this summer, our good friends David Jordan and Richard Low, both of whom, as it happened, lived back-to-back between Marine and Atlantic along Harbor.  Both David and Dick were great and kind gentlemen, thoroughly dedicated to their families and our village, the best of neighbors and true friends.  Good people, and yet more losses this community can ill afford. 
And so, mercifully perhaps, we come to the end of the fourth year of the second century of the Saltaire era.  What ever does the future hold for us?  Whatever it is, odds are it'll be expensive.  But, what the hey.  (Or, given the absence of Halloween this year, Where the hay?)  Like the saying says, a hundred years from now, who'll remember?  Just like the market.  Ninety-nine years, sure, but a hundred?  Forgotten already.  In addition to his posted warnings about the approaching deadline for the return of the seasonals, Harry Baker has begun his countdown to global warming.  Visit his window on East Bay Prom while it – I mean Bay Prom, or actually, the island – lasts.
But wait!  Just found out we may have one more column this fall.  Early November, by rumor.  So if we have anything left to report, rest assured, it'll still be left to report by the time we get to it.  But if not, for now we'll just say:
"See you next summer…well, maybe,.someplace.  On line and off the record, or as Kevin Gillespie calls it, the wave of the future.  Bye now."
And if we do rematerialize, we'll just repeat that last paragraph, except probably for the quotation marks, the beauty of this being it'll still be just as valid when we really shut down for the year, while saving us some additional typing.
Oh, by the way, they're tearing down Marine Walk this winter too.  Forgot to mention that one.  Seems to be the year for this kind of thing.  But residents of Marine, never fear.  With Broadway gone, Security will detour you over to Neptune, where Chief Foley will hand you a pair of binoculars so you can get a gander at your inaccessible house two blocks away…assuming, of course, the Audubon Society doesn't come after you for mistreating ganders.