Oceanaires "Sweet Sixteen" Scintillating Summer Solstice sparked by Fireworks
by Jeannie Lieberman
In a program fitting for a "scintillating summer solstice" (thank you twins) Oceanaires Sweet Sixteen offered selections for every taste from Wagner to Lerner & Lowe.
Opening with a raucous "God Save the Queen", everyone was exhorted to sing along to special lyrics inserted into the program "Gorgeous and Glorious, O'er All Victorious, Vaguely Notorious, God Save the Queen!". Sherri Rase, part of the ensemble, issued forth a stunning soprano note but was not heard from again in the program. What a tease!
We then learned from a variety of stand-ins that the traditional emcee Philomena couldn't make it for a variety of reasons: tied up in a contract dispute with APCG and/or arrested for giving out tickets in the Meat Rack.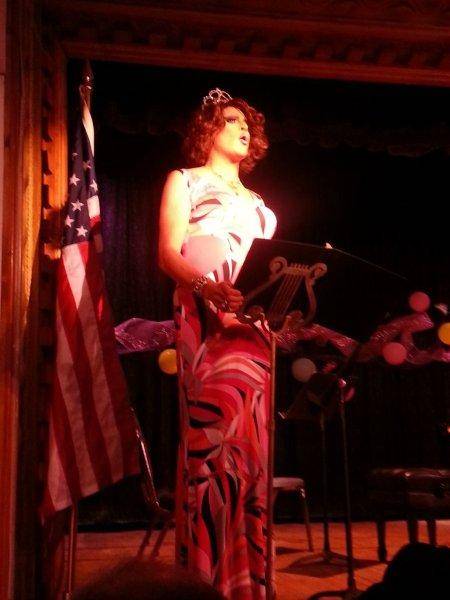 Whore D'Oeuvre
First stand-in was Homecoming Queen Whore D'Oeuvre who admonished the crowd to unwrap everything from candies to condoms before the show began.
Nick Calvano, on the euphonium, accompanied by music director Isaac Vaughan on piano, opened with Guilmant's Morceau Symphonique, Op.88 after which he uttered a visible "whew" to the stomps and whistles of approval from the crowd.
Jim Crapotta, who leads the Opera Discussion Group on Wednesdays at the Community House, enlightened us that the next selection was from the Mozart's first opera Idomeneo, written when he was 24, in 1781, and revealed the emotional backstory of the selection.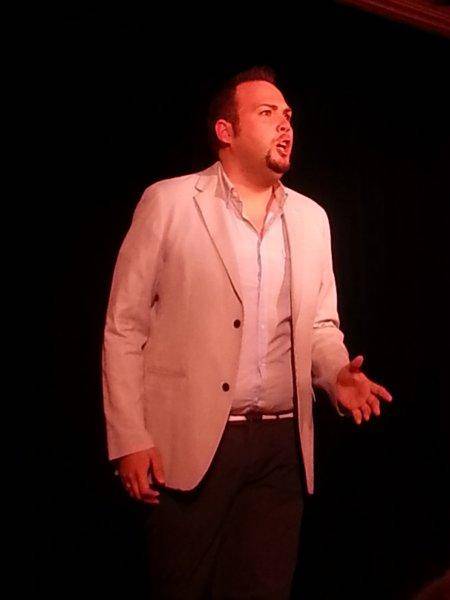 Adam Carman
Isaac returned with tenor Adam Carman who literally blew the crowd away with a stirring aria "Fuor del Mar", exhibiting impressive confidence and professionalism. It took me moments before I realized that Adam is indeed popular drag queen Renee Flaming! A chat afterward revealed that, at 31, Adam is at last "finding his voice". Let's hope he soon finds a legit stage for it.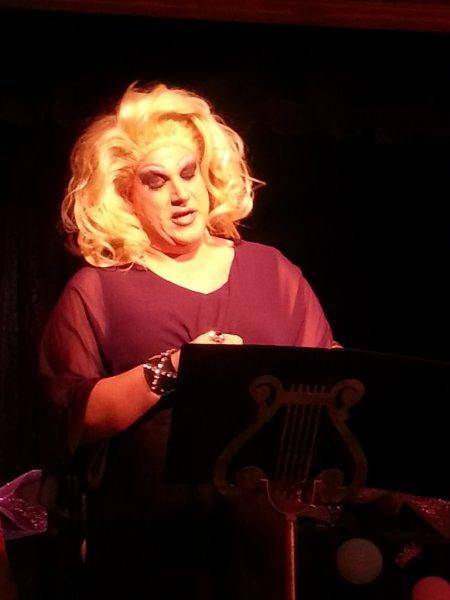 Gusty Winds
Multi talented Nunzio Sisto, who also plays the flute, bassoon, French horn and violin ("he likes to put his fingers in lots of things" quipped hostess Gusty Winds) introduced us to the world premier of his "Impromptu on a Personal Note" on piano. Dressed in a suit jacket, Bermuda shorts and sneakers, the very youthful Sisto's performance was clear, concise and crisp.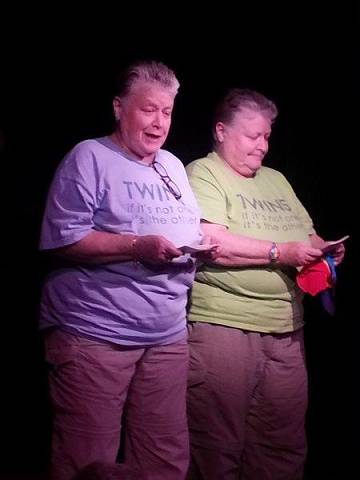 The Freedner Twins, Susan and Ruth or Ruth and Susan
The Freedner twins, now even more identical since both have had laser surgery and no longer wear glasses, introduced themselves as "Prima" and "Donna".
On a more serious note they noted that the Community House was placed on the National Registry of Historic Places thanks to the efforts of Carl Luss and others and was awarded a plaque personally presented by US Senator Kristen Gillibrand last summer, offering the rare opportunity to document the entire LGBT community in the pre-Stonewall era
"If these walls could talk…well ours are about to sing"
And they introduced a newly arranged solo version of a song specially written for the occasion by S. Bedford "We Built Our House".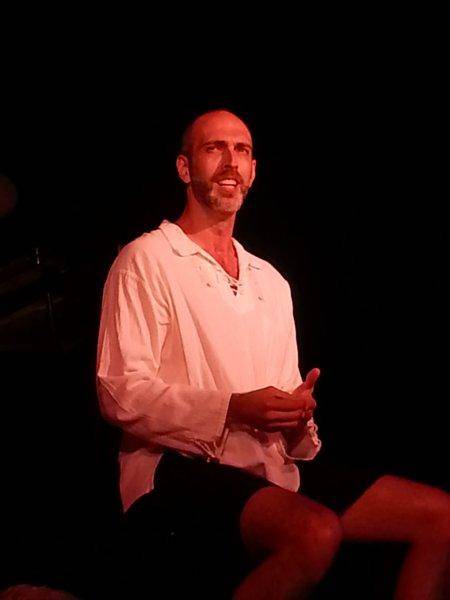 David Auxier
David Auxier preceded his performance with an emotional reference to the recent devastating fire at Hernando's Hideaway and how the town and the Fire Department came together "to save our fragile community" adding "we built ourselves from the ground up and now we will rebuild, revise and renew".
It was then that he delivered "We Built Our House", a touching and poignant rendition that filled the house to the rafters with the song which now had another dimension.
Intermission was timed to coincide with dazzling Gay Pride fireworks display funded by contributions of APCG and local businesses.
The fireworks were but a fitting presage of the vocal pyrotechnics to follow.
The Many Moods of Shirley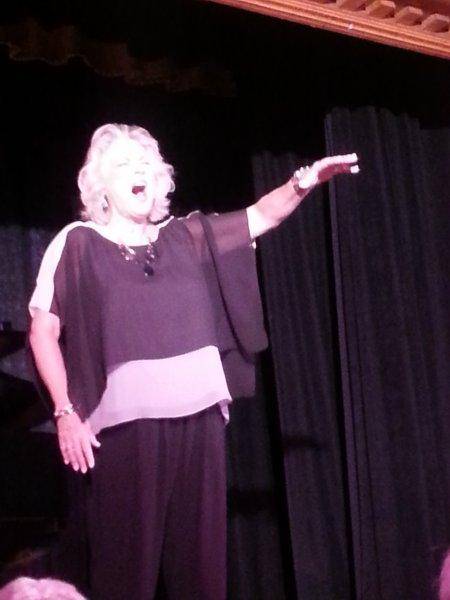 Shirley Ritenour
Dramatic soprano Shirley Ritenour made her Carnegie Hall debut last year to great acclaim. Together with conductor, pianist and composer Brian Holman she took over the second half of the evening which could have been titled "The Many Moods of Shirley".
And indeed she made an astounding entrance from the wings with the famous Wagnerian Due Walkure battle cry! Then put the audience at ease with a humorous "Art is Calling for Me" by Victor Herbert, accompanied by Lee Sharmat on tuba and Brian Holman on piano.
Shirley reminisced about when she first arrived on these shores 20 years ago with her partner on a nasty Labor Day weekend "The minute I got off the boat I knew it was home".
Back to Wagner with "Mild und leise" from Tristan und Isolde, topped off with Puccini's In questa reggua from Turandot.
Brian performed a piano solo which enraptured, held and soothed the crowd with a gorgeous, gentle "Claire de Lune"
And Shirley jumped back in with a lively "I Could Have Danced All Night" from Lerner & Lowe's My Fair Lady and An American Byron by L. Holdridge (East of Eden) which turned into an ode to Cherry Grove "…I am home".
She closed with a brilliant, hopeful interpretation of Harold Arlen's iconic "Over The Rainbow" dedicated to "all the Oceanaires of the past and present and the ones to come".
Production credits: Dan Alita, APCG liason, Matt Burney, technical director, Alison Brackman asst, Arthur Cohen & Michael Romanelli lights, Mary DiFede house manager, Thom Hansen APCG president, Dennis McConkey sets