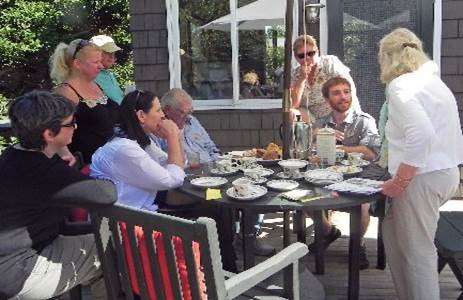 Diane Madden, LION; Elizabeth Downey, HSUS;
Robert Furey, MD, Saltaire doctor; Christine Rose, HSUS;
Harry Baker, Saltaire; Elizabeth Wintenberger;
John Di Leonardo, LION; Marija Beqaj, FIWF
Networking in the sun
by Bradlee White
When several members of the Fire Island Wildlife Foundation attended the August 22 Fire Island National Seashore (FINS) public hearing on its proposed Deer Management Plan, we met several members of other animal welfare groups. We were told about LION (Long Island Orchestrating for Nature) and the work they were doing. Wanting to continue this exciting networking opportunity, Foundation President Marija Beqaj invited LION members to her Saltaire home for an afternoon luncheon meeting. She also invited representatives from the local and national offices of the Humane Society of the United States; Saltaire, Fair Harbor and Kismet residents (Harry Baker, Liv Ulman, Frank Marcus, Eileen O'Neil, Claire Walsh, Helen Quenzer, Alice Nyburg); the board of FIWF (John Zaccaro Jr., Marija, Jeff Christensen, Rich Von Zurnick, Donna Berman and myself) -- all who had assisted with the immunocontraception and/or 4-poster programs here; the presidents of the Kismet and Fair Harbor Community Associations, Marsha Hunter and Gene Levy; Saltaire Mayor Robert Cox; Saltaire doctor, Robert Furey, MD; and State Senator Phil Boyle.
LION President and Anthrozoologist, John Di Leonardo spoke of their recent successful law suit against Suffolk County and their interest in immunocontraception.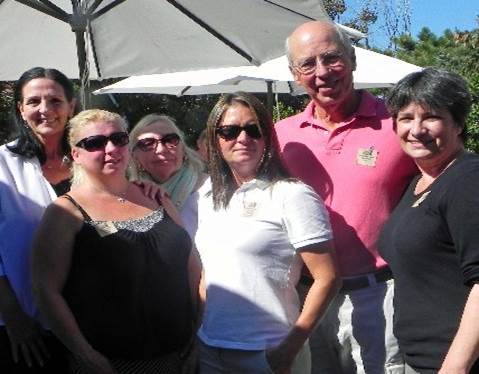 Christine Rose, HSUS; Elizabeth Downey, HSUS;
Marija Beqaj, FIWF; Stephanie Boyles Griffin, HSUS;
Richard Von Zernick, FIWF; Diane Madden, LION
We were particularly anxious to share our experiences of over ten years of deer Immunocontraception and the more recent 4-poster Tickicide program. The Fire Island project successfully immunized 353 individually known deer between 1993 and 1998. (Naugle, Rutberg, Underwood, Turner Jr and Liu, 2002). FINS took over the project, using automatic bait feeders in 1999; they terminated it in 2010. Despite the current FINS contention that a viable immunocontraceptive vaccine is "10 years away," scientists are working on new methodology using the same vaccine, Porcine Zona Pellucida or PZP. One development that has shown promise is a long-acting form of the PZP vaccine (Turner et al., 2008).
We were also excited to share the astounding reduction in ticks and tick-borne diseases in the west-end areas in and adjacent to 4-poster sites in Saltaire and Fair Harbor. Employees from Saltaire maintenance and several private landscaping businesses have reported a dramatic reduction in the number of ticks they find on themselves and their clothes. Both Dr. Robert Furey, Saltaire's doctor and Eileen O'Neal of the Fair Harbor/Dunewood Health District reported fewer than 5-tick related visits each this past summer.
An immediate outcome of this networking was the recent issuance of a Human Action request from the Humane Society of the United States asking recipients to respond to FINS with support for fertility control (Immunocontraception) instead of their lethal options for deer population management.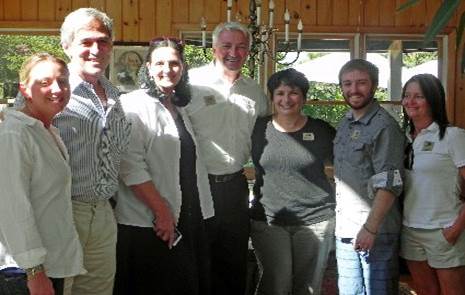 Mellie Nelson, Poshpet Rescue; Jeff Christensen, FIWF;
Christine Rose, HSUS; State Senator Phil Boyle;
Diane Madden, LION; John Di Leonardo, LION;
Stephanie Boyles Griffin, HSUS