Linda Lavin & Billy Stritch "Possibilities" at the Ice Palace Aug. 9th
By Jeanne Lieberman
If first impressions count then the audience at the Ice Palace should be very flattered as this evening's performers showed up in style: Billy Stritch in a dark suit and tie, with shiny back shies, Linda Lavin all sparkly in black sequined pants and a white sequined shell that changed colors with the light – an old fashioned sign of respect and professionalism – and we got plenty of that.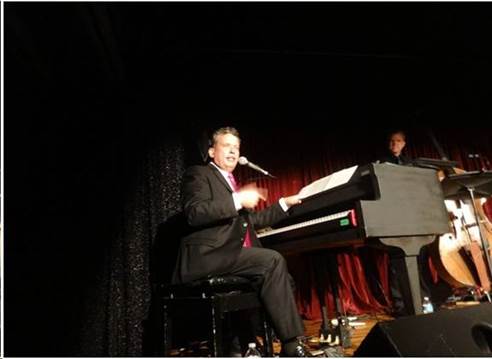 The legendary Billy Stritch took over the proceedings with the assurance of the master musician/performer that he is as he segued smoothly between anecdotal show biz tales and dazzling riffs on the piano with generous introductions for his fellow musicians' bass player Steve Doyle, and Ms. Lavin's percussionist husband Steve Bakunas.
Stritch jump started his segment with Cy Coleman's promise "The Best Is Yet to Come;" Mel Tormé's "Sunday in New York" in his signature cool jazz style then beguiled the crowd with a charming tale of the precocious 4 year old Torme's debut in showbiz, circa 1929, singing "You're Driving Me Crazy". Both provided ample opportunity to showcase bassist Doyle's technique. Then in a different mode Duke Ellington and Peggy Lee's sassy "I'm Gonna Go Fishin' ".
Stritch could have easily carried the evening himself (as he often does in his classy gigs around town) but Daniel Nardicio, producer of the Ice Palace's Icon series, had bigger plans in store for us, importing the lovely Linda Lavin to share the experience (when was the last time the celebrated Stritch opened for another?)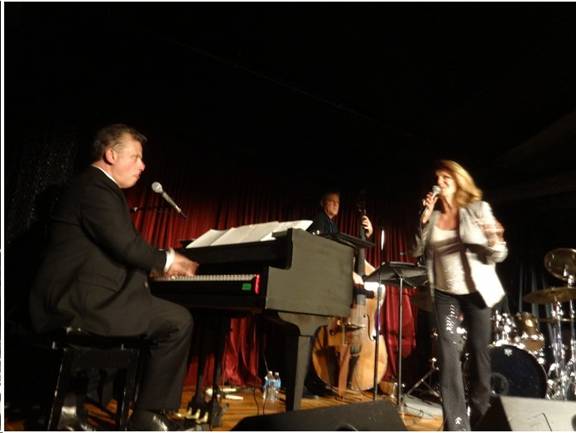 Linda Lavin burst upon the stage with a melding of Cole Porter's "I've Got My Eyes on You" and "You Do Something to Me". And then this star of "It's a Bird, It's a Plane, It's Superman," "The Tale of the Allergist's Wife", "Alice" and, more recently "Other Cities, Other Places", "The Lyons" and "Too Much Sun" very humbly enthused "I'm not leaving…I want to play this room for a longtime" as the Grove gave its typical hooting and stamping welcome. "I used to go to Ocean Beach when I was young and single but this is the place!"
She chatted on "when I couldn't get jobs I would sing. I used to play clubs with the name "Downstairs" for $50 and sing sad songs". Then she got work in Miami Beach of the '60's singing such specialty numbers as "Cape Canaveral Blues," (couldn't get it up).
Ever the actress she filled her part of the show with lots of anecdotes; like meeting and enjoying the company of the infamous Lenny Bruce, who, despite his racy reputation, she only kissed. (Incidentally watch Stritch when accompanying at the piano – proves what a great and generous performer he is – reacting as if it was the first time he heard her material).
Knowing her audience, she regaled the crowd with a hilarious take off by Sondheim and Mary Rodgers of "The Boy from …" and Carlos Jobim's "Girl from Ipanema" requiring lots of breath control and a working knowledge if Spanish! From gay parody she went to Charles Strouse's 1966 musical "It's a Bird, It's a Plane, It's Superman," which she sang to Clark Kent/Superman, this in her favorite bossa nova rhythm, "You've Got Possibilities" (from which she derived the show's name "Possibilities").
Losing her place temporarily she confided "I have no idea what's next" but then extolled the crowd once more "They said you'd be great but this is beyond and I am thrilled to be performing for you".
Lavin referred to her "9 year job" in CBS "Alice" which "politicized me" to the issues of working girls and single parenthood and sang "New Girl in the Neighborhood"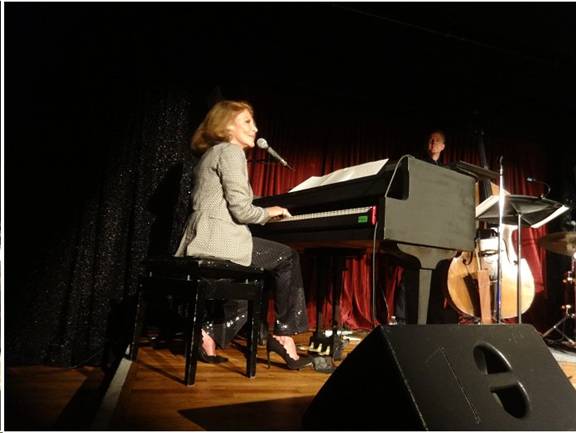 She then gave Billy a break and took over at the piano playing and singing a clever mix of "It Amazes Me" and Long Ago and Far Away" after which she paid tribute to her mother who "gave up her opera career (for me)…she was very interested in my career" which she repeated more than once (was she referring to her as a stage mother?)
She began impressively with a musically sophisticated meld of "Long Ago and Far Away" and "It Amazes Me "and then selected "Loads of Lovely Love," from Richard Rodgers' musical "No Strings".
When Stritch returned it became a musical jam with everyone taking a virtuosic turn:, Stritch singing "The Best Thing for You Is Me" from "Call Me Madam;" Lavin's "I've Got Your Number" from "Little Me;" and "You'd Be So Nice to Come Home To". She dedicated "I'm In Love Again" to her husband, Steve Bakunas whom she married in 1999 with a nice bass riff for Doyle.
Then the songs kept coming, often with duets with Stritch:
"It Might as Well Be Spring", "State Fair," "You Must Believe in Spring," concluding with an impressive scat singing duet with Stritch "No More Blues" that brought the house approval to a roar.
Lavin returned to the mike saying "I'm not gonna do some fake exit and performed a rousing "How High the Moon".
And then she was off selling and signing her CD.
Coming up in the Icon series:
Christine Ebersole and the Aaron Weinstein trio in a benefit for the Save Our Community House August 16
Actress/comedian Kathy Najimy and singer Vivian Reed on August 23
Choreographer Toni Basel and comic Lea Delaria on August 30.
Tickets: a www.DWorld.us, at the Ice Palace/Grove Hotel office, and at Gostoso in Fire Island Pines.