Kismet Kapers
by Bradlee White
Saturday, July 19th was the 11th Anniversary of Kismet's "House Call" Art Show, (or "Art Crawl" as it's more colloquially known). It was considerably smaller than in previous years, mostly by design. Bill Poindexter conceived the event and has managed it since, recently with the help of Peter Schmidt. Entries were limited to paintings, drawings and photographs. Bill told me that Cherry Grove was holding a similar artistic event this year.
Maura Erickson is the artist who painted the beautiful mural on the side of the Kismet Market. Andy saw the mural she did for Atlantic Honda and invited her to Kismet. After getting 200 "likes" on the Facebook picture (there were several), she was obviously a star draft pick for this year's mid-July art show. She has been painting for sixteen years in addition to her regular job as a Permanent Make-up Artist for medical patients.
Maura Erickson
Brian Kelley, creator and Webmaster of Beach Blender and the Facebook Fire Island page and super DJ (working at Le Dock in Fair Harbor this year,) is also a photographer of considerable talent as well as imagination. As this winter's harsh weather proved a disaster for a roving photographer, Brian, a hobbyist, attached his camera to a remote-controlled model plane – drone, if you will -- and sent it up to capture some terrific sunsets.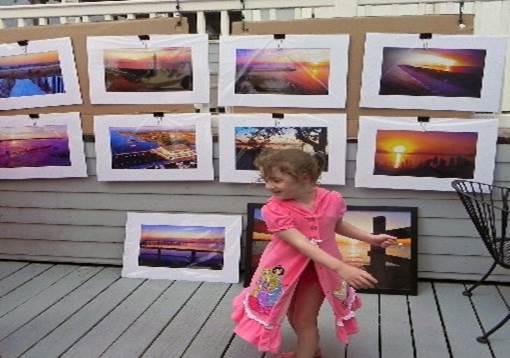 Young admirer dances in front of Brian Kelley's work
Peter Schmidt and Andrea Wikso held a joint showing at Andy's house. A big highlight was Pete's spectacular shot of a huge lightning bolt. He shot it with a 15 second exposure on a tripod with a remote (F13, ISO 100). He spent hours capturing it, ducking into the Inn in the heaviest rain. He shot the Saltaire Fire Works last year from the bird watching stand at Field 5 and plans to do it again. Andrea uses unusual angles and placement of ordinary objects. A big favorite is her shot of two red wagons "coupling" at the wagon stand.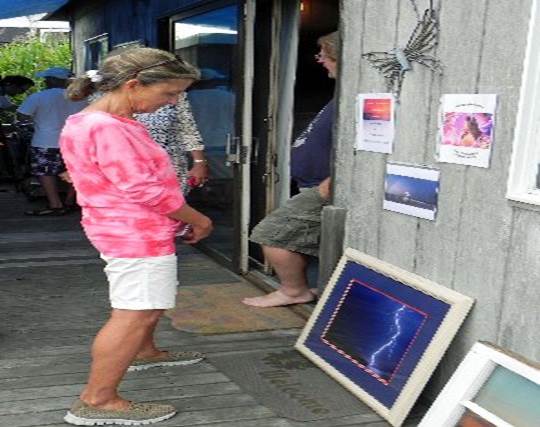 Susan Welt admiring the Lightening photo
Coupling Wagons
Alyson Fendel Breier has been painting for many years. She paints every day: her art is her work. She plays around with color and water and terms her impressionistic style "fauve." She paints wherever she travels, though she was primarily showing works modeled from her very impressive garden. Although she hasn't shown in Kismet in three years, her work is carried by two galleries in New York City and has been shown in exhibits such as the Baltimore Art Show. Today's buyers included Helen Quenzer and Myrna Ussach
.
Alyson with Helen Quenzer
Rachel Towle first showed her work in Kismet at last year's "Crawl." This year she exhibited at the Lighthouse Art Show for the first time. Her use of angles and perspective, combining human structures with the natural environment is compelling. She is currently staying in Ocean Beach and will take part in their upcoming Art Show. She has a new website, RachelTowlephotograpy.com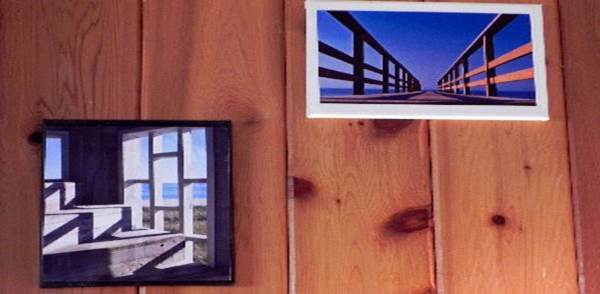 Two of Rachel's photographs
Bill Poindexter, a former commercial artist, has been painting for many years and has exhibited at the Lighthouse Art Show for many years. The paintings on his Kismet exhibit walls still hung, but Bill was forced to take his prints inside in the midst of the sudden rain. He was mostly showing work from previous years as he has spent a great deal of time working on his house, repairing Sandy's ravishes and making it "better than before Sandy."
The other big event of July 19th was the celebration of Laurie Bellafiore's "very important birthday" at Myrna and Phil's house. Her husband, Kenny, planned everything down to the last detail, meeting with Myrna a month beforehand. Laurie's sister, Danna, flew in from Wisconsin. Kenny's siblings Steve, Greg and Marge were there, as well as their two grown daughters, Anna Marie and Catherine. A Freeport-based band, "The Wreckers," supplied oldie dance music that kept all forty guests dancing for hours. Dinner was catered by the Kismet Market with three 6-foot heroes and several hot dishes. Andrea Wikso spent hours on her Mac & Cheese dish and someone brought wonderful pastries. The KFD graciously lent tables and chairs for the party.
Kenny and Laurie
Nick, Nicoletta and Kathy having dinner on front deck
Kenny joined other guests at another table
Coming events: Taste of Kismet scheduled for August 9th . A reminder from the organizers: "We're getting down to the wire with planning for this year's event, taking place on Saturday August 9th. A number of people have approached Krysia and/or me to confirm they'll be participating but we're also still waiting to hear from some of you. We ask again that you email one of us; Krysia, Joanne or John B. and let us know what you intend to make ." Helpers too.
The annual Clam Shucking Fund Raiser for West Islip Breast Cancer Coalition is scheduled for Tuesday August. 12th. In addition to the shucking and the many raffles, there will be two other WIBCC fund-raising events. A one-hour Adult Tennis Clinic ($30) and a Pro-Am Tennis tournament ($20) are scheduled for 10 a.m. on the 12th. A Gold-level package at $65 includes both clinics and $25 worth of Food/Drink tickets. For information and registration contact WIBBC at (631)-669-7770 or email: info@wibcc.org. The second WIBCC event is the 4th Annual Kan Jam Beach Tournament to be held Monday August 4th at noon on Pine Walk. Entry fee is $5 and there are prizes for the 1st, 2nd and 3rd places. Surf's Out is donating hamburgers and hot dogs to all players: Meet at Surf's Out Courtyard at 4 p.m.