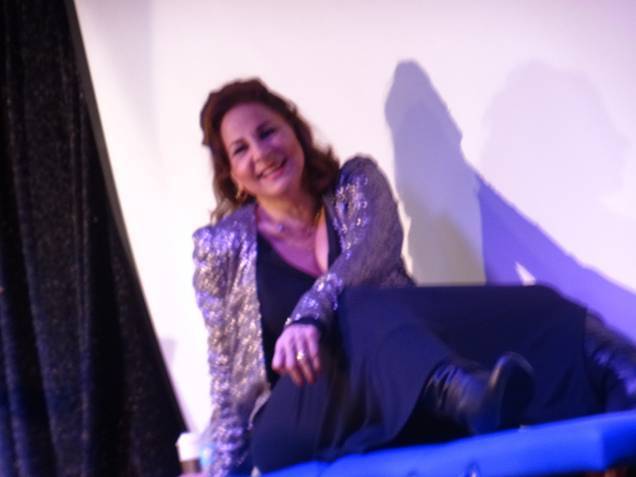 Kathy Najimy "Lift Up Your Skirt" at ICONS
by Sherri Rase
The latest performance and the final of the season in Daniel Nardicio's ICONS series at Cherry Grove's Ice Palace featured star of stage and screens large and small, activist and feminist Kathy Najimy. For many of us, our early exposure to this gifted comedian was when she did the Kathy and Mo Show – and then an HBO special based on their Off Broadway performances. She became further well known playing Sister Mary Patrick in the Sister Act movies as well as starring in Hocus Pocus with Bette Midler and Sarah Jessica Parker. Now using her fame to raise awareness of her causes from V-Day to PETA, Ms. Najimy has embarked on a brand new venture – the one-woman show.
This one-woman show features multi-media experiences and superb musical direction, and other derring-do, by Brian Nash. Great things grow from small moments and a few years ago, Bette Midler called Kathy Najimy to encourage her to do her own one woman show, after reading Ms. Najimy had directed something for someone else in LA. This little treasure chest is that show with Ms. Najimy sharing parts of her life very honestly and these rare glimpses show us how she came to be the ardent advocate for human rights, LGBT rights and feminism that she is today. Of course, there's a zany start with a video montage of moments of her career and she later includes family and classic throwback photos of our favorite character.
A brief foray into belly dancing "I'm Lebanese after all"
While it is a work in progress, Ms. Najimy doesn't pull her punches. She's got some mordant commentaries on what the world does to knock us down. With an advocate like her in our corner, helping bigots and we semi-enlightened alike laugh at one another and ourselves, there are big changes on the horizon and we can all be a part.
Believe in the power of your dreams as one of the highlights in the show is Ms. Najimy's long-term pursuit – well, okay, stalking – of Bette Midler. We travel with he through two decades of meetings and mishegoss and when they were colleagues she finally came clean after 20 years of stark raving fandom. Another was her riff on diabetes – when she was doing Sister Act, she developed Type II diabetes that she vanquished with diet and exercise. However, gestational diabetes was lurking when Ms. Najimy was carrying her daughter Samia yet she turned it to a triumph – sure it's Type I and could be fatal – by golly that is Skinny Diabetes!
Ms. Najimy's sketching of family portraits are so clear it's like we're at a gathering and the brilliant Marriage Equality piece featuring her beloved Aunt Maddie character, the Kathy and Mo Show staple who was modeled after her own Aunt Alice, is a brilliant stand-alone piece.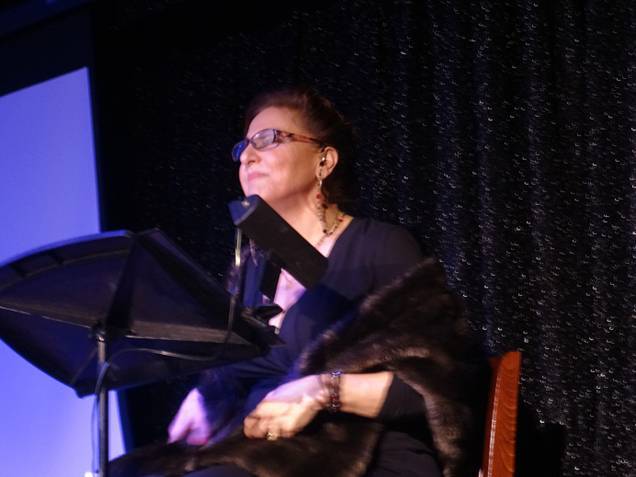 Aunt Maddie

Aunt Maddie is having lunch with her friend Carol and she skewers homos and heteros alike. Comparing recent weddings of a niece and nephew, she lampoons the people who let heterosexuals marry (and divorce) as many times as they like, even hosting a wedding and a reception in the driveway of the family home. Crass to class, Aunt Maddie sends up LGBT wedding ceremonies in high style as well. Calling it a "faux wedding", since where the gay nephew and his life partner married, it's not legal, she includes all the canards you'd expect at a toney gay wedding. Then her passion gears up and like hearing symphony, she launches into the innate inequities that tick us all off. A bravura section details friends of grooms Michael and Franklin, the comically monikered Martin and Louis. Martin used to be Martina, but even after transition, the now male/biologically female Martin can legally marry Louis. Go figure! You need to experience it to believe it, but that won't be a problem – this show has legs and I predict you'll see it before long on one of your favorite cable stations.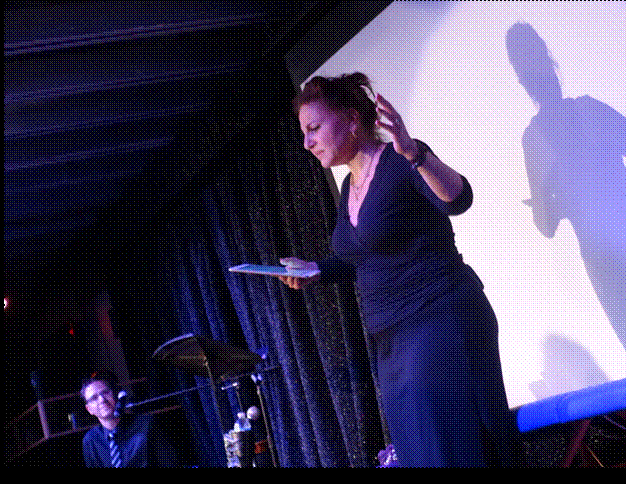 Reading from a notebook as she tries out new material
Ms. Najimy waxes rhapsodic about her family and speaks pointedly and to the heart to all the mothers who bring their chunky daughters up to her in airports to say "My daughter wants to be JUST like YOU!" Ms. Najimy gives us both her internal and external monologues and it is her passion for change that makes one love her even more after seeing this show. She is firm in her conviction that anything is possible, and she is living proof. What comes back again and again and again are her words "imagine what we could be if we weren't continually patching up the holes the world puts in us, telling us we're wrong, or bad. Imagine what we could be if we could just be!" Truly, words by which to live.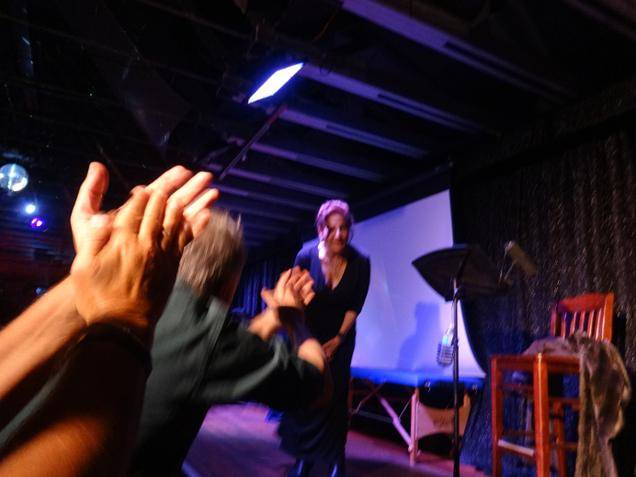 A quick bow for the appreciative crowd
Want more information on Lift Up Your Skirt, this dazzling solo show? Visit her website at http://kathynajimy.com. Want more information on Daniel Nardicio's ICONS series and what's coming up next? Check out www.Dworld.com and expand your world.