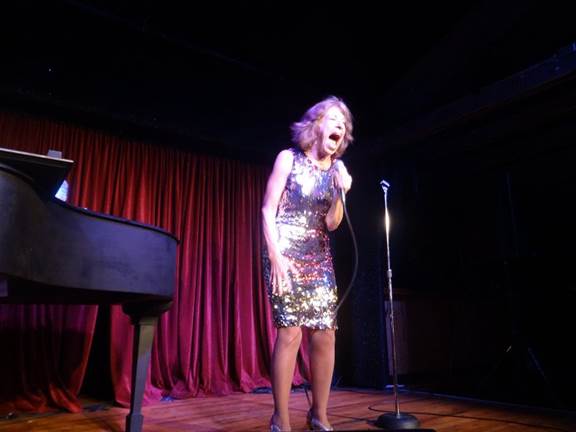 Photos by Jeannie
Jackie Hoffman is on Fire! (Island)" at the Ice Palace
                                                           By Jeannie Lieberman
Motor mouthed, mobile faced manic purveyor of blue tinged Jewish flavored humor burst ion the CG stage in a sparkly sequined sheath, the most conservative of her "act".
She opened with "Stop Making Out in front of me……..Start making love on top of me" to set the tone (with the help of Music Director Bobby Peaco) and "Lets get the ferries to Cherry's, a voyage to the bottoms of the sea" describing her accommodations at the Grove hotel  bedspreads as ""crunchy with DNA samples".
With a voice as flexible as her material, Hoffman revealed a love for Broadway musicals which she listened to as a young girl, specifically "No, No, Nanette". "By the time I was 8 I was a gay man"


She did in fact appear on Broadway in Hairspray, for which she earned a Theaterworld award for those debuting on Broadway, Xanadu, and the Addams Family, and The Book of Liz, winning an Obie Award. Among her many films is Kissing Jessica Stein, in TV Curb Your Enthusiasm, among others.


She will again appear on Broadway in the upcoming On The Town ("I was 19th on their list"). And will be doing "The New Normal" a comic series for NBC which sounds redundant".
 She described the impact of the new Tupac Shakur rap musical Holler If You Hear Me on the blue haired, hearing challenged matinee ladies. "the lyrics are Ni—er, Ni—er, Ni-er, Mother Fucker" which she repeated over and over as in the show, funnier and funnier.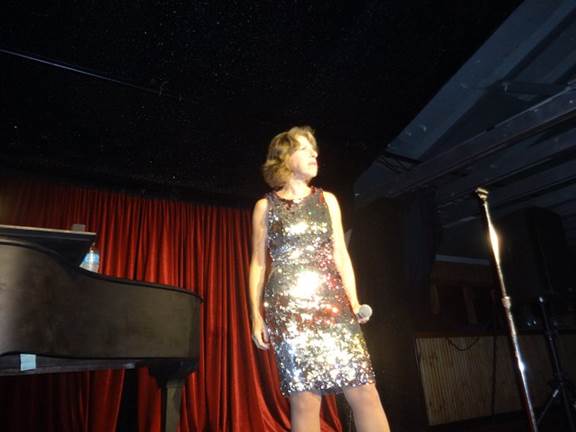 She describes herself as a "chronic masturbator", and "a bitter, self loathing coward.  ... I'm not a lesbian, but I've gone through menopause, so I'm angry all the time and I don't like cock either!"… a woman of a certain age. "I won't tell you how old I am exactly, but I wish my nipples were as sensitive as my gums".
She lurched into a ditty "That's the man for me… not a doctor in a yarmulke, but a Puerto Rican busboy with tattoos, uncircumcised, sleazy and cheesy, that's the man fir me". Before she got married she asked if she could say "Fuck" in front if his parents. It was not a problem for her family who are either dead or deaf. "It's a mixed marriage – I'm Jewish, he' happy" .
And the business of couples finishing each others sentences is that "they really don't want to know".
Jackie describer a gay cruise she want on during the High Holydays. "all you can eat and drink on a vessel designed to make you puke…they booked me as a drag queen…it was so gay it made this room look like a  sports bar at a Mitt Romney gathering". Offering "gay party etiquette – you just take off your clothes and go!"
A song about plastic surgery, "I want to be pulled, tucked, and lifted … until it doesn't look like me.", and another "Fuck the silver lining, I'll always find a cloud"…
Jackie is working on a tribute to another gay icon – Streisand – called "Don't".
She thinks gay parent's kids are just as rude as straight ones and concluded the evening with a parody of Miss Hannigan's nasty "Little Girls," from Annie, somehow working  "vegan breast milk" into the lyrics.
Much of her material was on the mark, but so raw it is unprintable, rat-a-tatted into the accommodating crowd.
She promised "The kvetching continues, the whining will go on."
Brava! Jackie, and Daniel Nardicio for this unique choice for hs Icon Series.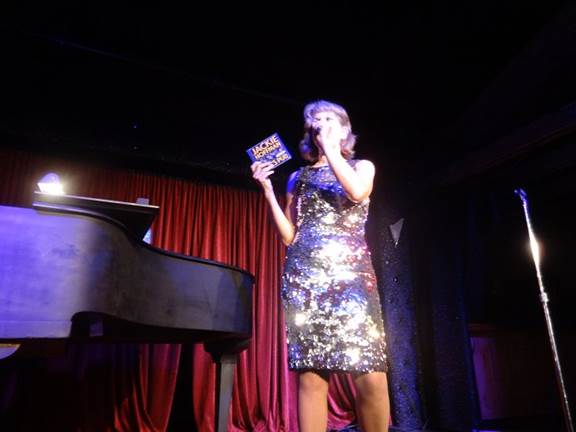 Now buy her CD