17 fire departments put out blaze in Fire Island Pines
Originally published: August 7, 2014 7:16 PM
Updated: August 7, 2014 9:59 PM
By ELLEN YAN AND CARL MACGOWANellen.yan@newsday.com,carl.macgowan@newsday.com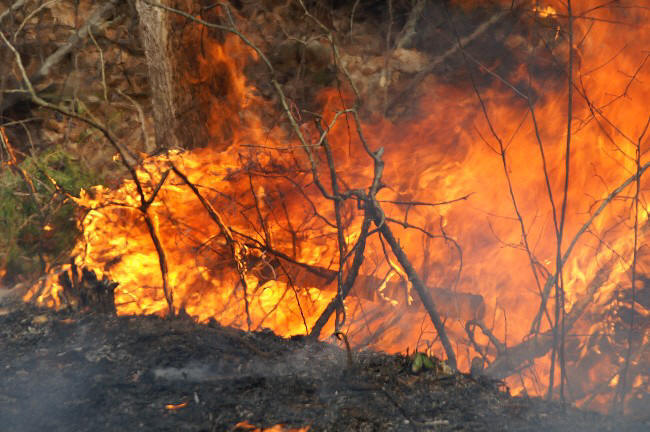 Fire boats and 17 fire departments knocked down a raging blaze that burned for two hours in the brush of Fire Island Pines, as seen in this chopper footage, on Aug. 7, 2014. (Credit: News 12 Long Island)
Fire boats and 17 fire departments have knocked down a raging blaze that burned for two hours Thursday in the brush of Fire Island Pines, authorities said.
The wildfire was confined to an undeveloped area and was reported just after 5:40 p.m. and put out just after 7:30 p.m., said a Suffolk County official from the Department of Fire, Rescue and Emergency Services.
Contingents of firefighters from the mainland were ferried in, along with their shovels and brooms, the official said. Those tools were used to rake over the brush in search of embers and to dump soil over any hot spots, authorities said.
Firefighting boats from various departments, including Suffolk police, were also at the scene, and police in a helicopter helped monitor the fire, authorities said.
No injuries have been reported and no property was damaged, authorities said.
Ken Osman, chairman of the Cherry Grove EMS committee, said the brush fire broke out in an undeveloped wooded area known as the Carrington Tract between Cherry Grove and Fire Island Pines. At least two firefighter boats and several helicopters had responded, Osman said.
Multiple agencies fought the blaze, including the Cherry Grove and Fire Island Pines fire departments, and the Suffolk County Police Department Marine Bureau, Osman said.
Fire Island departments from as far west as Kismet responded as well. Kismet Fire Department Chief Dominic Bertucci said the wind was in their favor. "If it switched, it could have been bad," Bertucci said, adding that the blaze was large for Fire Island.
Bertucci said the cause of the fire was deemed suspicious. The property was once owned by Broadway producer Frank Carrington. It is now under the control of the National Park Service.
The hamlet was also the scene of a major blaze that destroyed the main part of the Fire Island Pines community in November 2011. The explosive fire gutted a two-building entertainment and retail complex, filling the quiet barrier island community with smoke and destroying the Pavillion nightclub. It took about 20 fire departments several hours to put out those flames.
With Candice Ruud