Long Island Press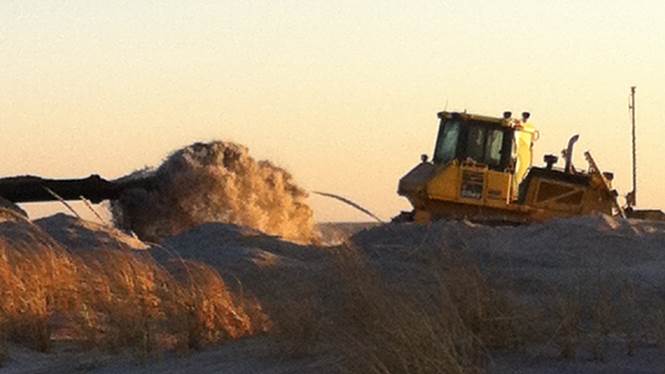 Sand dredged from a boating channel was pumped onto Robert Moses State Park beach this spring.
Fire Island Dune Rebuilding Plan Moves Forward
by Timothy Bolger on August 11, 2014
A project to rebuild Sandy-flattened dunes on Fire Island is slated to start next month, but might not be finished for two years—leaving part of the island vulnerable for a third or fourth hurricane season since the superstorm.
The New York State Department of Environmental Conservation (DEC) signed agreements with the U.S. Army Corps of Engineers and Suffolk County that effectively authorizes the $207 million project, which is funded by Sandy aid.
"This is a significant, much-needed project that will help protect the south shore of Long Island from future storms and sea level rise in an environmentally sensitive manner," said DEC Commissioner Joe Martens.
The first phase of the project will rebuild dunes at Smith Point County Park on the east end of the barrier island starting in September. The second phase will be contracted at Robert Moses State Park on the island's west end last this year. The third phase involving the residential section in the middle of the island is expected to be completed by late 2016.
The third phase involving FI's 17 communities is expected to take longest because it requires the government to negotiate with 41 private property owners, mostly in Ocean Bay Park and Davis Park, whose land falls in the way of the planned new dune. Some of those houses may be moved back and others may be bought out. Those that refuse may wind up fighting condemnation in court.
"The sort of dominoes have to fall before each piece can move forward," Gil Anderson, the Suffolk public works commissioner, told the Fire Island Association (FIA) last month.
Now that the agreements have been signed, contracts can be awarded. Land surveyors and appraisers can then lay the ground work on third phase. After that, buy-out and relocation negotiations can start with those are in the way of the last leg of the project, officials said.
More than 400 oceanfront property owners on FI will also be asked to sign easements allowing construction workers on their land before the dune work can finally begin.
The plan, known as Fire Island Inlet to Moriches Inlet (FIMI) project, is one leg of the larger Fire Island to Montauk Point Project, a $700-million Sandy aid funded storm mitigation plan for 83 miles of south shore eastern LI.
About 7 million cubic yards of sand—enough to fill 350,000 dump trucks—will be dredged and pumped onto the beach to rebuild the 15-foot dunes along more than half of the 32-mile barrier island. In the meantime, more than 400,000 cubic yards of sand dredged from a boating channel was pumped onto Robert Moses this spring.
Chris Soller, superintendent of the Fire Island National Seashore, cautioned that even with all the beach rebuilding work planned, Mother Nature remains a force to be reckoned with.
"If another Sandy comes, it doesn't matter what we put on the beach," he told the FIA.