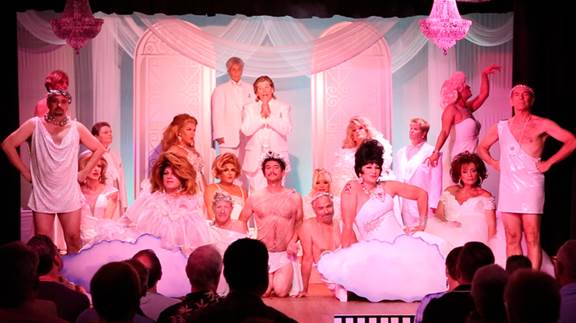 THE LAST PICTURE SHOW???
LABOHN'S 18th ANNUAL DOCTOR"S FUND BENEFIT SHOW:
                  SCENES FROM THE CUTTING ROOM FLOOR
                                    MAY BE HIS LAST
                                  by Jeannie Lieberman
                                    Photos by Daniel McKernan
Relaxing at their home a few days after the show, Donald LaBohn, creator and director of this stunning series of shows, arguably the best in the Grove for the past 18 years, confided there is a "possibility" that this is his last show.
"After 30 years here, the Grove has changed and its time to move on. I am now 70, how long can one put on a dress? At a certain age there's a dignity that goes past heels and wigs. I can't be buried in a dress…
I am looking towards Florida where I have a family; a son, daughter–in-law and two beautiful grand daughters. The show takes 6 months of every year from conception to fruition. Evan and I would like to travel".
Asked how he got started doing these shows Donald recollected "I always imagined I would do something creative in 'Show Biz'.  All those years of watching the movies of the 30's, 40's and 50's… I had these demented things in my head to do.
Cherry Grove provided the opportunity."
It began when he was called in the last minute to help out on a Dom De Santos show. Then he co-directed all the Fringe Benefit shows with Randy and Gianni.
 "I created the first PAWS benefit circa '92 called 'Scandals' which was  much more than the current series of acts..
Then one day Meryl and Lois wanted to put on a fundraiser for the Doctor's fund in Cherry's.  I said 'yes'. We did it there for 4 years when Roland, then president of the APCG,  said it was too fabulous for Cherry's and brought it to the Community House where it has been since ".
I have covered the Doctors Fund show since its first time in Cherry's where Meryl, bless her, never heard of a press seat so I ended up sitting on the dirty floor practically  under  the barstools where drinks were spilled on me, waiters climbed over me and cigarette ashes were flicked on me but as a professional theater critic, I discerned a flicker of the talent that Donald had and the way the non-professional cast was whipped into meticulous shape even under those circumstances, and retuned each year because I recognized  that sparkle of creativity, that attention to detail and meticulous delivery that signified Labohn's approach to his shows.
I once wrote they were "choreographed down to the blink of an eyelash".
And indeed cast members muttered what a stern taskmaster he was, but always in admiration.
This year Donald's presence onstage was limited due to recovery from a hernia operation which meant omission of one of the shows beloved staples, the Yiddish duet by the Shapiro Sisters! This show featured a cast of twenty in no fewer than 18 numbers! All preceded by our card gal Cobra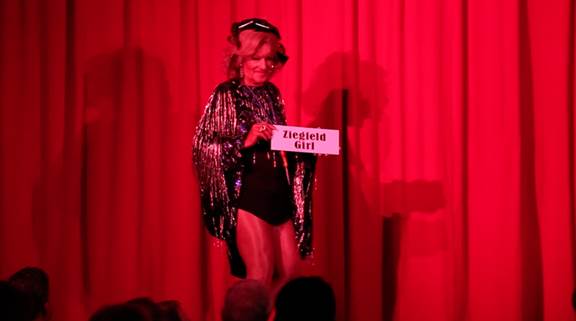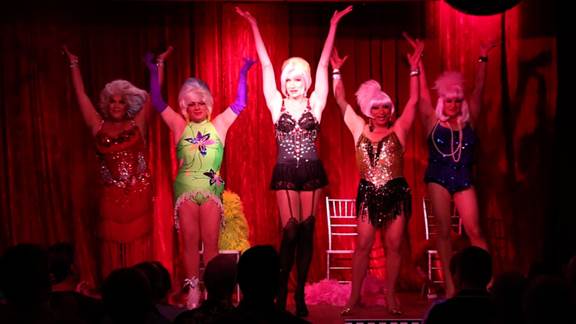 "Don't Tell Mama" featured Angela Merci, Shirley, Coco Love, Demi Tasse, Donna Piranha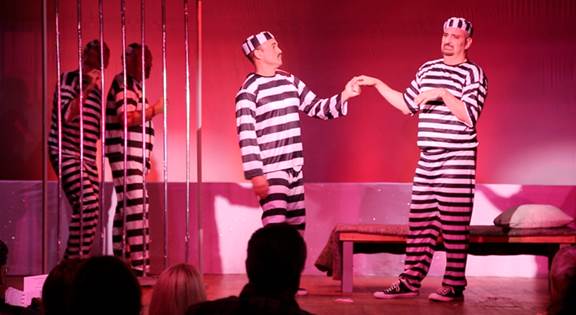 Jail h0use Rock: featured Eddie Galante & Ken  Woodhouse Jack Roberts, Chuck Krouse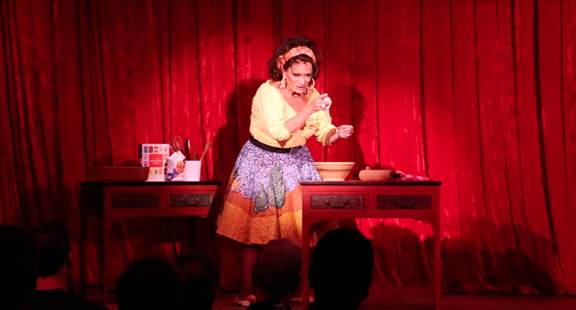 Marriage Italian Style: "Pizza" with Bella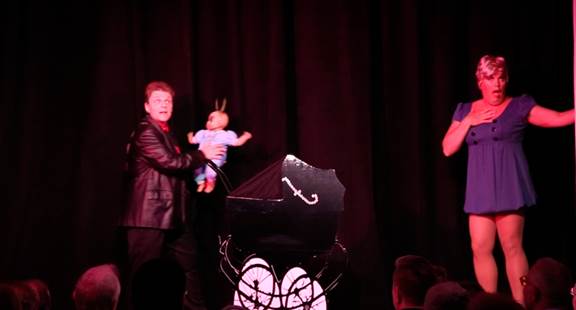 Rosemary's Baby: SallyAnn Piacentino "Brand New Baby" & Coco Love
Gentlemen Prefer Blondes – Condoms Are a Girls Best Friend Demi Tasse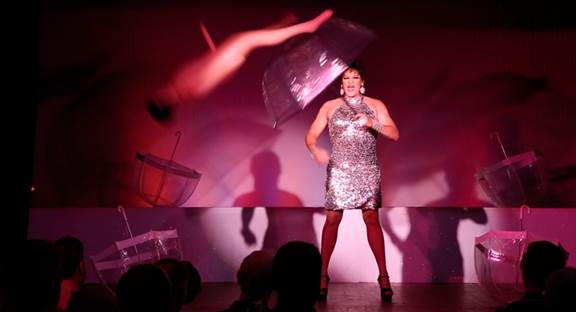 Singin In the Rain:Its Raining Men Donna  Piranha 3 dummies
Interview with a vampire: The Drinking Song  - Demi Tasse & Ken, Eddie, Jack, Chuck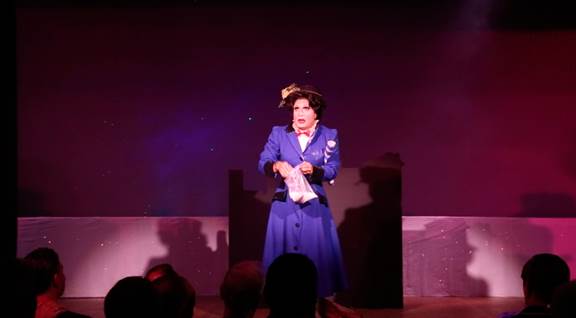 "Spoonful of Sugar" Mary Poppins –Ginger Snap
Marie Antoinette:  Ladies in Waiting - Lola & Coco Love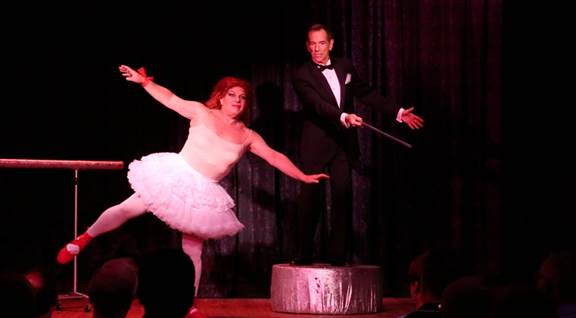 The Red Shoes: Dance Ballerina Dance- Shirley Shapiro,  Chixck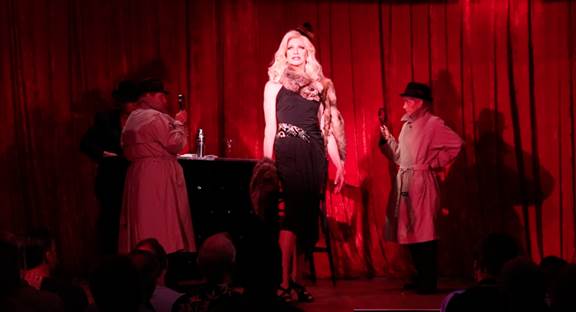 This Gun For Hire: Cher Chez La Femme Angela Merci & Bobbie Green Doreen Rallo, Joanne Tavis
Silence of the Lambs: "If I Only Had a Brain" Urban Sprawl and Eddie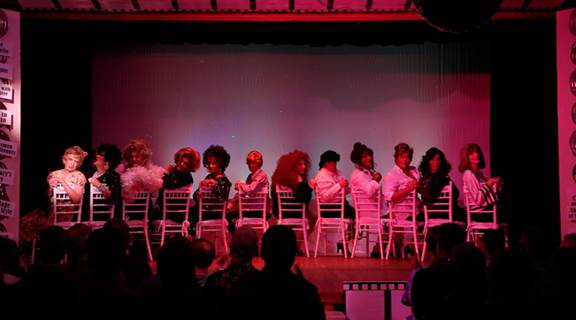 12 Days of Christmas: all Hollywood Stars
Bye Bye Baby - Psycho. Ken, Chuck, Jack, Urban Sprawl, Eddie
Nun's Story: Operator Give Me Jesus – Joanne Travis, Bobbie  Green, Doreen Rallo
"Big Time" - Charity in Sunset Boulevard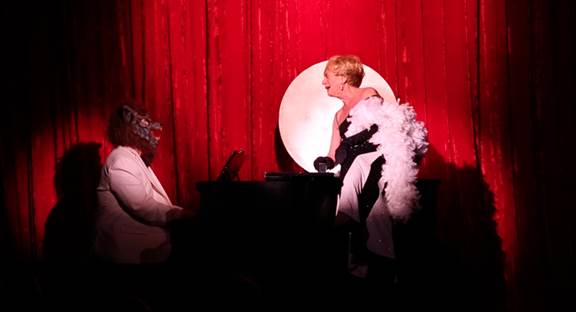 The Wolfman: Rose Levine "Don't Blame Me" John Putnam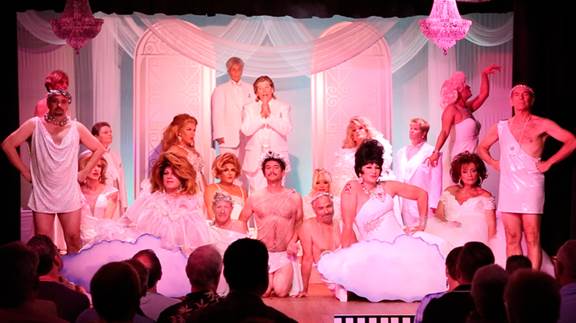 The Finale: Ziegfeld Girl – the cast
At his final curtain speech Labohn thanked the usual backstage and light and sound technicians, the producers, the APCG for use of the theater, Panzi as usher, Urban Sprawl for wigs & makeup, Demi tasse for some of the costumes but mostly George McGarvey for set design and show coordination who took a special bow and of course "my prima ballerina, Shirley".
The show flew so fast that big number that you think is intermission you discover in dismay is the finale. And I usually ended my reviews with "sign me up for next year" but now, who knows?