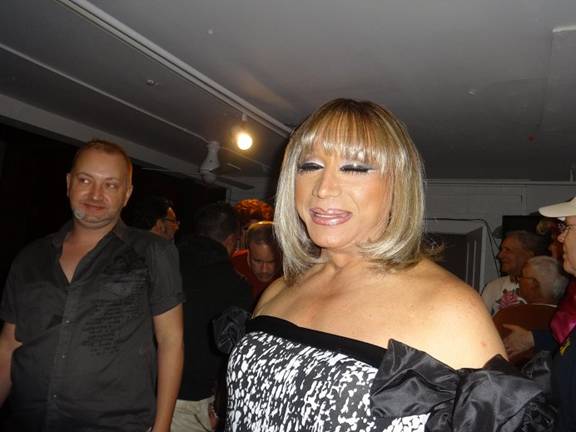 Demi Tasse's DEJA VU
A Tribute To Las Vegas
By Jeannie
photos by Daniel McKernan
script snippets by Matt Baney
Over the years I have been one of Demi Tasse's biggest fans. Always impressed with her stylish elegance and meticulous attention to detail from head to toe when she made public appearances. I secretly (and not so secretly) pined for her wardrobe.
So when I heard she was going to do a show for the first time I was naturally excited with anticipatory delight. And on Labor Day Weekend as the Arts Project's last show has a lot of pressure that comes with it.
I couldn't resist a pre-show call to congratulate her and see how she was doing:
Conversation with show's Director/Creator Demi Tasse
"There's been a lot of anxiety: what can you do that you haven't seen already? I was inspired by the Imperial Court's shows in that big ballroom. I asked many times before the end of last season and finally got p permission to do this.
Las Vegas has always fascinated me, past and present.
2 weeks ago was our very first rehearsal., rehearsing group numbers for the first time last Friday, Saturday and Sunday
Friday night was the first time the cast came together.
Luke Mahoney, of the Long Island Leather Club, The Ravens from the outside joined George McGarvey here as set designers.
2 weeks ago a gigantic boat unloaded scenery and props, costumes from Luke's garage
We had to wait nti after the Doctor's D Fund show was gone before we could begin.
I expect the look to be diffent.
I hope you enjoy it!
(Matt Baney's voice over from booth:)
Tonight the Arts Project is proud to present Déjà vu! To bobbie green, hey bobbi we all here at déjà vu want to send our best wishes for a speedy recoverty to you. We miss you. Tonight Bobbi's roles will be played by Mark Costanzo.
So while we are peeking into Demi's extravagant dream state, I'm sure the action will be as fantastic as the acts that played in those wonderful yesteryears in Las Vegas. Ah, yes, Las Vegas, no other town in the world can compare. No clocks, constant entertainment, the best food anyone can ask for and all the sex you can buy...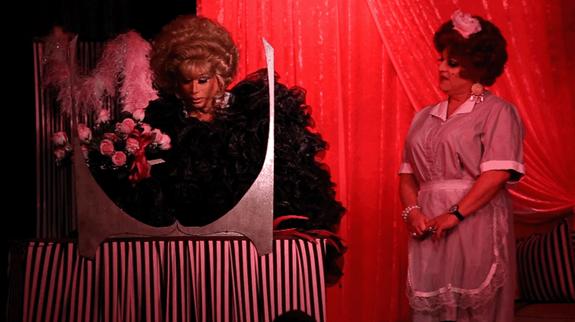 Demi and maid Bonbon LaRue: , "Hello, Gorgeous!" Flowers from Frank "how did I get here? I'm a bialy on a plate of bagels"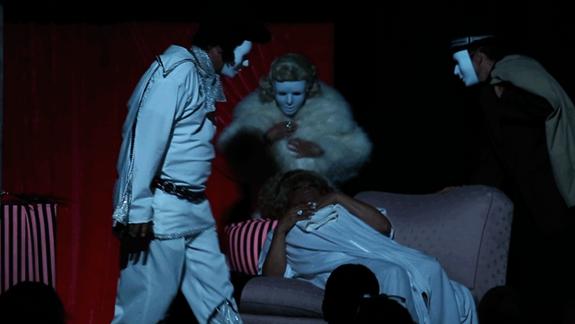 Demi's Déjà Vu Dream with ghosts of Marlene Dietrich, Frank Sinatra, and Elvis Presley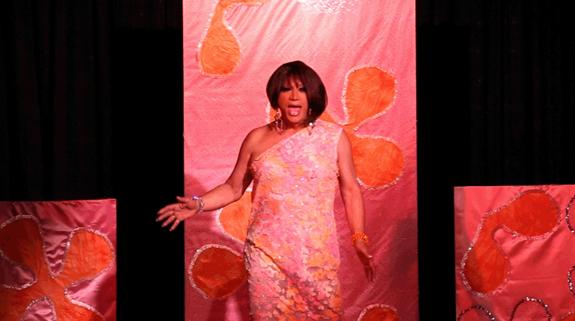 Demi: "Gotta Move"
Vegas had the most lavish shows, sets, and biggest names in entertainment back in the day. Short of a human sacrifice, if we are talking showy and lavish, then I can't think of any act more over the top than this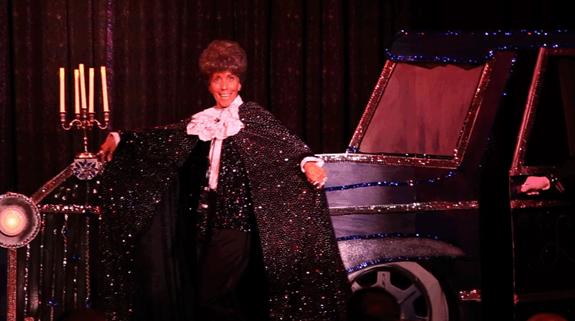 Liberace Doreen Rallo, wowed'em with "I'll Be Seeing You."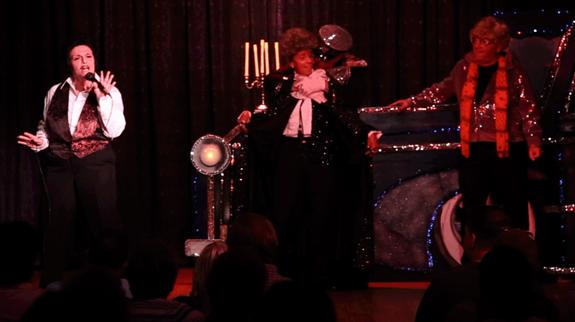 Wayne Newton SallyAnn Piacentino crooned "Danke Schoen," , Elton John Mark Costanzo did "Rocket Man," at the piano, designer George McGarvey as the chauffeur
Well, I am speechless. Liberace was gay!? That's a lot of competition for our ladies. Oh yes, we also had the top ladies here. Somewhere a little bit country and some a little bit of a belter a la Ethel merman.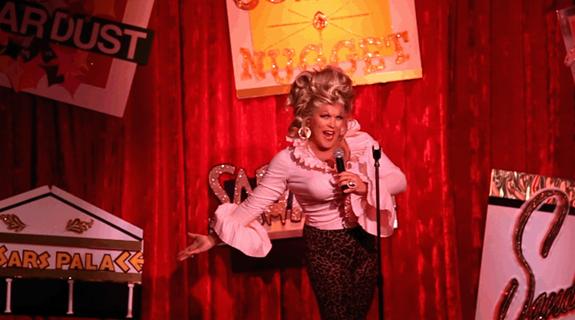 Dolly Parton, Coco seduced in "Nine to Five"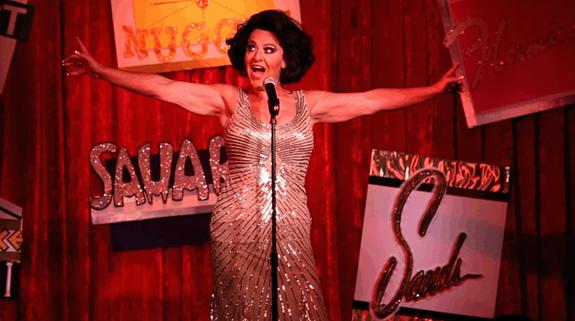 Shirley Bassey Margo sizzled in "Goldfinger"
Wow! Those ladies certainly kept their audience's attention with their pure talents. But they can't touch this next team. Oh my God! Talk about edge of your seat anticipation! These guys never failed to hype up the blood pressure of the crowd.
But of course things do happen that we can't control. Sometimes things really go wrong that you just can't prevent, you know? Why don't we just sit back and see what happens when you work with two of the most ferocious girls in Cherry Grove….ooops, I meant Las Vegas. On with the show!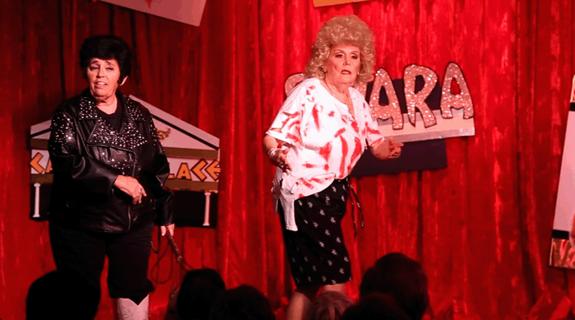 Siegfried Linda Dickerman & Roy Barbara Hirsch offered a new rendition of "What's New, Pussycat?" (what's new, indeed!)
Let's not forget that every show wasn't always on the great stages. Yes some shows were downtown at a less popular or glamorous hotel nearer to those legends of the past the golden nugget and the four queens on Fairmont Street. Not every act was top tier or a "smash".
We can peek in on one act that tried so hard to make it to the top, but unfortunately I never quite caught on as a "Smash"…do you agree?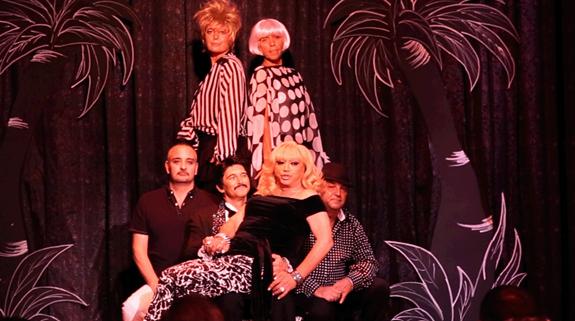 "The 20th Century Fox Mambo" featured Demi and backups Lee Sharmat, Doreen, Eddie Galante, Ken Woodhouse, and Mark
You know, this is Demi's dream state, so she has poetic license to add whatever she wants and I think she just wanted to do that number… Like this from Demi's dream sequence.
Our next young lady showed the judges at a talent show she didn't need any advice from them! She LOST….and from that day forward she became a sensational star in her debut movie. She even took home an Oscar…that's TALENT! Let's see how she's doing tonight……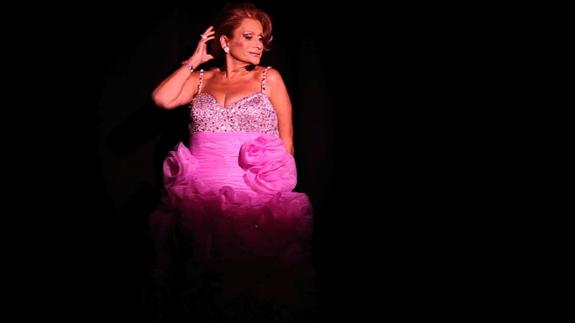 Jennifer Hudson Bella"And I Am Changing" from curlers to her own kind of glam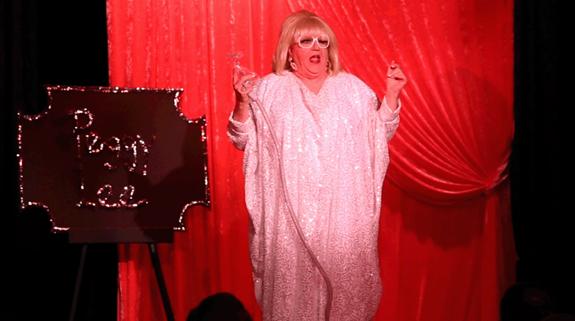 Peggy Lee Panzi, "Fever" "Is That All There Is?" in one of her several crowd pleasing cimedy numbers was wheeled in, turned to face crowd, delayed lip synching and given emergency oxygen
Some of these women were just icons, and some of them should have known when to close up shop. Sometimes enough is enough and that's all there is. Some just didn't get the memo…..oh well, she's still an icon even though she's not with us anymore!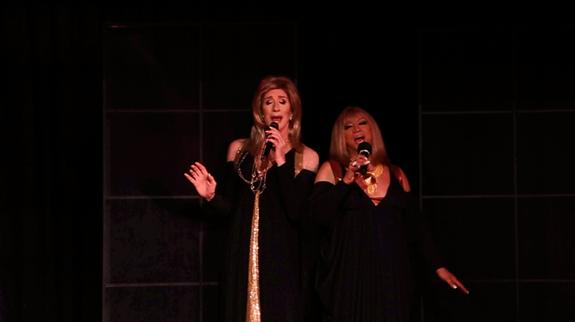 Two Streisands proved better than one as Demi and Angela sang duets " One Less Bell to Answer" and "A House Is not a Home."
Speaking of icons, superstars, divas and bitches. I know, the first name that comes to mind is Philomena, but its not her. Common mistake as I thought the same thing. But I guess if you want to roll those words into one, you would probably come up with one of the most famous superstars of all time…or maybe two?
Sometimes you get more than you bargained for….imagine dealing with two Barbra's….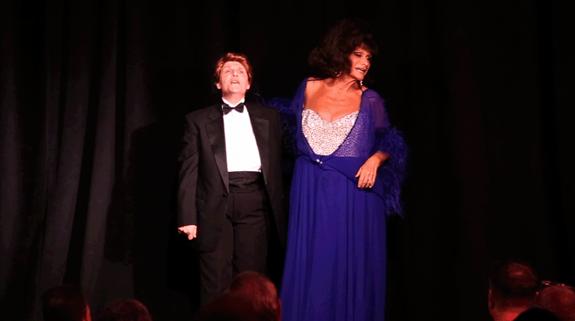 Steve and Edie SallyAnn and Bella were less than in love with "This Could Be The Start of Something New"
But in another case, we have a couple that brought the house down every time they walked on stage. And later on they lifted her on stage. I remember growing up to their albums playing in our house 24 hours a day. For some reason I always wanted to be her. Things that make you go HUMMMM? real crowd pleasers and now they are right here in Cherry Grove!
Our next superstar is still going, in fact she's even found her way right here last year to cherry grove, pins in her legs and all!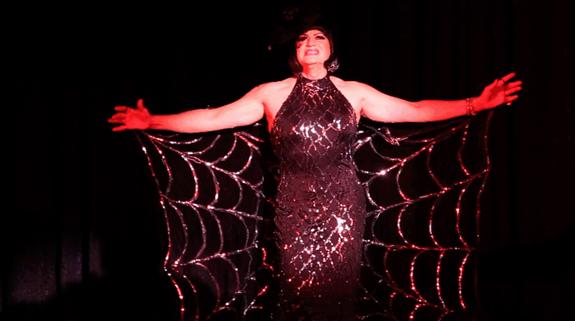 Chita Rivera Donna Pirhana smoldered in"Kiss of the Spider Woman"
Chita, Rita….Rita,Chita…I can never keep them straight. But I do know that was chita from kiss of the spider woman….and in cherry grove, that was perfect casting!
Moving on in Demi's dream, to this day you can come to Las Vegas and see this upscale entertainer. When will she ever retire? I guess when you get her salary you don't give I up so easily. Who else gets a theatre built just for her! Don't worry, if you miss her this year, you can get to see her next year and the year after that and the year after that and the year after that…her voice will go on, and on and on…..oy!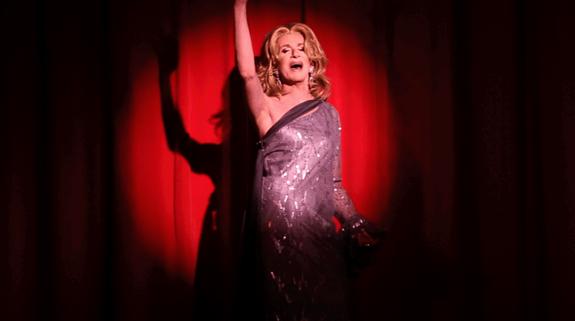 Celine Angela elegant in "Coming Back to Me Now"
Remember it could have been that song from titanic! Well like I said, we'll see her next year and the year after that and the year after that.
This next tune was recorded in Vegas in the 1960's at a lounge show by four unknown showgirls. Those ladies would never know that years later it would become a drag queen's anthem. Yes! Every drag queen in one way or another has performed this number. Being in the sound booth of the theatre for over 20 years, Alison and I can attest to that.
Maybe we should thank these playgirls tonight for bringing us this little ditty from the past.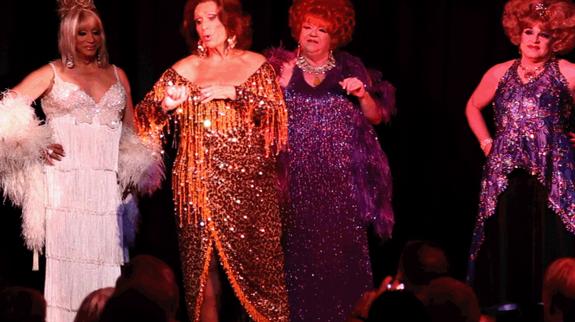 Playgirls lovelies Bella, and Demi, Panzi, Bonbon outdid each other challenging, "If You Don't See What You Want up Here (lay down, brother, you're dead)."
You know the 60's were really the start of some of the greatest rock and roll groups ever to grace the stages of Las Vegas. Once again we would have to go on for weeks to bring them all to you. So here's just a few.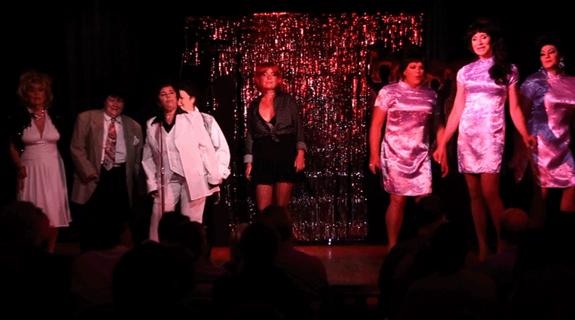 Ronnettes Coco, Angela, and Donna doing "Be My Baby"competed with Manhattan Transfer Trickle, Trickle," Linda, Ruth, Barbara, Susan, and Lee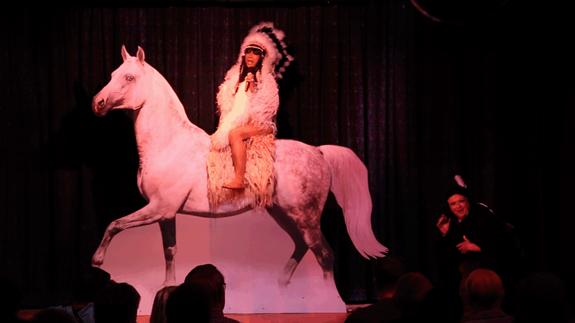 Cher Demi, papoose strapped to the saddle, deadpanned "Half Breed" with a papoose strapped to the saddle, The horse delivered a "contribution" to the culinary delight of toothless squaw Panzi – in another of her hilarious moments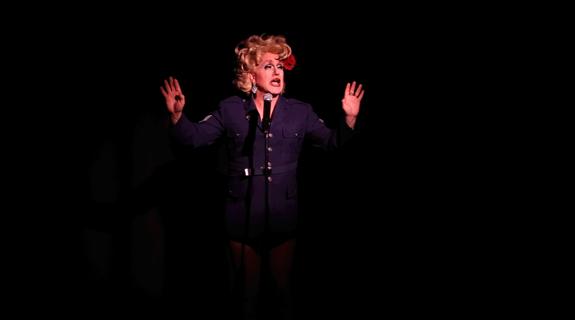 Bette Midler Freeta Chews, delivered a show stopper "When a Man Loves a Woman" reminding us how we have missed her.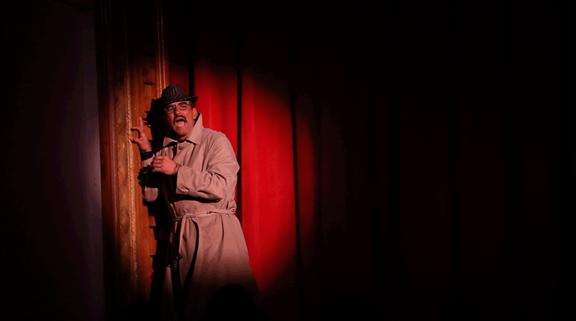 Ken and Bella led us into the very grand finale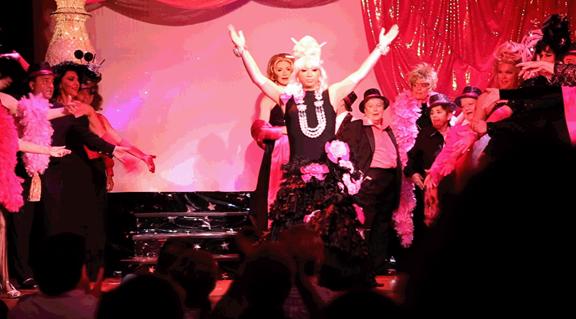 Follies Bergeres with full cast bookended by nubiles Gina Garan and Jackie Carlson Demi thanked: Matt Baney and Alison Brackman, sound and lighting, and Michael Romanelli. Luke Mahoney, Michael T. Mehmet worked with George on evocative sets, Luke also costumes, Arthur Cohen and David Medina, stage crew under stage manager Martha.
Oh what a time. I can't remember much from those fun filled nights, but I think I had a good time! In fact, the BEST! The flow of alcohol at the tables and slots was legendary and most of us took full advantage of these amenities. It also lubricated our wallets and made our money flow to the casinos for gambling and entertainment.
Did I say the best? Yes I did! Well, they say you always save the best for last. But we can't use that word last, because they are always sayings it's their last farewell performance…thank god they lied!
Post Performance pix by Jeannie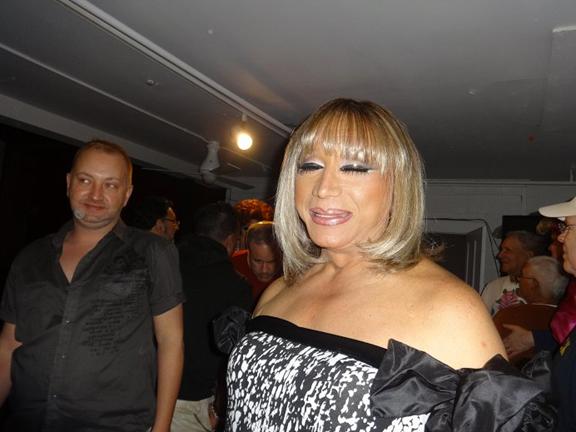 Viva Diva DemiTasse!!!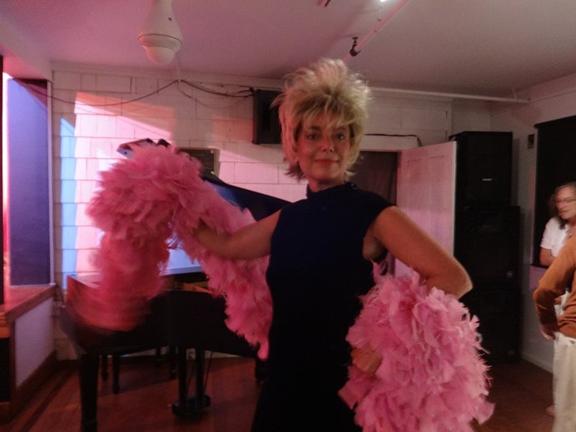 Lee still struttin' her stuff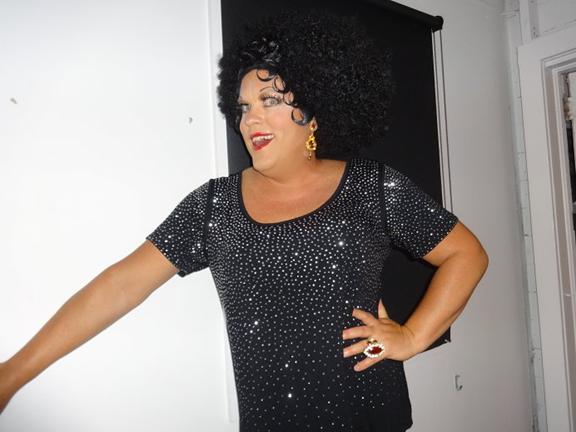 Coco Love coyly flirting as a brunette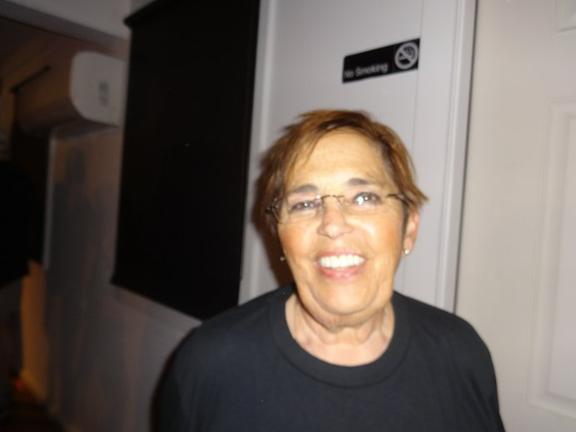 Linda cute as a button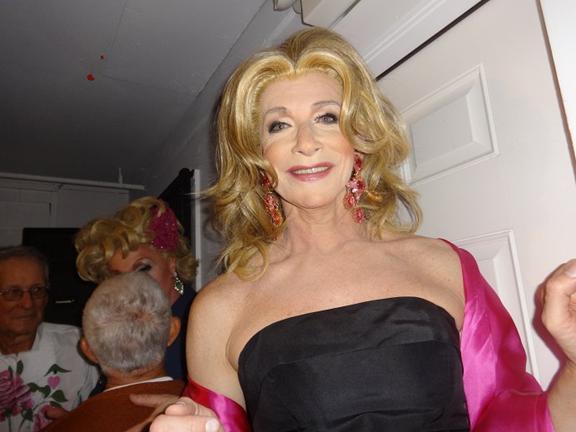 Good..................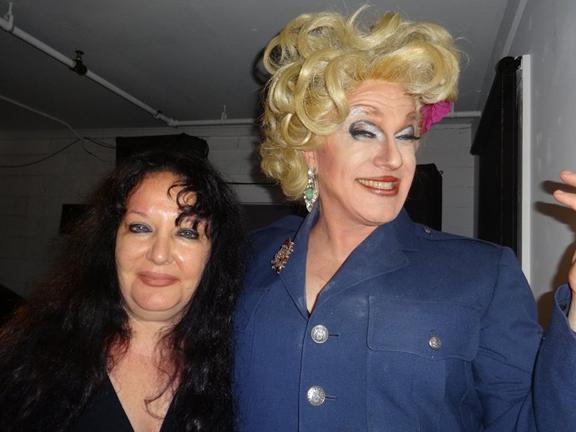 ...and Plenty (and his sister)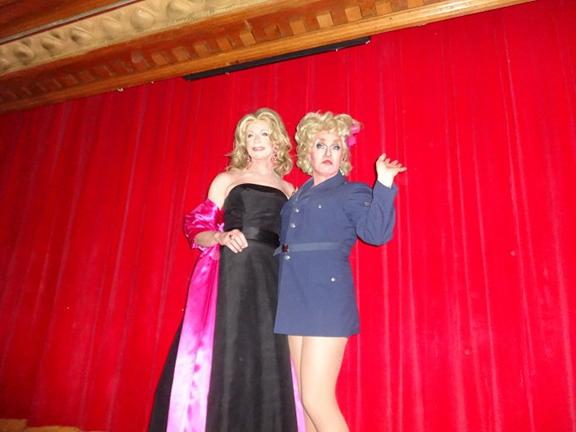 Together Again! Good 'n Plenty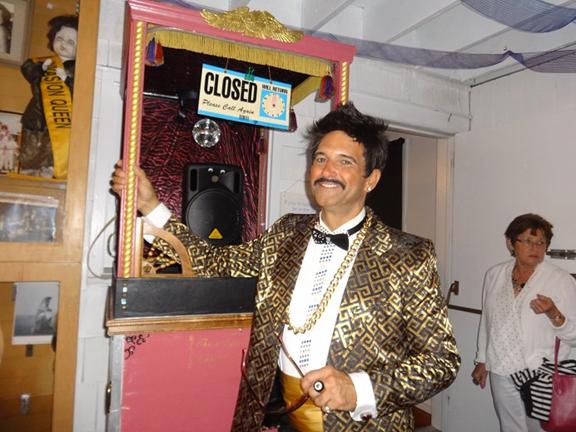 Ken Woodhouse and his mini kiddy theater