West Islip Breast Cancer Coalition's Annual Clam Shucking Contest 2014
by Bradlee White
"Twenty Shucking Years" the t-shirts read. Can it be? This was the 20th Anniversary of this fund-raising event for the West Islip Breast Cancer Coalition (WIBCC) here in Kismet. The event has grown every year, with more raffles, more food, more space and more venues. The Tennis Clinics, featuring instruction by volunteers from the Eastern United States Tennis Professional Association (USTPA), were added over ten years ago. This was the fourth year for the beach Kan Jam tournament.
Major sponsors included Atlantic Hyundai, Astoria Bank, Fox's AC and Heating, Good Samaritan Health Services, Dignity Monuments, Surf's Out, the Fire Island Ferries and WIBCC.
WIBCC's Margaret Campise and Kismet's Jane Mooney again oversaw the event and marshaled an army of volunteers who began work the night before setting up the prize venues. Rose Lem and her cohorts again sold tickets for food and the Chinese Auction. Cindy and Jen again pulled together the Wagon of Cheer raffle and oversaw the "Wine Pull" drawing. Cheryl, Dawn, Geri Phillips, Patty R., Collette and Michele S. handled the sign-ups for the box raffles. Xanadu's Judy, Joyce and Joanne and Beverly sold T-shirts. Kelly, a very experienced volunteer, was here, there and everywhere. Tim Mooney again cooked.
Buddy helped the corn shuckers, who all received gift certificates for ice cream and popcorn at the Pizza Shack. Brian Kelley again DJ'ed and WBAB DJ "Fingers" was MC. The Clam Shuckers were timed by Brittany Mooney, and Brittany Metcalf. There was a small army of clam handlers from the Inn including Owen Cole and Jill Metcalf. All of our local shuckers – Brittany Mooney, Owen Cole and Gary Leschinski were disqualified. Carlos Tigre from Nicky's Clam House, repeated his 2013 victory, beating his 2013 time.
As always, there were groups of children selling jewelry: Olivia, Lilly, Sam, Sarah and Lianna who come every year and Imagine, Taylor and Elena from West Islip. Kismet's Casey Cole, Caitrin Crawson and Emma Carew donated over $155 from their ongoing sale of shells and pink lemonade.
The winners of the Grand Raffle, sponsored by Atlantic Hyundai were Ron Sieger ($2500); Eddy Ramos ($1000) and Ron Larbara ($500). James Docke won $1075 in the 50-50 and donated it all back to WIBBC; the televisions went to Tom Cristie and Danielle DeMarero; two books of ferry tickets went to Mike D'Amato; Peter Deviking won the Wagon of Cheer; Michelle M. won a night at the Whooley Beach House; Kevin and Diane Barrett won two tickets on Southwest Airlines; the two bikes were won by Linda Knoth and Don Millas and the two Disney passes by Cheryl Licari and Danny Ontine.
Margaret reported "We did just a little over $59K... my goal was $60, but did not do it. Still happy with what we got, and grateful to Surf's Out for hosting it. As well as ​all of our many sponsors, donators and attendees."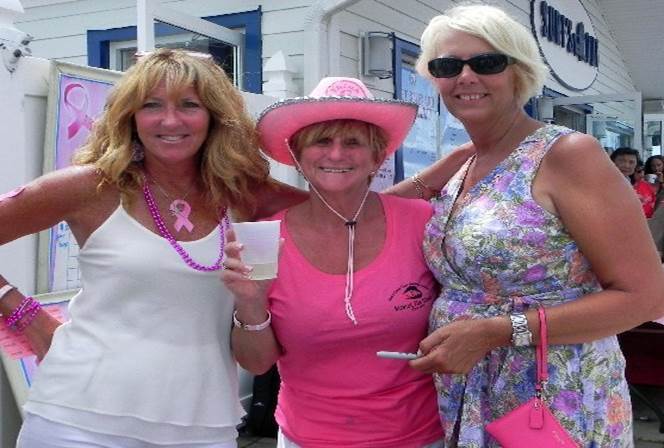 Cheryl, Margaret and Dawn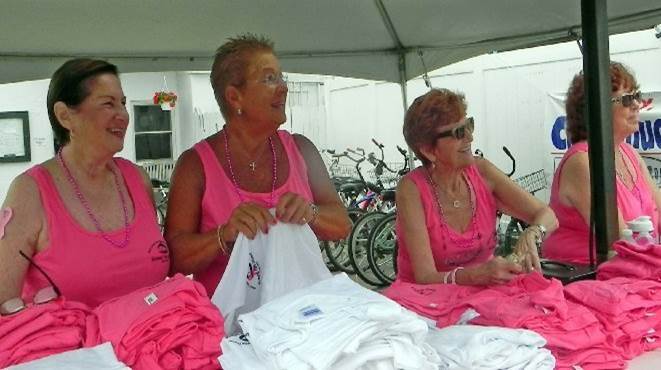 Joanne, Joyce, Judy and Geri P. selling t-shirts
Rose Lem and her cohorts sold tickets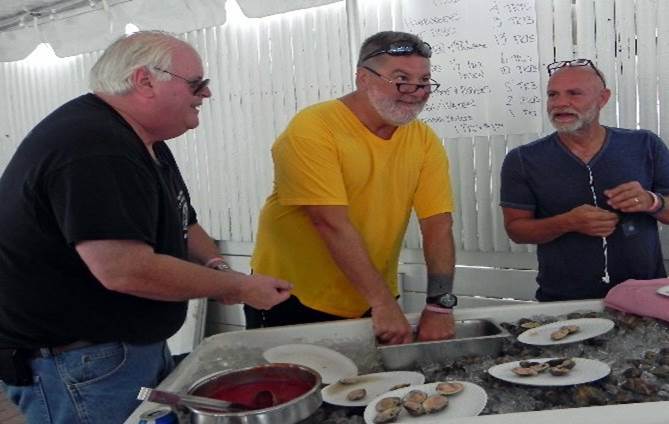 These are the guys who shuck for diners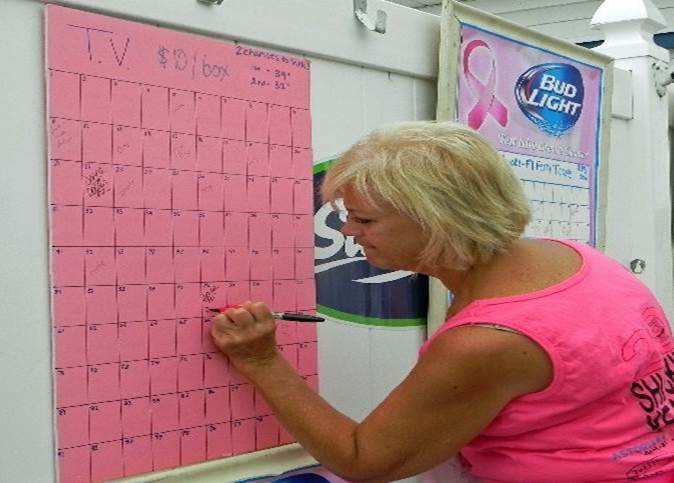 Signing up for one of the "box" prizes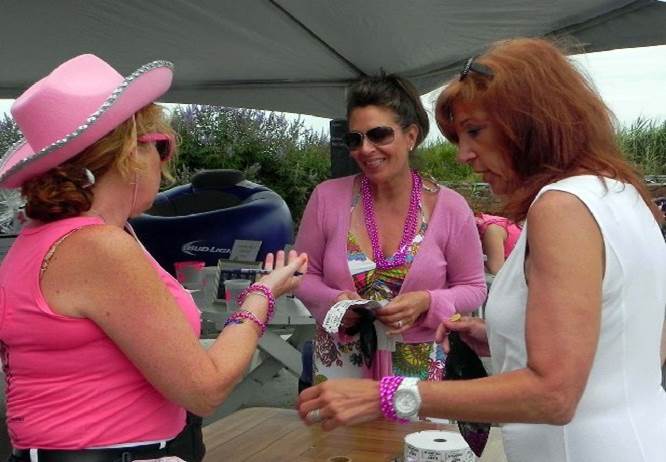 WIBCC volunteers Chris, Jen & Cindy: Wagon of Cheer and Wine Pull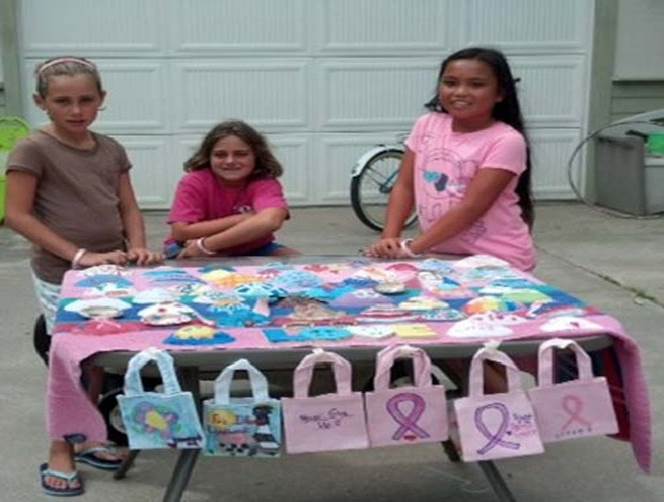 Casey Cole, Caitrin Crawson & Emma Carew selling for WIBCC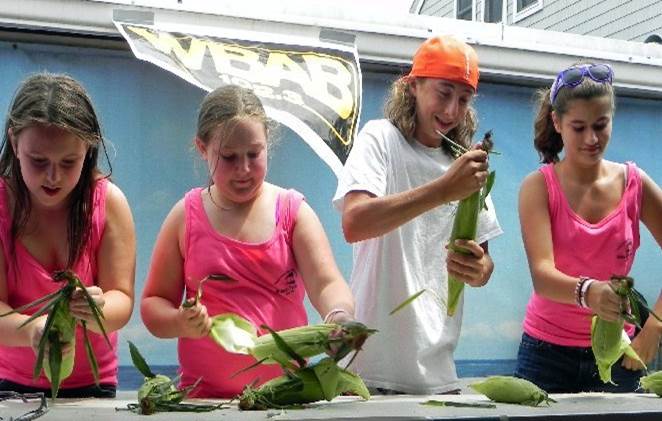 Corn Shucking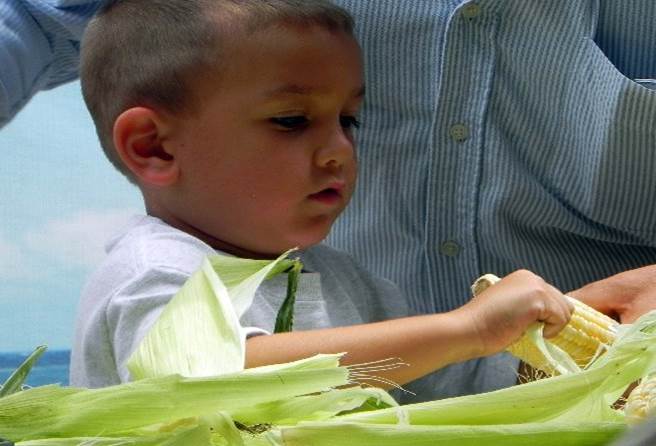 Littlest Corn Shucker gets some help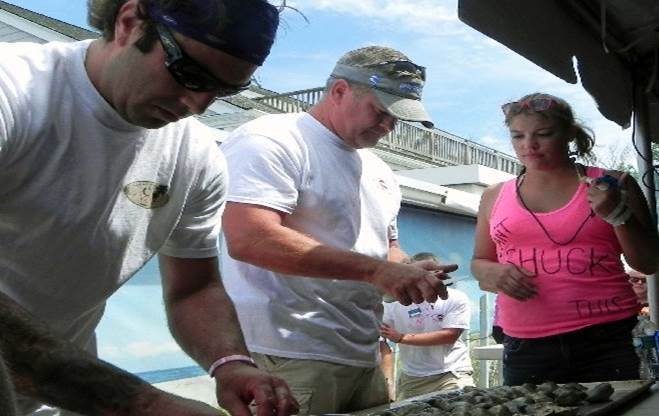 Clam Shucking is serious business
Owen finishes tray as Brittany calls for new set up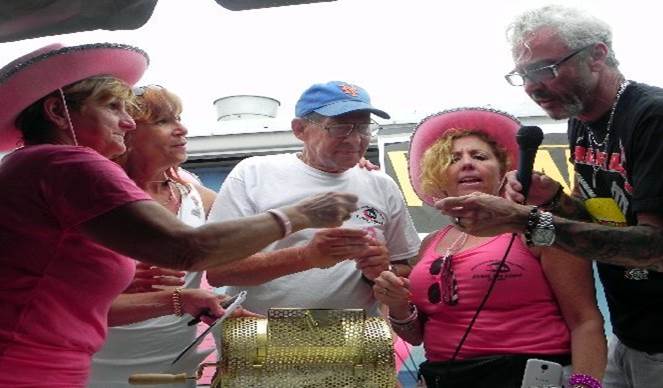 Bob of Atlantic Hyundai draws winning tickets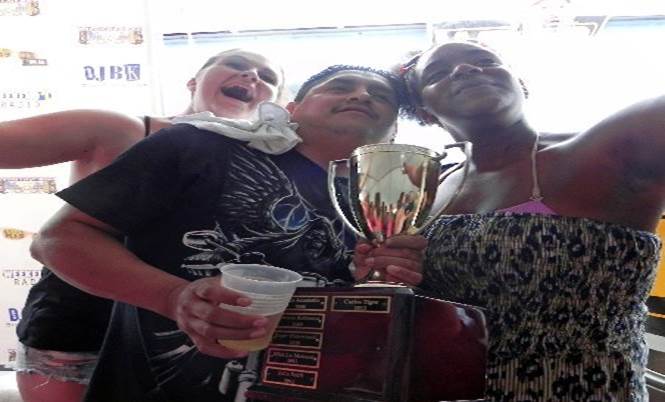 Carlos Tigre wins Shucking trophy for 2nd year in a row
PREPARATION THE NIGHT BEFORE
by Jeannie
Here's a glimpse into the all important work by steadfast volunteers who sort and gift wrap all the prizes to be auctioned off
(Thanks to Surf's Out for a pasta reward mid way to keep them going)
92 year old matriarch (Arthur's wife, Warren's mom) Rose Lem, the inspiration for us all,and her daughters
one of the prizes
Kevin & Geri - having too much fun!
Dawn also happy working with those bottles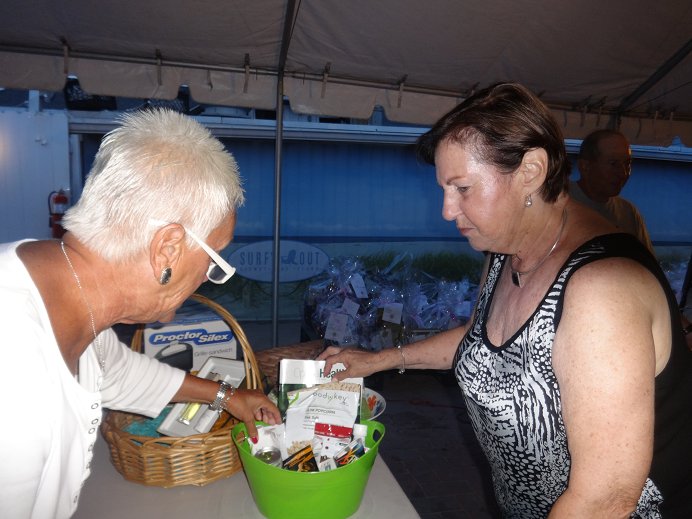 Joanie - seriously

Ginny - didn't even stop for a photo op!
teach the kids early about charity and work!
Mel & a blonde (good work!)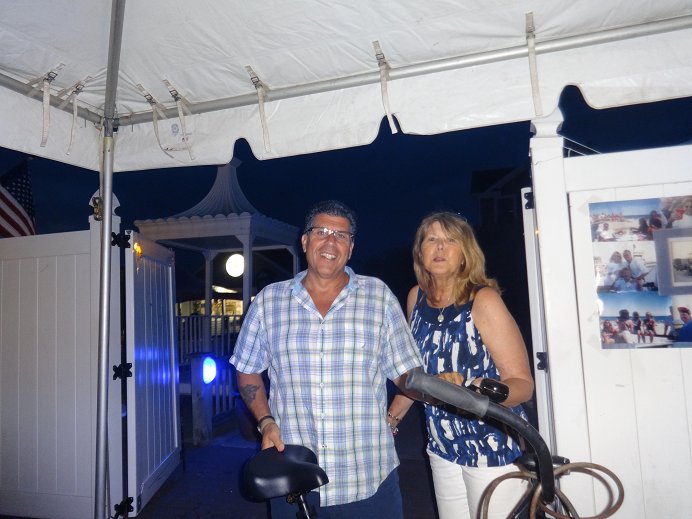 Patti borrowed Joe's bike "for the cause"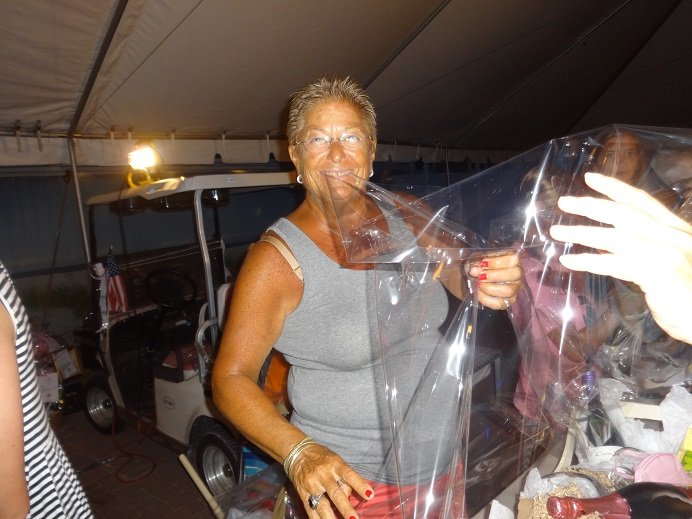 Joyce with new wrapping technique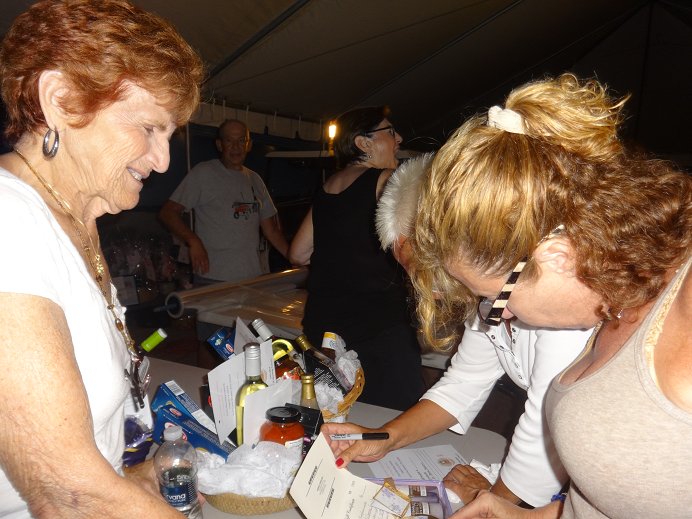 Judy opposite daughter Nancy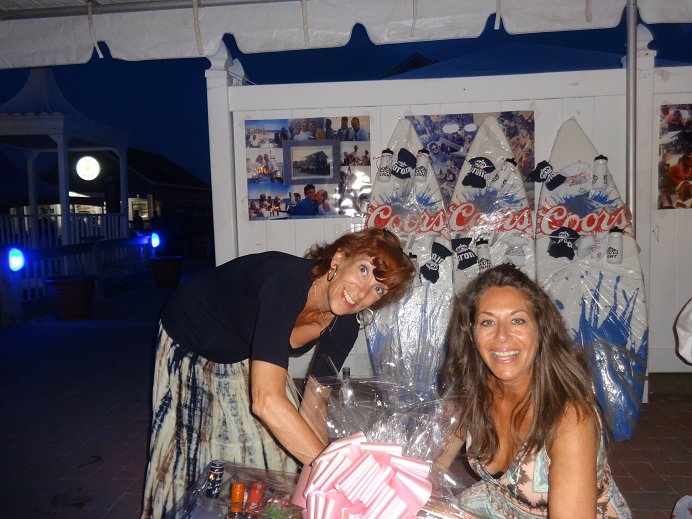 Wagon of Cheer gals: Cindy & Jennifer
Janey - service with a smile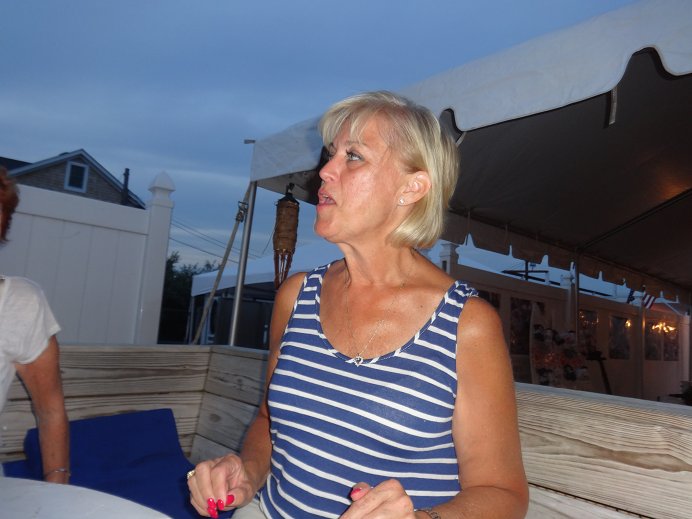 The famous survivor, Donna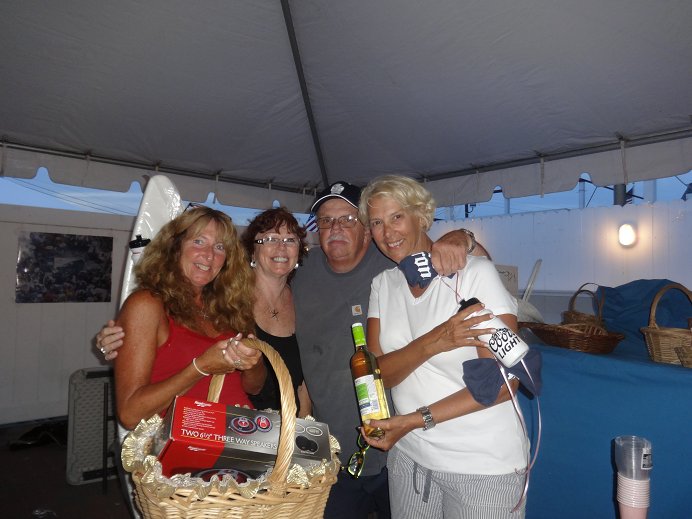 Good Luck Tomorrow!